On September 29th, 2005, 10 years ago to the day, a rather skinny 23-year-old Olly Hicks landed in Falmouth after 125 days alone at sea on board his Virgin Atlantic sponsored ocean rowing boat Miss Olive. Here he tells his story…
I had broken the Guinness World Record for the youngest person to cross any ocean solo and the first person to row solo across the Atlantic from America to England. I missed out on breaking the speed record across the pond by quite some margin thanks to some pretty unhelpful whether – this was the year when Hurricane Katrina wreaked havoc on New Orleans and there were four other lesser known hurricanes that summer which served to disrupt the prevailing winds and kept me at sea for a lot longer than I'd anticipated. Indeed so long in fact that I very nearly ran out of food and after 60 days at sea, was fortunate to run across the British Warship, HMS Cumberland, who kindly resupplied my dwindling provisions.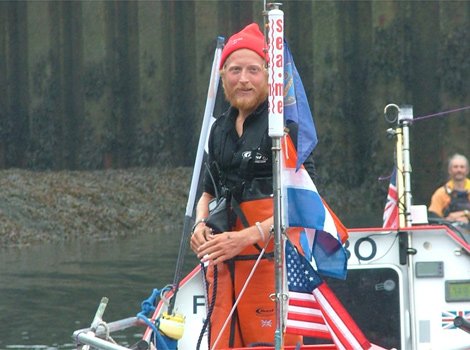 Image from Olly Hicks
I came across the idea of rowing across the ocean having been shown a newspaper clipping about Peter Bird who was sadly lost at sea in 1996 whilst trying to row across the north Pacific. I was intrigued by the concept of rowing solo across entire oceans and so my dream began to build and I made crossing the Atlantic from the USA back home to England my sole focus.
After completing yachtmaster training I persuaded Virgin Atlantic to sponsor my record attempt to row the Atlantic solo from New York to Falmouth – the same route that Harbo and Samuelsen, the forefathers of ocean rowing had taken in 1896 crossing in 55 days and they still hold the speed record still to this day!
I purchased a two man, plywood ocean rowing boat, which had crossed the Atlantic in the trade wind rowing race three times already. I then set about adapting and strengthening it for the rigours of a North Atlantic crossing.
I set off across the Atlantic in late May 2005 from a small harbour just south of New York called Atlantic Highlands (where Harbo and Samuelsen lived). Immediately on pulling out of the bay I faced strong headwinds thanks to a local sea breeze and was at risk of being driven ashore, fortunately I avoided this fate and eventually, after five days pulled clear of Long Island and out into the clear, deep Atlantic and tried to get into the favourable Gulf Stream to assist the long row home. The wind had other ideas and I was pushed to the north up to the notorious Grand Banks where I endured long, cold and foggy days.
Image from Olly Hicks
At one point in the trip Richard Branson had called me to suggest perhaps it was time to call it quits. I gently disagreed and continued at the oars and pressed on and on and on…
Eventually after being attacked by a great white shark, dodging container ships and tankers, surviving endless storms as the season moved into the Autumn I could finally make out the flashing signal of the Bishops Rock Lighthouse which signalled the official finish line.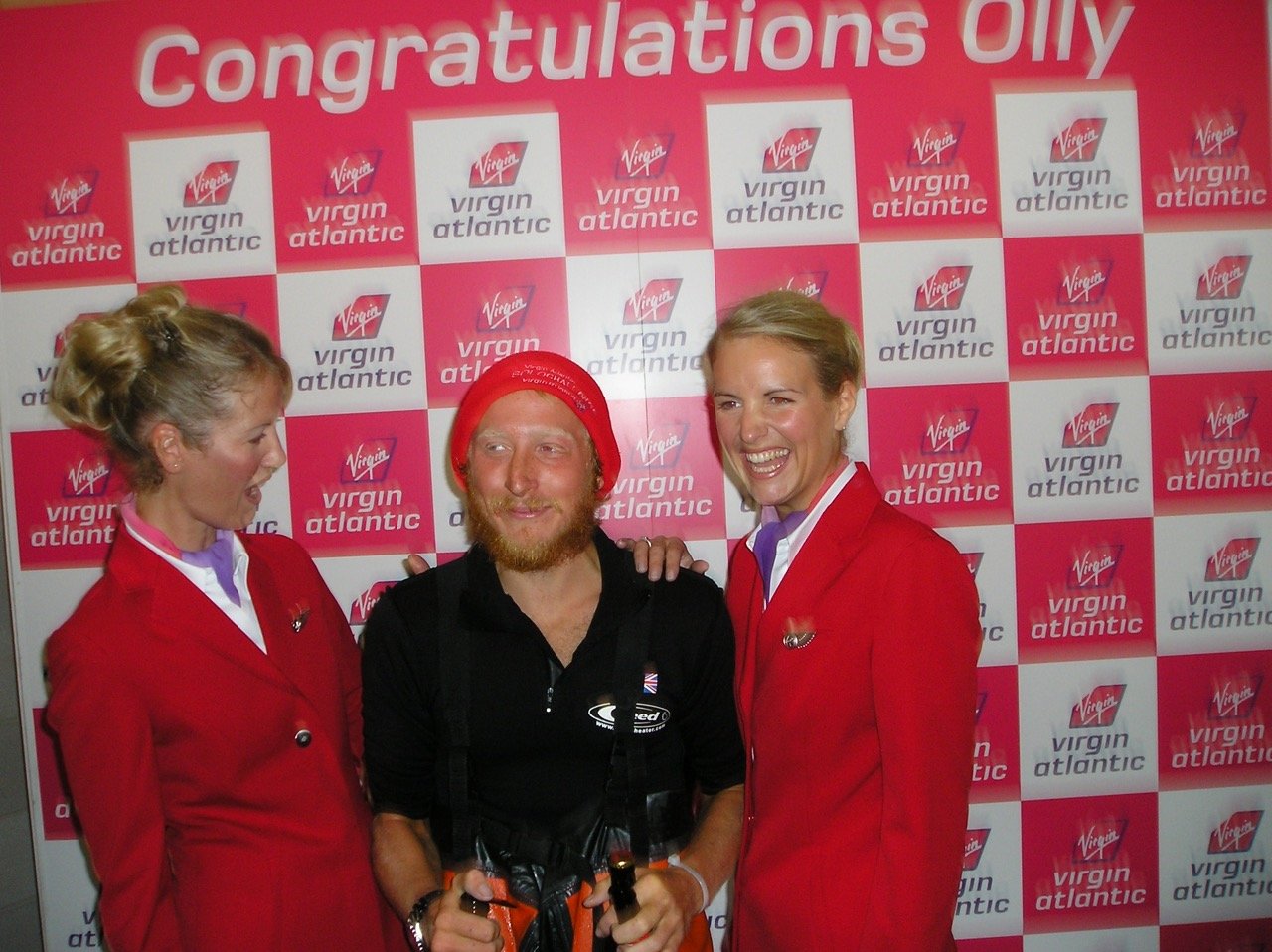 Image from Olly Hicks
Landing to a wonderful reception at Falmouth arranged by Virgin, including Sir Richard himself and Prince William, I ended up a little bedraggled in the ensuing interviews as Richard thought a swim might be good for me and a well timed shove as I climbed off the boat meant one last dunking before the party really began!
In the last 10 years, I've had a bit of time to think over all that time and have now come up with a new adventure: I'm now working on the first row around the world…