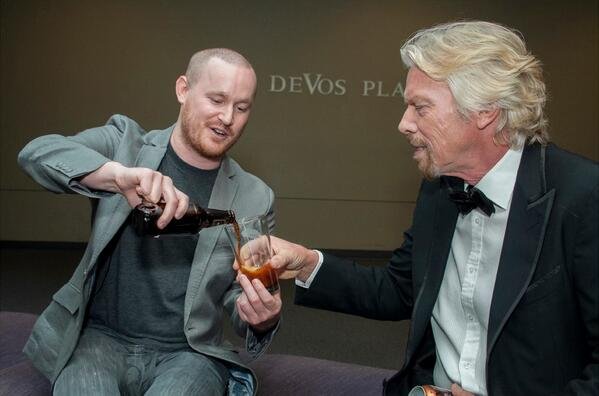 I was in Michigan raising money for Virgin Unite, our not-for-profit foundation, at a great event with the Economic Club of Grand Rapids. It turned out Bugsy was in the area too, and using his entrepreneurial skills he managed to charm his way in. He got in touch with Lorna Schultz, who set things in motion. Then he set up a couch, opened a couple of bottles, and we had that beer.
Bugsy asked me: "So if you could have a beer with anyone who would it be?" My obvious response? "Well, young entrepreneurs like yourself."
He started his campaign as a form of Six Degrees of Kevin Bacon, almost tracked me down at a Georgetown University event, and even heard from a look-a-like of yours truly and a man who delivered a pizza to me years ago! I'm sorry I didn't have more time to spend with him when we finally did sit down for a cold one together, but at least he can now move on to the next mission.
Setting challenges - whether light-hearted like this one, or sporting like the Virgin Strive Challenge we are embarking upon this year - are a wonderful way of having fun and moving forward in life. I'm sure Bugsy will go on to some great adventures, and I for one will be watching on.
What's the biggest challenge you've overcome?