It's been 38 years since the Sex Pistols signed for Virgin Records and today, Virgin Money announced an exclusive range of Sex Pistols credit cards.
Three options are available, including an eye-catching vertical design, with new technology allowing all customer details (including their name, card number and expiry date) to be moved to the back of the card, preventing the Sex Pistols artwork from being obscured by this information.
But the cards don't just look different, Michele Greene, director of cards at Virgin Money, says. "They offer better value for customers too. We are one of the few card providers that always give customers the deal they see advertised when they're accepted, not a poorer alternative, so what you see is what you get. It's time for consumers to put a little bit of rebellion in their pocket.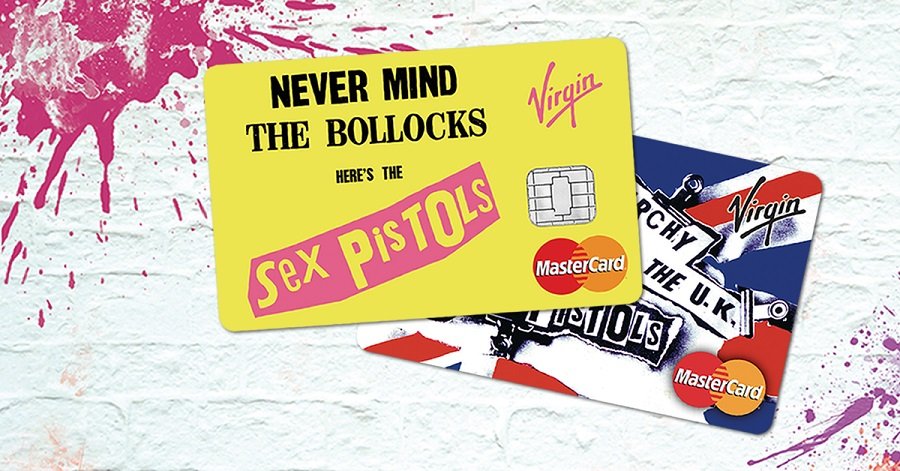 Image from Virgin Money
"For a long time now, UK banks have all been the same," Greene added. "They have the same products, the same services and the same attitude towards customers. At Virgin Money we are aiming to change that.
"In launching these cards we wanted to celebrate Virgin's heritage and difference. The Sex Pistols challenged convention and the established ways of thinking – just as we are doing today in our quest to shake up UK banking."
"The Sex Pistols are an iconic band and an important part of Virgin's history," Richard Branson added. "Virgin Money is a bank that can be proud of its past, and I love the fact that the team have chosen to celebrate it in this way.
"Even after nearly 40 years, the Sex Pistols power to provoke is undimmed, and we are still being asked to censor the word bollocks in our advertising. Over the years many things have changed, but in this case some attitudes clearly do not."
For more information about Virgin Money's new credit cards, visit the Virgin Money website.