Your first shop. By the time this moment in a start-up's life comes around things are beginning to get a bit serious, so you'd better pick a good location and an understanding landlord. Four entrepreneurs tell us about their first-time experiences...
Image from Virgin.com
Richard Branson, Virgin Group Founder – We wanted the Virgin Records shop to be an extension of Student; a place where people could meet and listen to records together; somewhere where they weren't simply encouraged to dash in, buy the record and leave. We wanted them to stay longer, chat to the staff, and really get into which records they were going to buy.
Nik (Powell, Richard's friend and co-worker) and I spent a morning counting people walking up and down Oxford Street compared with people walking along Kensington High Street. Eventually we decided that the cheaper end of Oxford Street would be the best site.
We knew that we couldn't rely on people knowing about the Virgin Records shop and making a special trip to buy a record, so we had to be able to attract passers-by into the shop on impulse. At the exact point where we counted the most people walking along the street, we started looking for an empty property. We saw a shoe shop with a stairway leading up to what looked like an empty first floor, so we went upstairs to see what it was like.
"What are you doing?" a voice called up to us. "We're looking to set up a shop," we said. "What kind of shop?" Nik and I came back down the stairs and found the owner of the shoe shop blocking our way. "A record shop," we said. "You'll never pay the rent," he said. "No, you're right," I said. "We can't afford any rent. But we'll attract lots of people past your window and they'll all buy shoes."
"What kind of shoes?" Mr Alachouzos's eyes narrowed. "Jesus sandals are out," Nik said. "Do you sell any Doc Martens?" We agreed that we would fit out the record shop and that we could occupy it for no rent until somebody else came along and wanted it. It was, after all, just an empty space. Within five days we had built shelves, put piles of cushions on the floor, carried a couple of old sofas up the stars and set up a till. The first Virgin Records shop was ready for business.
Xavier de Lecaros-Aquise, Girl Meets Dress Co-Founder – My first shop was a pop-up shop which was a great way to be able to test out my products and make sure I got the product/market fit right before taking on larger more permanent costs.
It was my first retail presence so not only was the learning curve substantial but a pop-up also meant I was able to leverage strong existing footfall on a revenue share basis. I ended up developing a network of popup shops before going for my own permanent shop front by which point, operations/cashflow and marketing was well tested and optimised.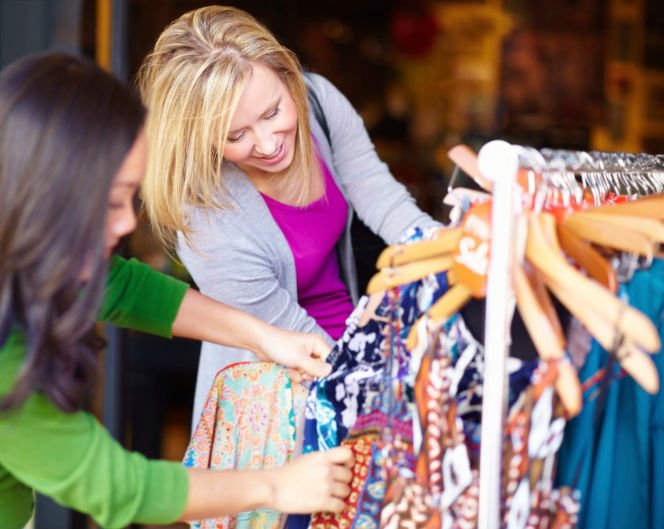 Dom Jackman, Escpae The City Founder – My first shop was a pop-up place selling Christmas trees in a field at the end of my road at 13 years old. I bought a load of trees from a local farm and with the help of my Dad I rented a van and persuaded everyone on my street to buy their Christmas trees off me. I made signs out of scrap wood to attract passing traffic and somehow managed to shift enough to generate a few hundred pounds of profit – which was a lot for a 13 year old! I decorated our family house with the leftovers; needless to say it resembled a forest!
Zara Neild, Zara's Cakes founder – My first shop was in Prestwich, Manchester. I decided on this shop as it had a flat above where my children and I could live. It also helped as I worked very long hours and having my home above would keep costs down. On top of this, it had a good main road location.
I needed a shop as I was working from home and I was quickly outgrowing my kitchen, I was asked to make cakes for the FA and was on the radio with the Hairy Bikers so I needed a more professional/larger workspace.
I leased the shop for five years, I was nervous about taking the plunge but decided the only way for my business to grow would be to go ahead with this.
The shop needed a complete refit and took me around eight months from getting the keys to the day I opened. I opened as a celebration cake shop and also a coffee shop/cupcakery. I had some equipment but had to buy most thing, including lights and a coffee machine.
The first day I opened was a massive achievement for me. I couldn't believe I had actually managed to do it! I was also very nervous but after my first customer I was fine.
Opening times have been trial and error, after a year of trading I think I have managed to figure out what works and what doesn't.
I want people to feel at home, we have a "trusting library" where they can take books home and return them for free, we have sofas and our little customers love to take their shoes off and relax like at home. We have regular returning customers and a fun team of staff working together. We love to surprise people with our cakes and its amazing to see their happy reaction, makes the long working hours worth the while!
Has all this inspired you to start your own business?
Every day this week Virgin Unite is sharing advice on how to start a purpose-driven business.
Glenn Mehn and Jessica Stacey from Bethnal Green Ventures share their insights into making sure your start-up is built for our digital times.
Check out their advice and resources to help you create a start-up that will thrive in a digital world.