Under the sun, through deserts and by the blue sea, a new generation of digital nomads and start-ups travel the world in search for true inspiration and experience. The holy grail of work/life balance awaits in the most unexpected places...
Egypt, Turkey and other up and coming Mediterranean destinations play home to the Coworking Camp, an innovative way of working which hosts start-ups and entrepreneurs wishing to temporally relocate and become part of a different sort of community. Looking to escape the cold weather to find the sun, it fuses people from different countries that are up for a more adventurous work lifestyle. The Coworking Camp boasts the motto "Doing what you want is freedom. Liking what you want is happiness." It's Co-Founder, Matthias Zeitler, shares with us his vision and what you can expect to find on a trip to the camp.
The vision is not just to establish this initiative, but also to contribute to spreading the concept across different countries and enhancing understanding of its real value. Zeitler highlights that: "The idea is to bring together a good mix of start-ups and entrepreneurs, reinforce their networking, and contribute to connect different ecosystems."
What kind of start-ups and entrepreneurs participate?
The first Coworking Camp welcomed start-ups in El Gouna, Egypt, while the most recent one took place during November and December 2014 in Antalya, Turkey. Zeitler explains that: "A broad mix of interesting people and concepts are hosted, with mostly internet and digitally related start-ups. Founders and entrepreneurs joined all the way from the UK, Ireland, Australia, USA, Finland, Netherlands, France, Switzerland, Austria, Germany, Egypt and Turkey."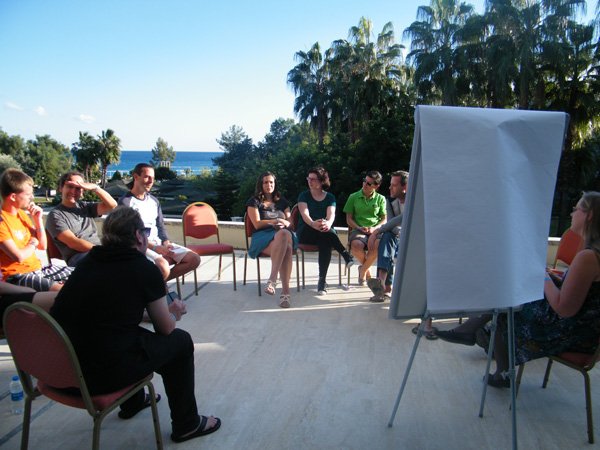 What's on offer to those who gain a place in the camp?
The core idea is that participants can work on their projects, share experiences, exchange knowledge and expand their network. "There are different events and workshops organized that help people to discuss ideas and get group feedback on the business challenges they are facing, or get advice on venture funding and expanding to different markets.They also have the opportunity to present their business concepts and expertise, so that potential future collaborations between them are mapped out.
"We co-organized a Start-up Weekend with our partner Viveka, which is based in Ankara. In this event, 60 early stage social entrepreneurs and our international start-ups had the opportunity to meet and mingle together, and it was a truly great experience to mix these two groups."
What is the ultimate goal of Coworking Camp?
The objective is to create meaningful connections and build a strong international network. "Very often, when you go to networking events, you don't really have to opportunity to get to know people on a more personal and deeper level. The advantage of this initiative is that when you work together for a few weeks and join several events, then this process is forming very strong bonds," explains Zeitler.
"This turns into an instant network of friends. It is a rare situation where you can really openly share challenges, and offer you help to other entrepreneurs to become stronger and more successful".
What do you wish to see accomplished at the end of each Coworking Camp?
"What would make me most happy is to see the real impact of this initiative and how these start-ups and entrepreneurs can benefit out of it. Some of these people are looking for funding channels, others launching a new product or consider entering a new market. It will be really interesting to see how we may contribute to accomplish their goals," reveals Zeitler.
Our co-workers at the Camp, Vivienne Egan, Australia – Social entrepreneur and Chelsea Rustrum, USA – Startup Abroad and Co-author of It's a Shareable Life, give us a snapshot of what drives them to travel the world in quest of inspiration and experience: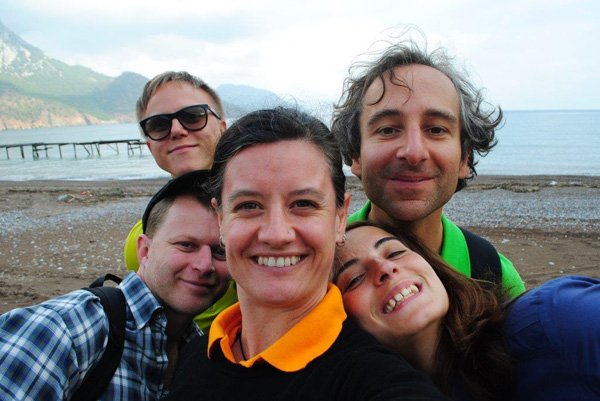 What has been the best part of the experience for you?
Vivienne: "The greatest inspiration was seeing so many people following their dreams, using their skills to build businesses that make the world a better place and following unconventional paths to success. The greatest benefit was having so many interesting minds together in a room, sharing ideas freely."
Chelsea: "Being a solo flashpacking entrepreneur is certainly possible, but being with a community in support of one another while traveling is the best of both worlds. One of the challenges to working on the road is having a stable work environment, a solid internet connection, and the creative inspiration of others doing the same."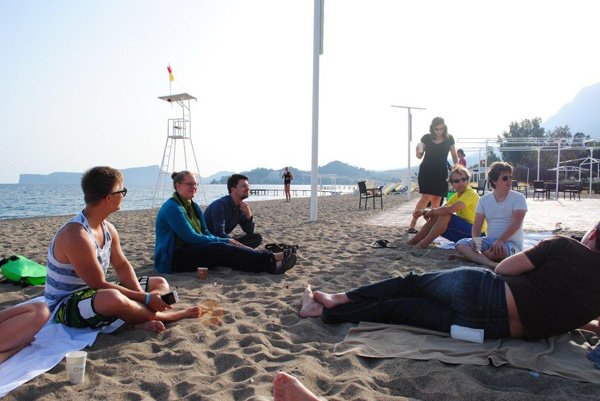 What's the best piece of advice you were given at the camp?
Vivienne: "My business is a social enterprise, and the best advice I got was to look into making it a non-profit, which I hadn't really considered before. It's always good to get a range of perspectives on an idea, and Coworking Campers aren't short on opinions."
Chelsea: "I received feedback that helped me get out of my own way and look at my endeavors in a new light. Being outside of routine, in a new country always helps me think more expansive and visionary thoughts that fuel both personal and professional growth."
Why should other start-ups or entrepreneurs join such initiatives?
Vivienne: "Building a great network of 'friends in low places' - people who are also just starting out – means you'll help one another achieve success together. This is an amazing opportunity to have fun, build connections, and learn new things to help you along the road."
Chelsea: "Such programs can be the basis to form meaningful friendships, future collaborations, and take time away from everyday life to re-focus on themselves and their respective businesses."
If you are interested to know when digital nomads and start-ups will be flying again for the next Coworking Camp, it will be Autumn 2015. As soon as the cold rainy weather hits Europe, they will be landing on another sunny Mediterranean destination. In a world that goes around by norms, stereotypes and conformism, finding inspiration is like manna from the sky, and on the walls of the Coworking Camp, the following motto says it all:
Do more than belong: Participate
Do more than care: Help
Do more than believe: Practice
Do more than dream: Work
This is a guest blog and may not represent the views of Virgin.com. Please see virgin.com/terms for more details. Thumbnail from gettyimages.
Note from the editor: The images in this article have been changed since publication. Originally, images from the El Gouna coworking camp were used, however they are now from the latest coworking camp to have taken place in Turkey.