A year ago I launched a clothing company, we started by specialising in pants in a signature elegant cut and have been overwhelmed by the success that we've had so far. A major factor in the good start for the brand has made has been getting our products into the hands of celebrities or influencers...
We have sent our clothing to some very distinguished men, including Leonardo DiCaprio, Ben Stiller, Nile Rodgers, Brandon Flowers and Robbie Williams. I am also now friends with one of my heroes, Nigel Olsson, one of the greatest rock drummers of all time. He has been in Elton John's band since 1969 and, with his amazing support, we became an official sponsor of Elton John (listed in his programme), and made trousers for other members of the band and the whole crew.
There is, however, an art to celebrity seeding, here's what what I've learnt in the last year...
Contact
Don't scour the web for the personal address or contact details of the celebrity you want to send your product. Email addresses for the management teams many celebrities are available on websites such as thehandbook.com - these are the people you should make your product pitch to.
If it doesn't work, it is your pitch that's the problem, not the email address you are sending it to. Either it needs to be improved or your product is simply not a good fit for the celebrity you've chosen.
Impress
Don't make unrealistic assumptions that the celebrity you've chosen will even ever see what you've sent them, as their representatives may never pass it on. This is not a contract, you are simply sending a gift. On the other hand, however, you should always send something so impressive that management will pass it onto the celebrity in question. Unless they've asked for something specific, don't send just one t-shirt. Send a whole box full, packaged luxuriously.
Do not act like a hysterical fan.
Personalise
Where possible customise the content that you send to celebrities, especially ones that have supported you. For example, Nigel Olsson loves our Classic Navy pants so, when launching our new winter Navy pants made of wool and cashmere, we called them Nigel Olsson Navy and had the inside tag artwork customised with his "Stick Man" logo. Personalisation is well worth considering before sending out your product to a celebrity or influencer.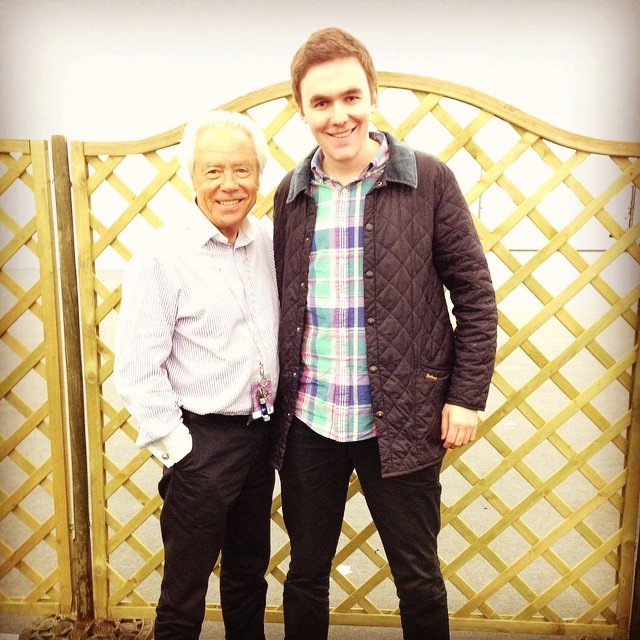 Image from Tom Cridland
Message
Don't write a love letter or a business proposal, especially not by hand. Send a little card with contact details (email address and phone number are both essential) typed out and possibly "With compliments" and your name handwritten on it.
Avoid
Do not, under any circumstances, pester or stalk assistants, managers or other representatives. Leave sufficient time (a week) before sending follow up emails to see if your package has been received and, whilst it's ok to phone them to confirm receipt, do not bombard them with constant calls.
They will be busy and this will be off-putting for them. Similarly, do not act like a hysterical fan. If you admire something specific about a celebrity you are gifting product to, such as the way they play an instrument or their performance in a film, it is perfectly acceptable to mention it. Do not fawn over them though, it is not an endearing trait and it will distract a celebrity from your product.
As an entrepreneur, it is simply futile to have a fear of failure when running a start-up but equally destructive to have excessive expectations. Celebrity seeding is a good example of this. Do not expect anything in return for gifting, but certainly do send your products out to celebrities and influencers. It is worth it for the one or two game-changing responses you may get.
Tom Cridland is launching a new product via Kickstarter, The 30 Year Sweatshirt, for more information, head to the Tom Cridland website.
This is a guest blog and may not represent the views of Virgin.com. Please see virgin.com/terms for more details.