With just over a week until Disruptors lands in London to tackle the future of education, we thought we'd share a little bit of what will be happening on October 2nd...
There's a whole day of sessions planned, featuring our partner Pearson and some of the brightest minds in the education space, but as well as that we'll have showcases from the makers at Fab Lab London, Aldebaran's educational robots, and Google For Education's Expeditions, which allows teachers to take their students on a virtual reality field trip.
Here's what's going on in the sessions...
Fireside chat: Making learning more affordable in the developing world
The Pearson Affordable Learning Fund was created with the vision to help millions of children in the world access a quality education in a cost effective and scalable manner. This session will be a fireside chat with Katelyn Donnelly, Managing Director of the Pearson Affordable Learning Fund and Stacey Brewer, Co-founder and CEO, SPARK Schools, eAdvance.
Panel discussion: Harnessing the power of space to inspire students in STEM
Galactic Unite was established in 2010 in partnership with Virgin Galactic and Virgin Unite as the global vehicle for the Virgin Galactic Future Astronaut community to channel its collective energy and resources to achieve positive change in the world. This session will discuss ways to inspire and skill up a generation of people who will power the emerging space industry as well as other tech fields, using their skills and expertise to solve global challenges.
Image credit: Aldebaran
Showcase: How NAO is assisting in education
This session will discuss the benefits of robotics, like NAO, in the classroom. NAO is an autonomous, programmable humanoid robot developed by Aldebaran, a French robotics company. Today over 7,000 NAO robots are being used in 70 countries around the world. NAO is a humanoid robot standing at 58 cm, who is now a star in the world of research, education, more recently, in retail stores. NAO serves as a research platform, learning system for STEM topics and programming, support for application creation and even a tool for educating children with special needs.
Showcase: Making Innovators
Field trips are a great way for teachers to engage students and give them a first-hand understanding of a subject — but they're not always practical or even possible. Google's Director of Product Management, Jonathan Rochelle, will focus on how Expeditions allows teachers to make their curriculum come alive by taking their students on field trips to almost anywhere they can imagine. Around the globe, on the surface of Mars, on a dive to coral reefs or back in time — abstract concepts come to life in Expeditions, giving students a deeper understanding of the world beyond the classroom.
Talk: Creativity is the new literacy
CreativeLive is an online learning platform that empowers you to unleash your potential by bringing the world's greatest experts directly to you, live. Featuring workshops in photography, video, design, business, audio, music, crafting, and software training, CreativeLive unlocks previously closed doors by making dynamic education accessible to everyone. As an artist turned entrepreneur, Chase Jarvis (CEO, photographer and director) will discuss the importance of creative education.
Talk: Education outside the classroom
Education doesn't start and end at the school gates, and no-one knows that better than Richard Branson. The Virgin Founder left school at the age of 15, but his education continues even today. In this session, he will discuss with Sam Branson the benefits of an education that's not restricted to the classroom.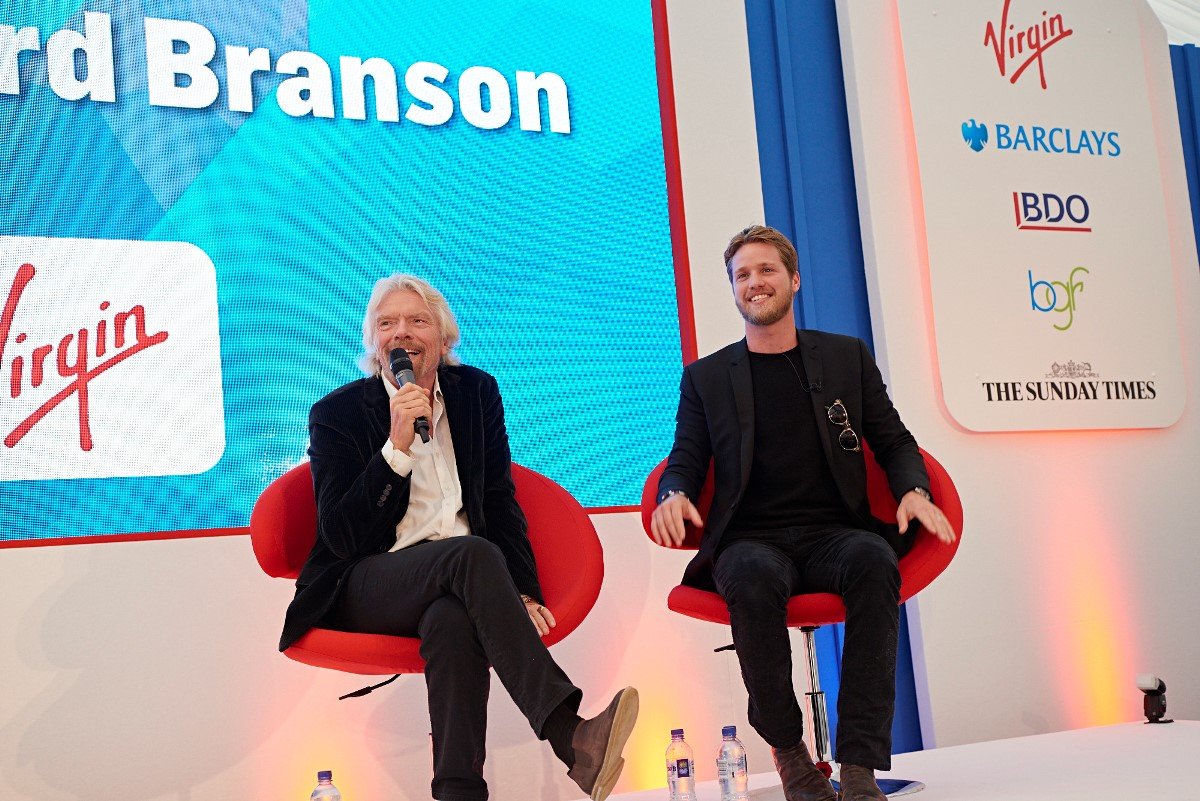 Image by Nicholas Yarsley
Panel discussion: Are we educating young people to thrive for life, not just exams?
In a world characterised by constant change, personalisation and connectivity, our education system remains largely standardised and exam-centric. This session, run by social innovation charity Big Change, brings together perspectives from education, academia and the streets to ask: Are we helping or hindering young people to manage life's inevitable disruptions and thrive in life, not just exams?
Panel discussion: Entrepreneurship education – the best route into being your own boss
In a world where you effectively hire yourself, do degrees or MBA's really matter? This session will focus on the different routes to becoming your own boss with advice from entrepreneurs who've recently launched their own businesses after receiving funding from Virgin StartUp.
And then, at the end of the day we'll be hosting our live Disruptors debate on the Future of Education: Does the current model make the grade? On the panel for the debate are: Professor Brian Cox; Pearson president of core markets Rod Bristow; Shantanu Sinha, president and COO at the Khan Academy; journalist and educationalist Toby Young; and Wendy Kopp, CEO and co-founder of Teach For All.
If you've not booked your tickets yet, head to the Eventbrite page now to sign up so as not to miss out.