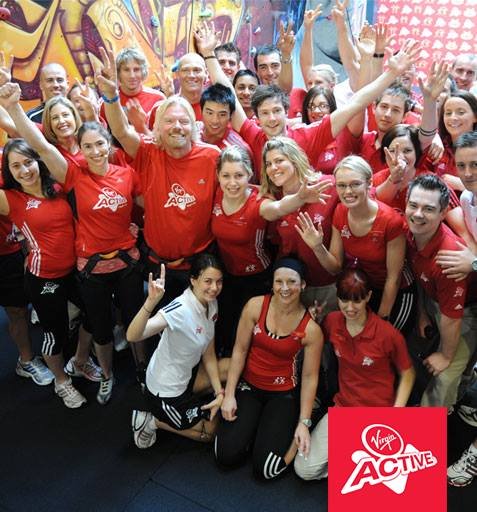 Image from Virgin Active Australia
This may sound like a strange thing for the founder of Virgin Active to say, but I have never liked going to the gym. However, I love going to our health clubs, which are so much more than just places to work out.
I got chance to look around a couple of our health clubs in some beautiful parts of the world recently – Melbourne and Bangkok.
Virgin Active Australia Managing Director, Scott Hood, showed me around our club in Australia, which was brimming with energy and excitement on a sunny Saturday morning. Scott's story of career progression is typical of many within our companies, but no less impressive because of it. After joining the second ever Virgin Active in Leeds as a receptionist, he went on to become a personal trainer, then operations manager in Leeds, general manager in Derby, GM in Sheffield and GM back in Leeds. Then he became regional manager of 12 health clubs in the UK, before being promoted to national operations manager in 2006. After a stint as head of fitness, he moved on to become project director in South Africa, then chief operating officer, and then moved Down Under as Australia's operations director.
Image from Greg Rose
Now, he is in his 13th role with us. It is through the hard work of people like Scott and Christian Mason in Asia that Virgin Active is continuing to ramp up our growth plans. We now have six thriving clubs in Australia and are planning to grow to 20 clubs in the next few years. One thing that has served Virgin Active well is creating intrapreneurs who create their own businesses in new markets, such as Luca Valotta, President of Virgin Active Continental Europe, Ross Faragher-Thomas, Managing Director in South Africa, Bernardo De Vicente, President and CEO in Spain and Portugal and Mark Blackman, until recently MD of Virgin Active Australia.
After taking in an incredibly exciting AFL game (those players must work out at Virgin Active!) I hopped across to Thailand to visit our new fitness club in the stunning EmQuartier mall to see how the team are getting on. We launched in Bangkok last year and have got off to a flying start, with our health clubs becoming epicentres for the community as well as places to work out. As I walked around the club it was great to see people enjoying the spa, pool, climbing walls and group exercise classes like, Pilates, Yoga and ballet Barre as well as more traditional gym equipment.
Image by Greg Rose
With our third club on its way we will have a V Triangle of Flagships across central Bangkok. We will continue rolling out more clubs in both Thailand and Singapore, and should have around 10 clubs in the next few years. The enthusiasm for the clubs in Bangkok is palpable. We have found Thais are coming to Virgin Active more than two and a half times more compared to our 275 other clubs around the world. In Bangkok, we've became a meeting place. Rather than going to the pub, people meet up in the health club. They are not just looking to hit the gum; they are looking for holistic ways to improve their wellbeing and to de-stress. That's also one the main reasons I love to exercise – to relax and energise my brain as much as my body.
Image by Greg Rose
On a long, busy trip like the one we've been on for the past few weeks, it is so important to fit in exercise whenever and wherever possible. But the same can be said when you're in your hometown, or working long hours at the office or enjoying a break. With over 1.4 million members, it's great to see the world embracing Virgin Active as the one-stop-shop for their health and wellbeing needs. See you there soon!