Spent two days in lovely (but rather chilly) Sweden recently, speaking in Stockholm and Gothenburg at the Hjärntillskott Executive Days. Hjärntillskott translates roughly into "brain injection", and I hope the more than 2000 people in the room found it as invigorating as I did.
The lovely Jenny Strömstedt took me on a journey down Virgin memory lane, and the wonderful audience response reminded me once again just how much the our brand's story resonates with people around the world.
We also found time in Gothenburg to screen Breaking the Taboo, Sundog Pictures' critically-acclaimed documentary about the failed war on drugs. Our host was the Swedish Drug Users Union, led by the intrepid Berne Stålenkrantz, and it became clear during the panel discussion that followed the film that drug policy reform in Sweden is an uphill battle – quite a surprise for a country that is widely viewed as a hotbed of social innovation and progressivism.
Image from Virgin.com
For context, Sweden's population is slightly smaller than that of Portugal, where all drug use was decriminalized in 2001. Yet, more than 400 people in Sweden died of drug-related causes in 2012 compared to 16 drug-related deaths in Portugal in the same year. It's a staggering difference, and while there are many contributing factors, Sweden's death toll has more than doubled since the early 2000s – despite some of the strictest and most punitive drug laws of any EU country.
Part of the Swedish problem, it seems, is the ill-conceived notion that the right mix of social and policy and criminal enforcement can create a drug-free society. I think it's time Swedes dismiss these utopian ideals and adopt evidence-based policies that recognize that drugs and drug use are a reality in just about any society on our planet.
Image from Virgin.com
Alcohol prohibition in the US failed spectacularly, and drug prohibition has done nothing to curb demand or supply, either. I'd wager a bet that anyone who arrived in Gothenburg, Stockholm, Malmo or just about any other city with the intent to consume drugs would find them within a few hours. The big question is just how many of Sweden's drug deaths could have been prevented if drug users found a safer environment, including consumption rooms and needle exchanges.
As I learned in Gothenburg, there are presently only six syringe exchange programs in Sweden, partly due to the bureaucratic hurdles involved in setting them up. What's worse, quite often drug users are kicked out of treatment programs if they are found to be using other drugs while in treatment. Harm reduction, it seems, has a long way to go in Sweden.
Several of the panellists who joined me for the lively debate following the film screening called for science-based interventions that look at the facts (increasing death rate, no shortage of supply) and change course accordingly. But Gothenburg's Deputy Mayor wasn't having any of it.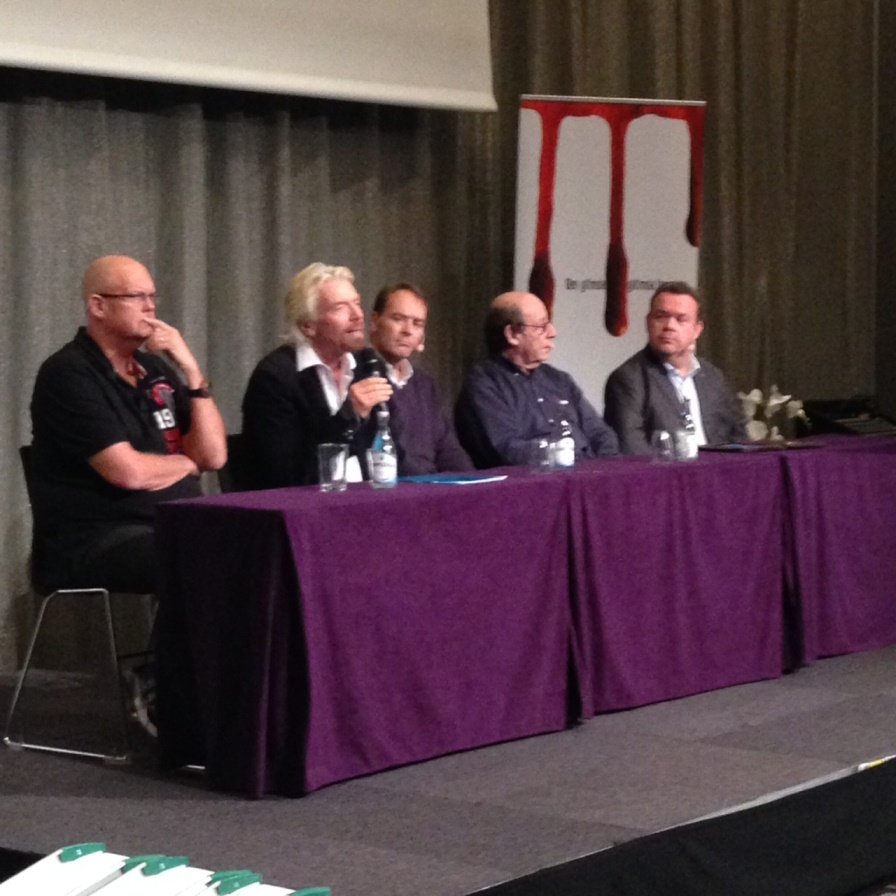 Image from Virgin.com
Instead, he kept repeating the same old tired talking points you hear from any politician more concerned with public opinion than with scientific evidence.
I could hardly contain my frustration by his refusal to accept that prohibition hasn't worked anywhere else, that repressive policies do nothing to protect Sweden's children from drugs and current policies continue to cause massive harm while empowering organized crime.
Perhaps he should have joined the business audience I addressed a little earlier. Asked if they agree that drugs should be treated as a health issue and not a criminal one, nearly everyone in the room raised their hand.
This, along with progress being made in many countries around the world, gives me hope that Sweden will eventually break the taboo.