Loved hearing Scotland's first ever astronaut describe his experience of flying to space and his journey to becoming an astronaut on Chris Evans' Breakfast show on Virgin Radio UK this morning.
Image from Virgin Radio UK
The show brought together two things that I've wanted for a rather long time – Virgin Galactic in space and Chris Evans back on the Virgin airwaves.
Virgin Galactic's Chief Pilot Dave Mackay became the first ever Scot to reach space on our second test space flight in February. It was a lovely surprise when Dave handed Chris two of his autobiographies and a keyring for his car, which Dave had taken to space on the last test flight. They joked around that they read the books while in space (but I think Dave may have been a little busy flying the spaceship!)
Chris then asked the question that we all want to know the answer to: What's it like going to space?
Image from Virgin Galactic
Dave said: "In reality it's much more intense than you think. The sky is intense matte black – it's really, really black, and the thing that struck me is how bright the surface of the earth is. The human eye can capture that range of colours and intensity in a way that a camera doesn't seem to be able to. It's absolutely stunning."
Beth Moses, our Chief Astronaut Instructor, also flew as a third crew member on the second flight. Dave said that there's a saying in the aviation industry that "the best seats in the house are the pilots seats", but on this flight, Beth had the best seat. She had 12 windows all to herself and she was allowed to unstrap and experience zero G and float around in the back of the spaceship while she completed her tests. I'm so excited to experience it for myself.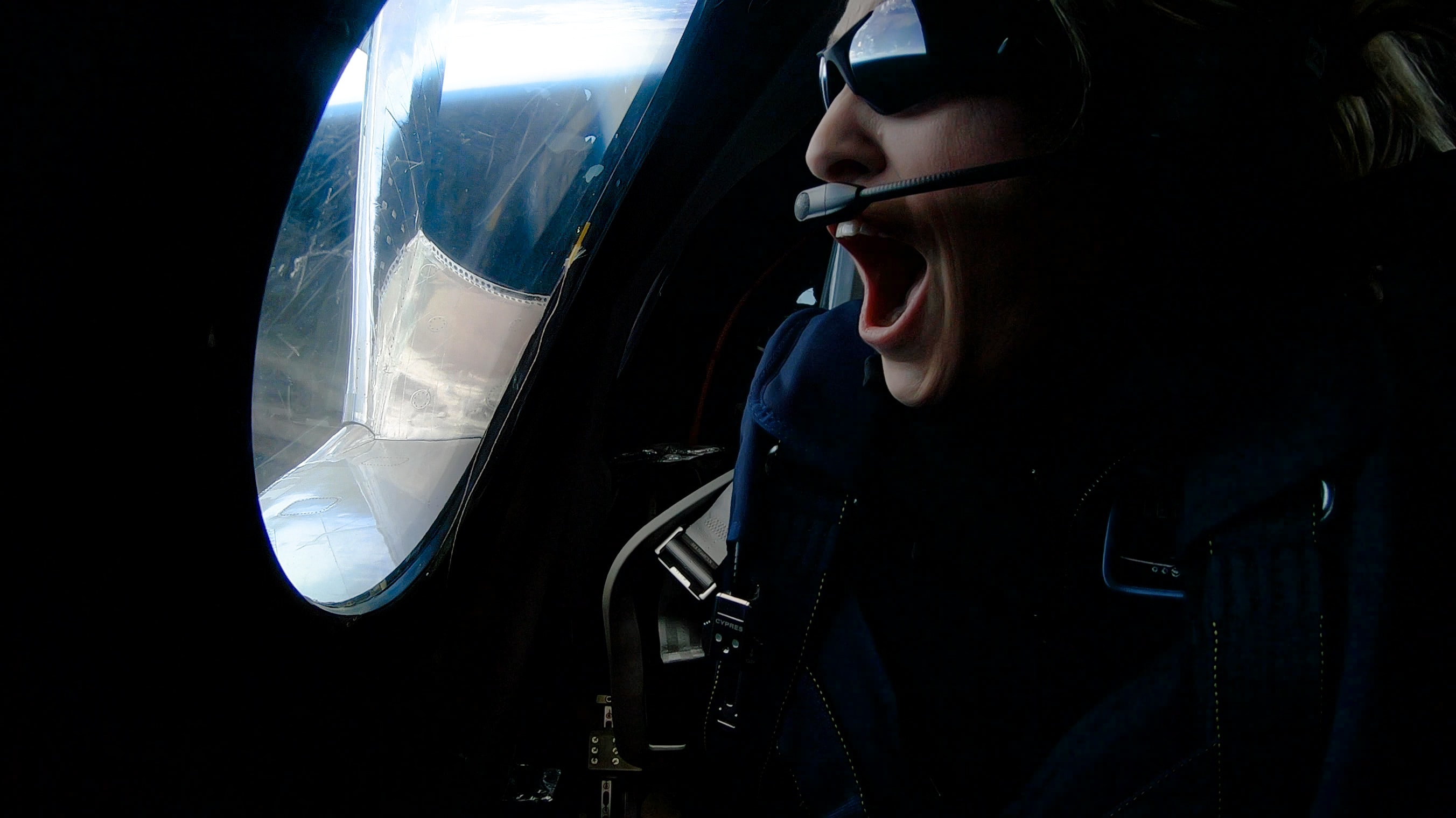 Image from Virgin Galactic
Chris also asked Dave about how he became a test pilot. Dave spoke about how he watched the Apollo mission as a child and dreamed of flying spaceships. It's one thing we've always had in common – the Moon landing sparked my own dream of reaching space.
Dave saw that the astronauts were former military test pilots, so he joined the RAF and then tried to get into space flying. He applied for the Project Juno mission in 1991 but didn't get past the first round. He told Chris how he didn't lose heart, but "came to the conclusion it wasn't going to happen". Dave decided to join Virgin Atlantic as a pilot, and then later Virgin Galactic. I'm so glad he's proven himself wrong.
We announced last week that Virgin Galactic is taking its next step towards full commercial service by moving its operations to Spaceport America in New Mexico this summer. It's such an exciting time for the space industry – and so great for the news to be broadcast all around the world on Virgin Radio UK.
Don't worry if you missed the show this morning, you can still catch up online.