If ever somebody tells you that something is impossible, don't believe them. Instead, prove them wrong. If you need an example, take my mum as an example. When she first told me her idea to put on a big fundraiser polo match in Morocco, I told her it was a bad idea and wouldn't work. She ignored me completely, did it anyway, and I happily ate humble pie. I recently attended the annual British Polo Day Morocco again, and it was the most successful yet…
Putting on events of this scale takes an enormous amount of hard work, and my mother is in her nineties. Fortunately, she has the energy of somebody a quarter of her age, coupled with all of the wisdom of a lifetime of adventure, fun and entrepreneurship.
When I turned up at the Jnan Amar Polo Club this year, I knew what I was in for: an amazing event, some great sporting competition and lots of money raised for wonderful causes. More than $205,000 was raised for the Eve Branson Foundation, which supports education, employment and healthcare initiatives in remote Berber villages, as well as Jnan Amar's children's charity Ninos.
The home side Ritz-Carlton Jnan Amar Rest of the World just pipped the Royal Salute Eve Branson Commonwealth team in the polo match. I left the polo to the experts, but did find time to play some tennis with the locals and guests at Kasbah Tamadot. Perhaps next year I'll be tempted onto horseback…
It was wonderful to spend some time with my family in Morocco, and to see all of the brilliant team at the Kasbah Tamadot. Set in the foothills of the Atlas Mountains, it really is one of the most spectacular places on earth. It got a little hot, but I managed to 'borrow' a cap off Christian and Crawford Collins.
Virgin Unite had brought together a great group of people on a Connection Trip to Morocco too, it was interesting hearing all about their current projects and future aspirations. They visited the Eve Branson craft houses, then to cap off the weekend, the Kasbah hosted a dinner to celebrate 10 years of this magical Virgin Limited Edition destination.
Image from Virgin Unite
Mum spends a lot of time here, working to support the local community. As she explained: "The philosophy of the foundation is to teach the local girls lifelong skills, removing the need to beg or ask for charity, for the Berbers are a proud, happy people." She's already planning next year's event.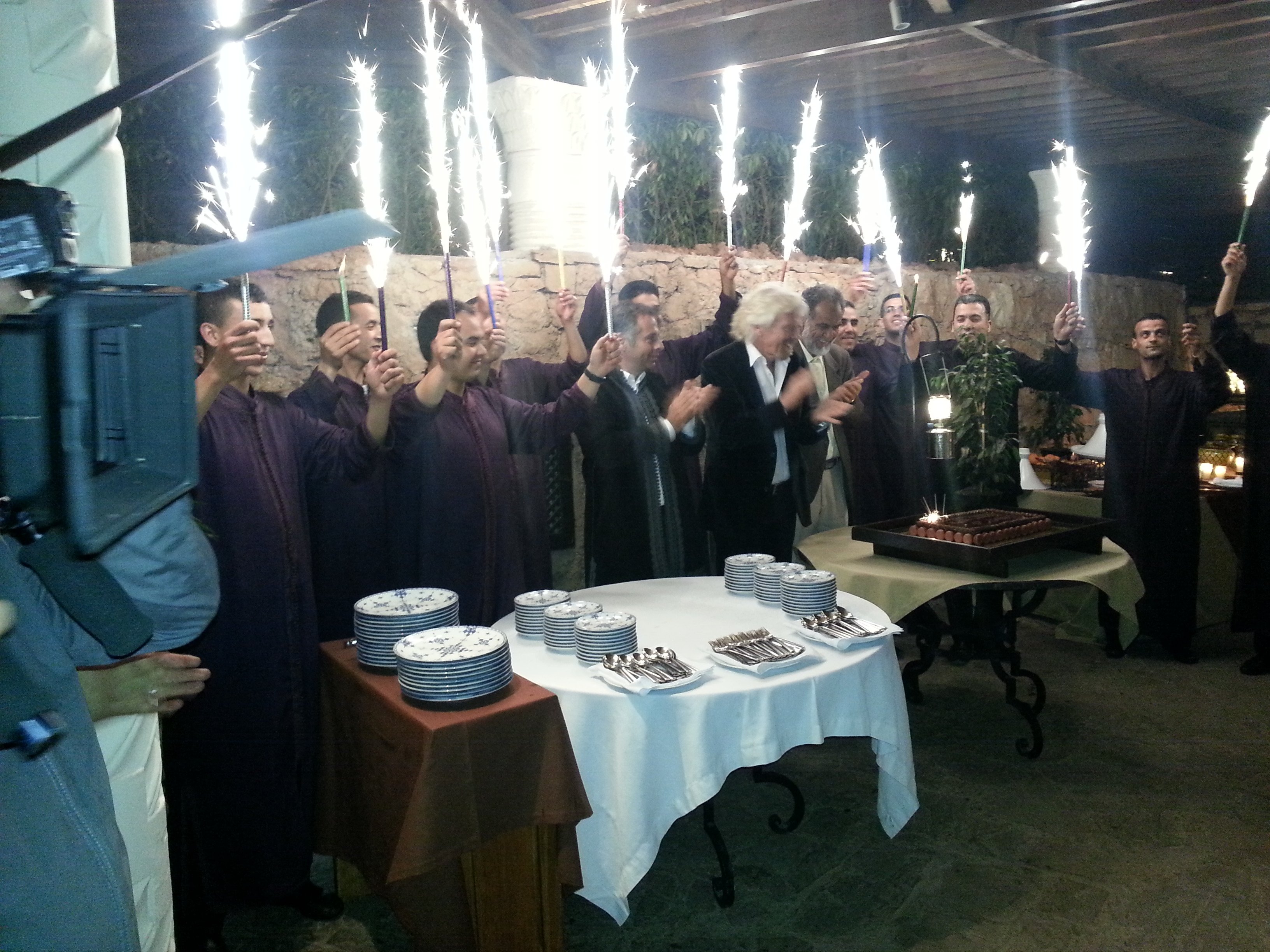 Image from Virgin Unite
To help support the cause, head over to the Eve Branson Foundation. To see the wonderful Kasbah Tamadot for yourself, go to Virgin Limited Edition.
For inspiration and motivation, look no further than my dear mum. Remember, don't believe your doubters – even if they happen to be family!