Only a few years ago, Guatemala City's 4 Grados Norte seemed to be a lesson in what not to do. The dream in 2001 was to rehabilitate the abandoned downtown into a family-friendly arts and culture hub.
Instead it brought a seedy nightlife where cheap beer, easy access to drugs, accusations of prostitution and disregard for the public space caused residents to mockingly rename it 4 Gramos Monte (Four Grams of Weed). In 2008 the entire district was shut down and emptied out - many thought for good.
But then 4 Grados Norte did something many downtown development projects never do: it reinvented itself.
On a recent Saturday afternoon, a weekly street market had taken over 4 Grados Norte's iconic two-block thoroughfare, the first pedestrian street in the country. Motown hits streamed through white tents housing vendors of kombucha, artisanal jams, statement necklaces, and mason jar terrariums. Young parents in Converse sneakers guided children on the middle-of-the-street jungle gym next to street-side tables of rosé-drinking 30-somethings.
Burgeoning creative industries
The neighborhood is an epicenter of Guatemala's youth culture. Ciclovida Urbana hosts organized bike rides and outdoor film screenings. Danzon, which started as a weekly DJ night in the neighborhood, has grown to include a record label, four radio shows, a magazine, plus showcases and residencies for local artists. Others host free yoga classes, a house-music dance class, casting calls, live music, art exhibitions, music and poetry workshops.
Image credit: Annie Eby
A pro-cycling movement and access to the TransMetro, Guatemala City's newest and fastest bus line, has led some pioneers to adopt a car-free lifestyle. 4 Grados Norte attracts mostly young people who live and work in the area. A 60 sq. meter studio goes for about $110K (USD) and a one-bedroom rents in the $600/mo range. While prices are higher than most of the city, and rising, the neighborhood is much cheaper than the city's posh Zona 10, and it's a popular option for those working in the neighborhood's burgeoning tech, design, and communications industries.
The most distinguishing characteristic of the neighborhood is its strong entrepreneurial bent. Typical occupants of the neighborhood's historic buildings are architecture firms, design studios, magazine offices, two co-working spaces, a green energy firm, a photography studio, a culinary institute, a jazz club, a wood-fire pizzeria, and a specialty coffee shop to name a few.
Wary of imitation
One could be forgiven for thinking "Brooklyn" at every turn. But the developers of 4 Grados Norte are wary of imitation. At the end of the 19th century, the president of Guatemala tried to redesign the capital as a tribute to Paris. They modeled the tree-lined central avenue of the city, Avenida Reforma, on Parisian boulevards. 4 Grado's own diagonal streets, which were supposed to emanate throughout the rest of the city, harkened back to the grids of Paris. But the city gave up after a few blocks, leaving 4 Grados twisted sideways on the city map. Looking out on the rusted sheet metal roofs of the city, it's clear that the vision didn't pan out as planned.

Image credit: Markus Bergström
The 36-year civil war that plagued Guatemala until 1996 peace accords had a deadening effect on urban life. "Before the war, people walked the avenidas and went out," says Ninotchka Matute, Executive Director of Fundación Crecer, the nonprofit that's helped facilitate the development of 4 Grados Norte. "During the war people retreated to private enclaves. There was a mistrust of public institutions and hostility to public life. War destroyed the civil society and civil engagement."
Crime is organized. The community needs to be organized too.
Emilio Méndez, of the men's fashion dynasty Saul E. Méndez, wanted to change the way people viewed and used the city. He started Fundación Crecer as a way to mediate relations between the municipality, private landowners, and businesses in 4 Grados Norte. "The idea was to recover the public space, to transform it into a melting pot of culture and art."
Incentives to encourage culture
At the time, the neighborhood was a hollowed-out shell. "It was crazy what we did, very naive in a way. When 4 Grados Norte opened it was against all odds. People didn't know it. Even those that knew it, it wasn't a place they would go. We created a popular district in a place where people didn't think that could happen."
After the initial aborted development project, Fundación Crecer realized that they needed stronger support from the municipality, and that safety and welfare of the neighborhood would depend on having people using the space throughout all times of day, not just at night.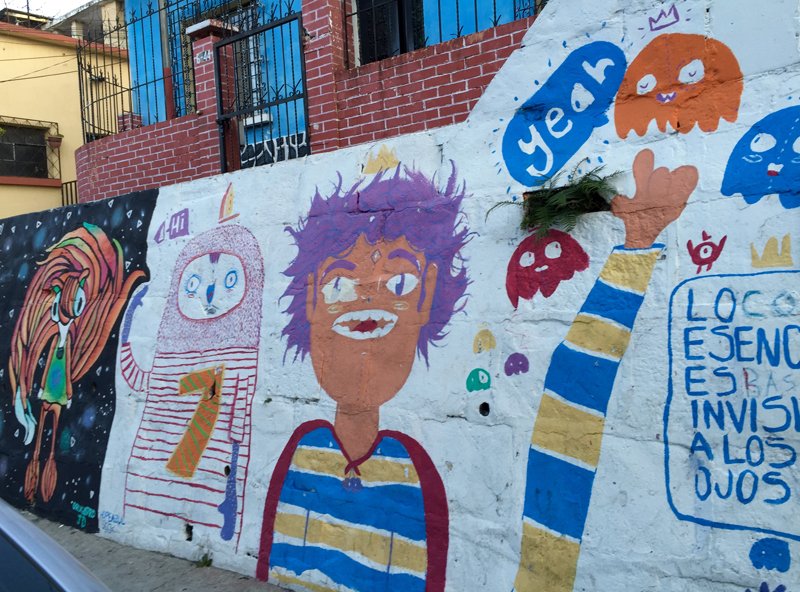 Image credit: Annie Eby
The foundation worked with the municipality to ensure security and create a special regulatory atmosphere where they could offer incentives for landowners' to act in a beneficial way for the neighborhood. Gated storefronts became open glass frontages. Abandoned warehouses emerged, painted by local mural artists, as concert spaces and art galleries.
The success of 4 Grados Norte has begun to turn back years of growing distrust in Guatemalan markets: the latest residential addition sold out even before construction began.
Central America's Silicon Valley
Arguably the biggest factor in 4 Grados Norte's success is its status as a tech and communications hub. Not only is it the premier destination for Guatemala's new knowledge economy, it's the generative center. Tec, an eight-story technology park and incubator at the entrance of 4 Grados Norte is the first of its kind in Central America. Called Guatemala's 'Silicon Valley' by the New York Times, Tec houses over 100 companies, mostly in software development and IT, and is building another 14-story tower which will accommodate three times as many occupants.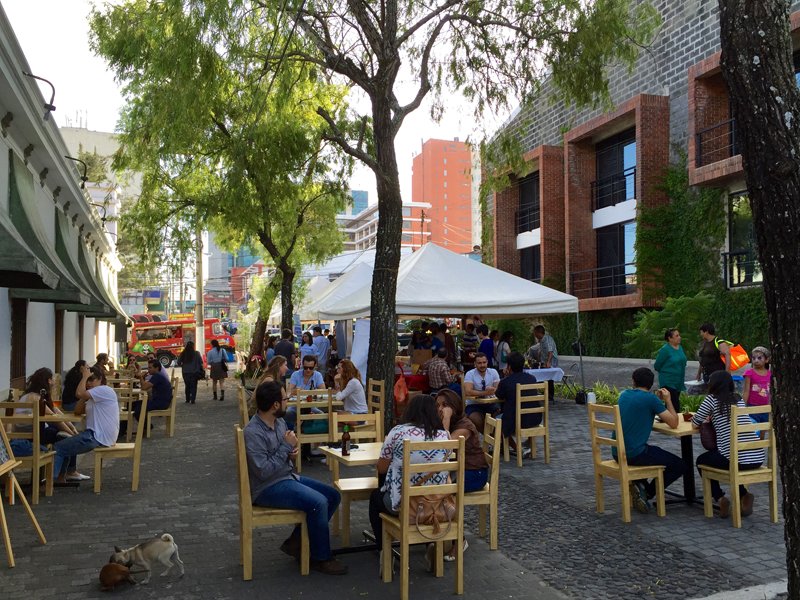 Image credit: Annie Eby
Despite all the development happening in 4 Grados Norte, Guatemala is still a country where crime and violence have huge economic costs: a staggering 7.7 per cent of GDP. According to World Bank estimates, the average business spends nearly four per cent of profits on security and losses due to crime.
As Matute says, "Crime is organized. The community needs to be organized too." Fundación Crecer offers a mechanism for organizing the community and requesting support from the police. Business owners pool resources to hire extra private security and also share a WhatsApp (text message) group to alert each other of suspicious characters and any criminal activity. Business owners report feeling generally safe in 4 Grados Norte. What's more, they feel they have the support and the direction for a new way of living in Guatemala City.
Robert Cobaquil, who recently opened Coffee District in 4 Grados Norte says, "We are actually creating a community, which is a new thing here in Guatemala. The whole area is just coming alive. It's like a phoenix."
This is a guest blog and may not represent the views of Virgin.com. Please see virgin.com/terms for more details.