As ever-growing carbon emissions become a bigger worldwide problem, our city's buildings are being transformed to be able to protect themselves. They may be man-made, but some of the most amazing eco-structures are actually inspired by plantlife.
This week, this stunning colossus from Singapore set a Guinness World Record for the hugest vertical garden the world had ever seen, towering at 2,289 metres squared.

Humbly named, "The Green House", the gargantuan building is no normal skyscraper; it is indeed a vertical garden, an eco-friendly wall of greenery that could save Singapore up to £500,000 in energy and water savings.

"With the eco-inspired Tree House, CDL has not only created a place where residents are proud to call home, but more importantly, a green icon which places Singapore on the world map." said Mr Kwek Leng Joo, the deputy chairman of the project.

He is not wrong. Created by the brains of City Developments Limited, the structure is a huge step upwards for vertical garden technology, the idea of which has seen a surge of popularity in the late 2000s, although actually was first conceived in the 1930s by Stanley Hart White, a Professor of Landscape Architecture.

So, with a mammoth percentage of 80% of all vertical garden buildings constructed after 2009, the future is most certainly going to be much greener.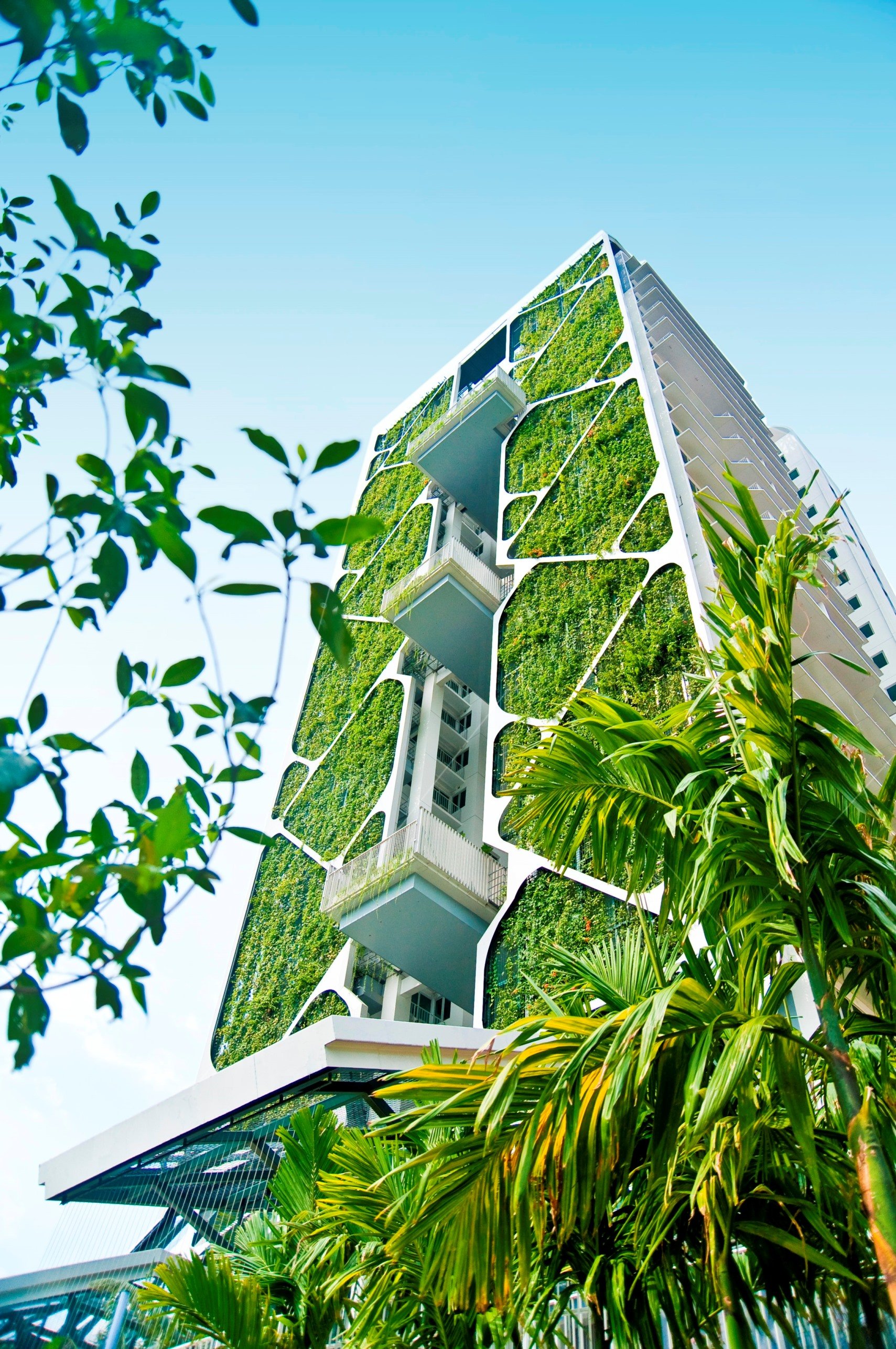 Image from City Developments Limited
As The Tree House picks up a whole host of well-deserved accolades for its contributions to urban architecture, it is most certainly not the only building. Here are a few more examples of architects and designers taking a leaf out of the Tree House's books.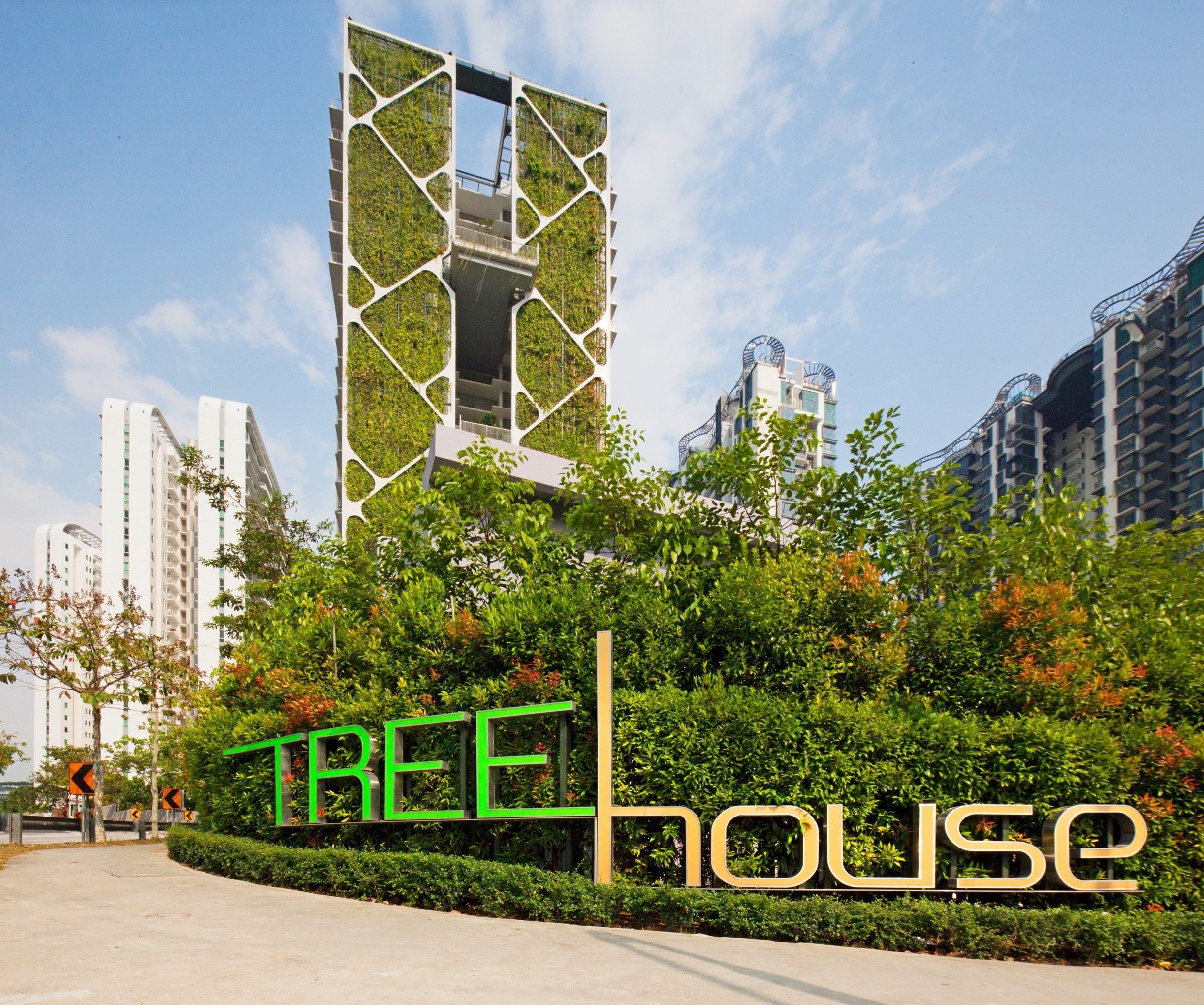 age from City Developments Limited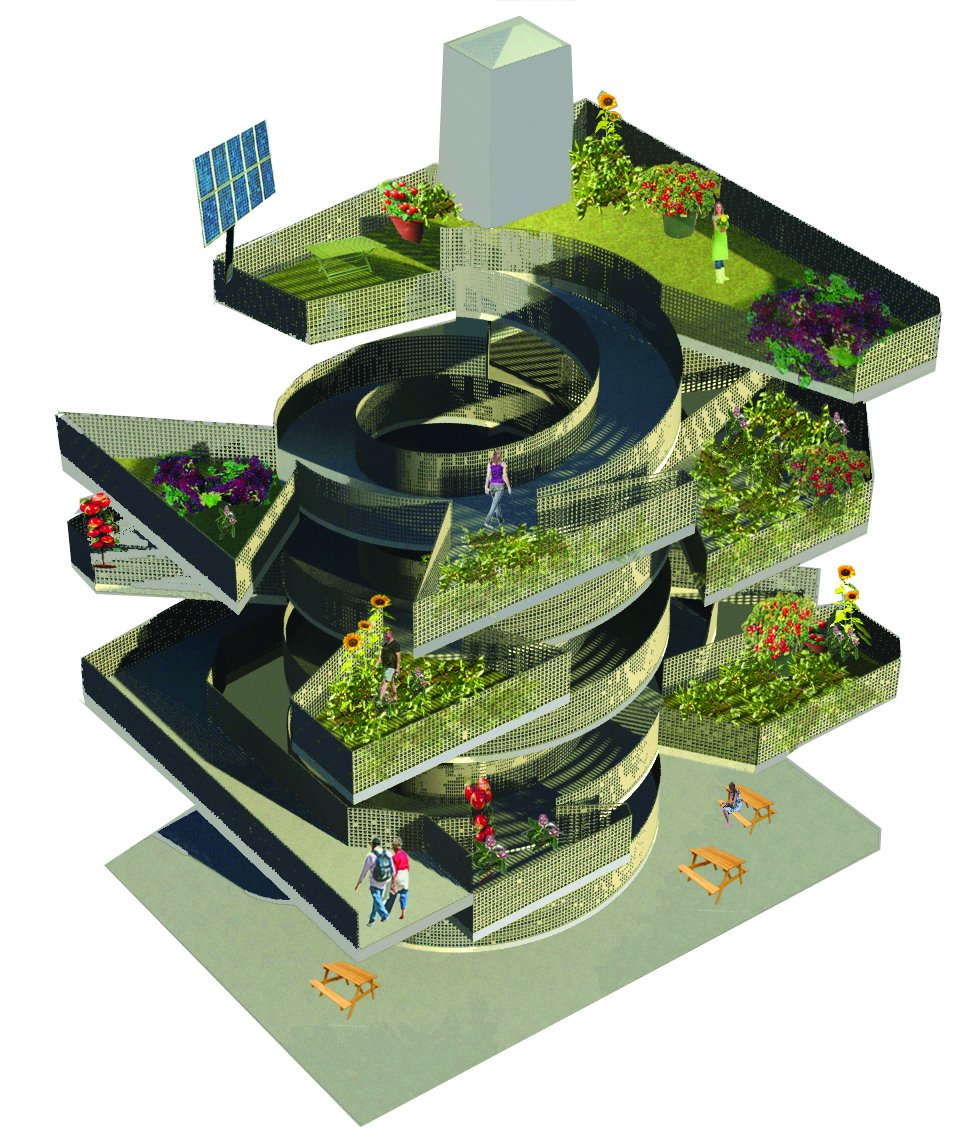 Image from http://www.luciesadakova.com/
Due to maintaining the appearance of a living, breathing building, encased with plants all along the walls, vertical gardens could be one of the biggest cost-effective ways to help the environment. On top of this, the general public can also benefit from the creations - creating a more positive mentality.

This is precisely what interior designer Lucie Sadakova worked towards when she designed these detailed urban alotments for her dissertation, which could help rural areas both aesthetically, and environmentally.

"Allotments are in short supply especially in high density urban areas of London such as Southwark." Lucie explained on her blog.

"Eventually multiple function of the building that is open to the public, offers an interpretation centre for schools and seasonal use for those affected by S.A.D (Seasonal affective disorder) all contributes to sustainable development in London."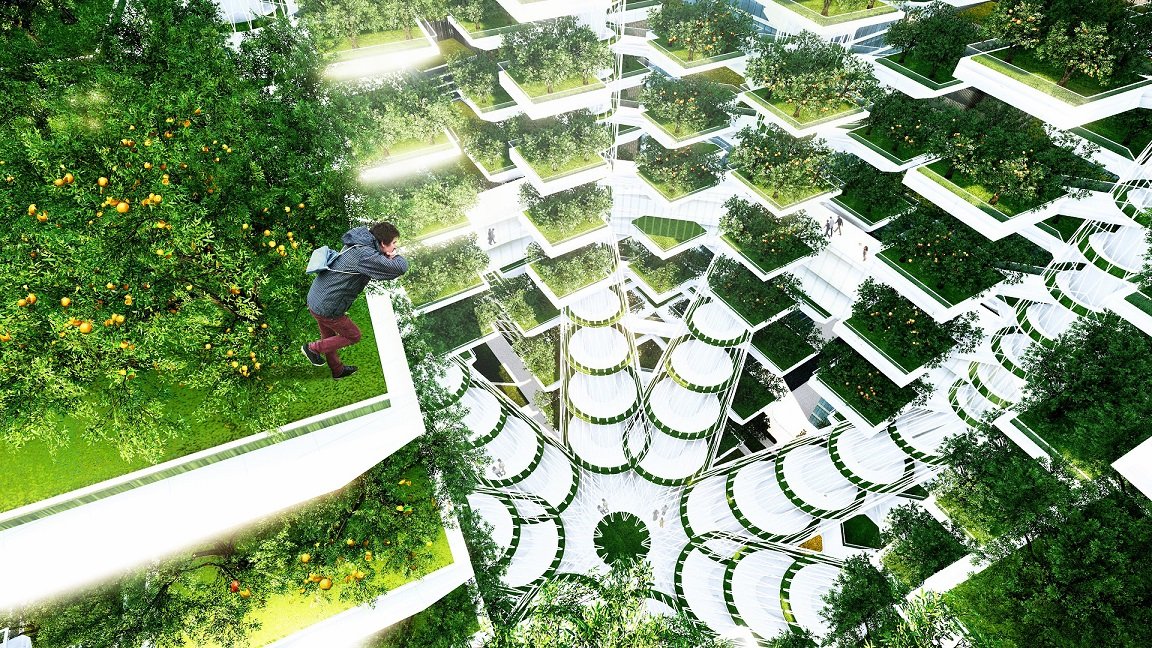 Whilst streets all around the world are transforming into emerald utopias, there are many competitions and awards out there to create the most beautiful concepts. Take for instance this wonderland by Brooklyn based studio Aprilli Design, who recently created their rather unique vision for this futuristic sky farm.
Image from APRILLI DESIGN STUDIO
Set to be based in Korea, the hugely sci-fi looking structure was created with the hope of bringing fresher water and food supplies to the downtown Seoul, the city's notably busy central business district.

After winning 2013's Green Dot Design Award, (a competition to seek the best environmentally friendly creations) it is easy to see why such a concept could do wonders to such a populated city. As well as holding a shape that could be as iconic as the Empire State Building, the technology behind the sky farm could even help Korea's economy.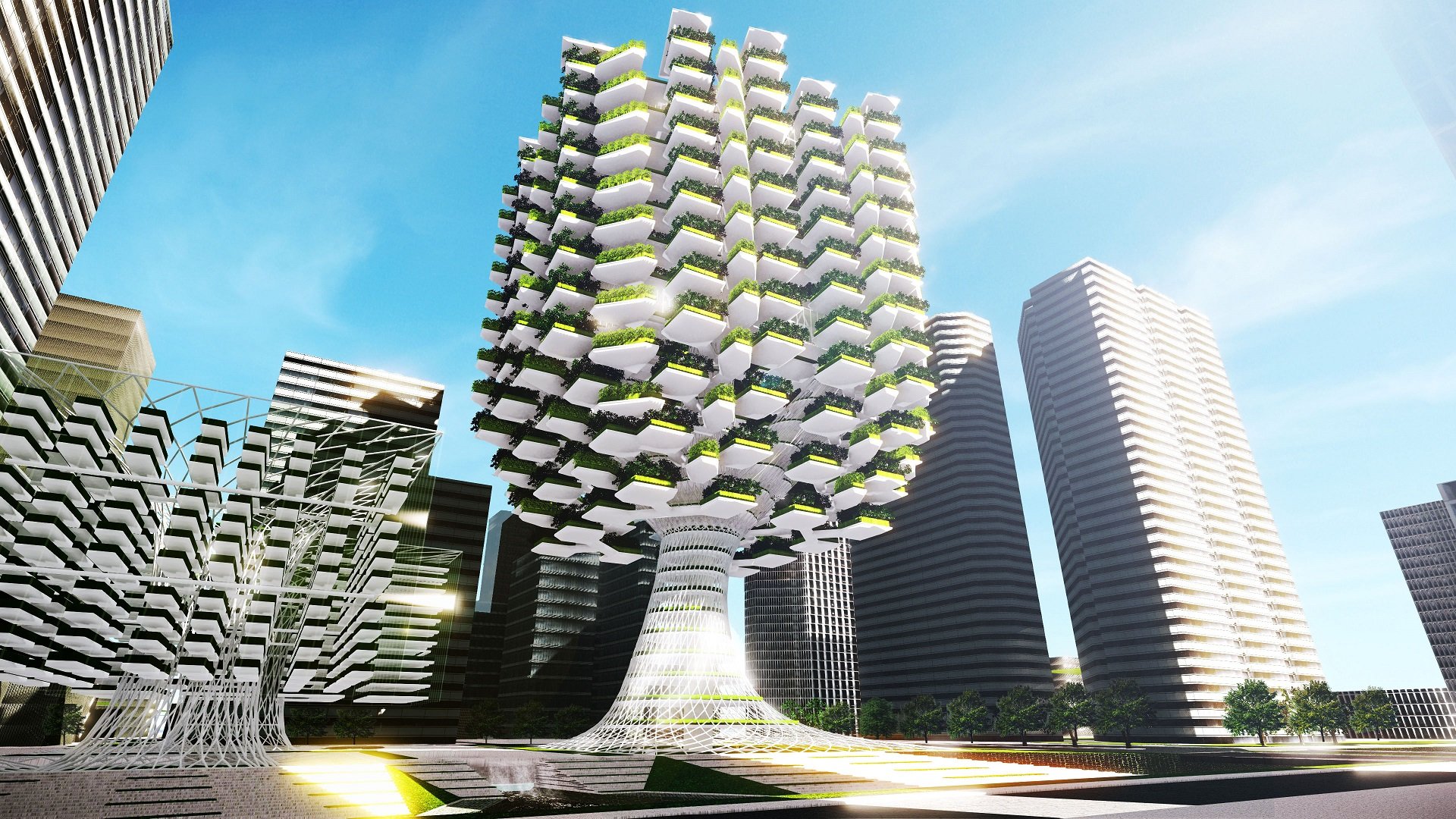 Image from APRILLI DESIGN STUDIO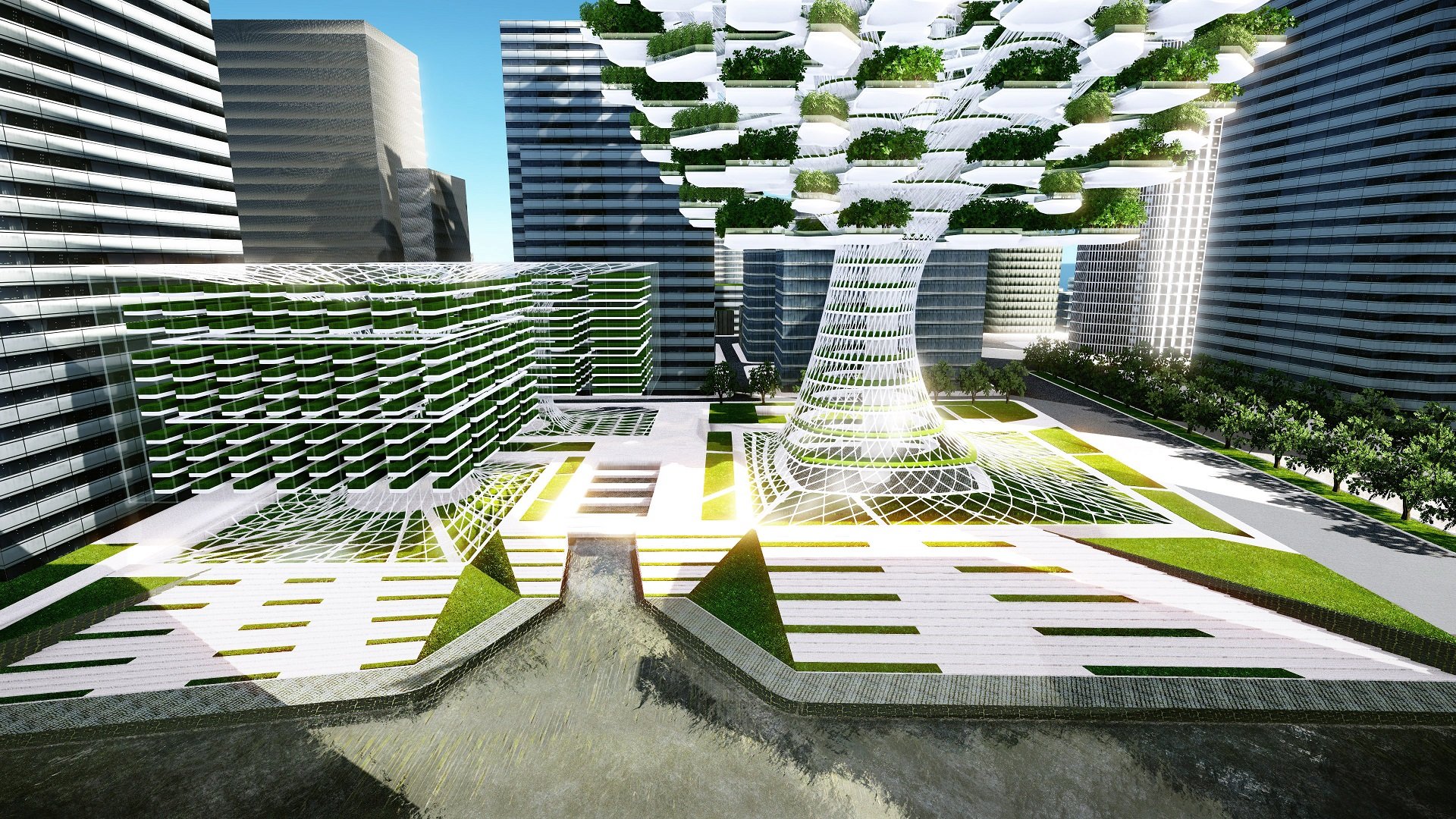 Designed to act like a tree as well as look like a tree, the Urban Skyfarm comes in four sections: the root, trunks, branches, and leaves.

For example, the 'root', would be used as a marketplace for Korean residents, whereas the 'trunk' of the building would act as a typical physical garden to enhance production of plantlife in the big city.

Connected to the Cheonggyecheon, (a creek that runs through the heart of the city) the building could even help recycle water and help source energy for itself. These designs are enough to make our sad little pot plants look very small indeed!
Image from APRILLI DESIGN STUDIO
Would you want one of these buildings in your city?