A Polish musical festival? I thought the same thing – but pinch yourself for the stereotyping and get down to Gdynia for the calmest (and cheapest) European festival yet.
Still heading to festivals in the UK? Sorry to break the news, but you're doing it wrong. Overpriced, overhyped and overcrowded... these vulgarities, Open'er festival is not.
Welcome to Gdynia, an airfield on the Baltic coast of Poland. Breeze through the queues, purchase a two euro pint and plop yourself down in the sun anywhere on the 75 hectares of land. Fancy moseying to the front for Jack White? Head on down – you won't find any pushing or recklessness here, just a few fist-pumping Polish locals grinning into the lights.
It seems that Poland's most popular festival has gained a strong independence over the past 10 or so years – particularly now it has freed itself of the sponsored title. Although no longer known as 'Heineken Open'er Festival', the brand's presence is still heavy on site – not only in every.single.bar around, but surprisingly, in the festival's recycling initiative.
Collect 15 or so cups, and the branding that once sat on stage, is made, with the help of some lovely fashion folk on sewing machines – into a customised bag. While it's a great initiative, it sounds a little bit gross, doesn't it? Who would want a Heinken branded sac? Me, apparently. Somehow, it works – those deep green and emerald green bubbles aren't at all tarnished by a rogue 'e' or 'i'.
Next to the Heiniken promotion-come-fashion house was a slightly smaller tent collecting crushing plastic into large rectangles using a large machine – ready to head straight to the recycling station – huzzah!
Not to say that the festival was awash with plastic, quite the opposite, as drinking in the arena is forbidden – the entire site has designated drinking areas throughout and security guard implementing the rule. Slightly annoying, but appreciated when you notice the absences of cups of flying beer, and how everybody's hair remains flowery fresh.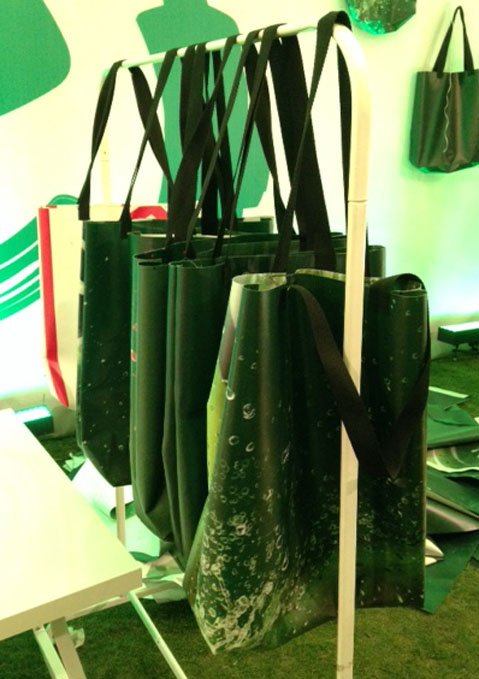 Open'er prides itself on showcasing local innovative arts and fashion with their weekend-long modern art exhibition, and fashion shows every half hour. Even Vogue were present to document Polish street fashion.
This bus (pictured) became an unlikely installation. At last year's festival, organisers asked festival-goers to draw and paint what they'd like from future Open'ers – a sneaky undercover user survey if you will. The end result looked kind of cool, so it stuck.
Even the VIP area is a work of art in itself – a box like structure to the right of the stage formed of thousands of loose reflective circles that float and shimmer with a faint breeze – just like the 'celebs' in there.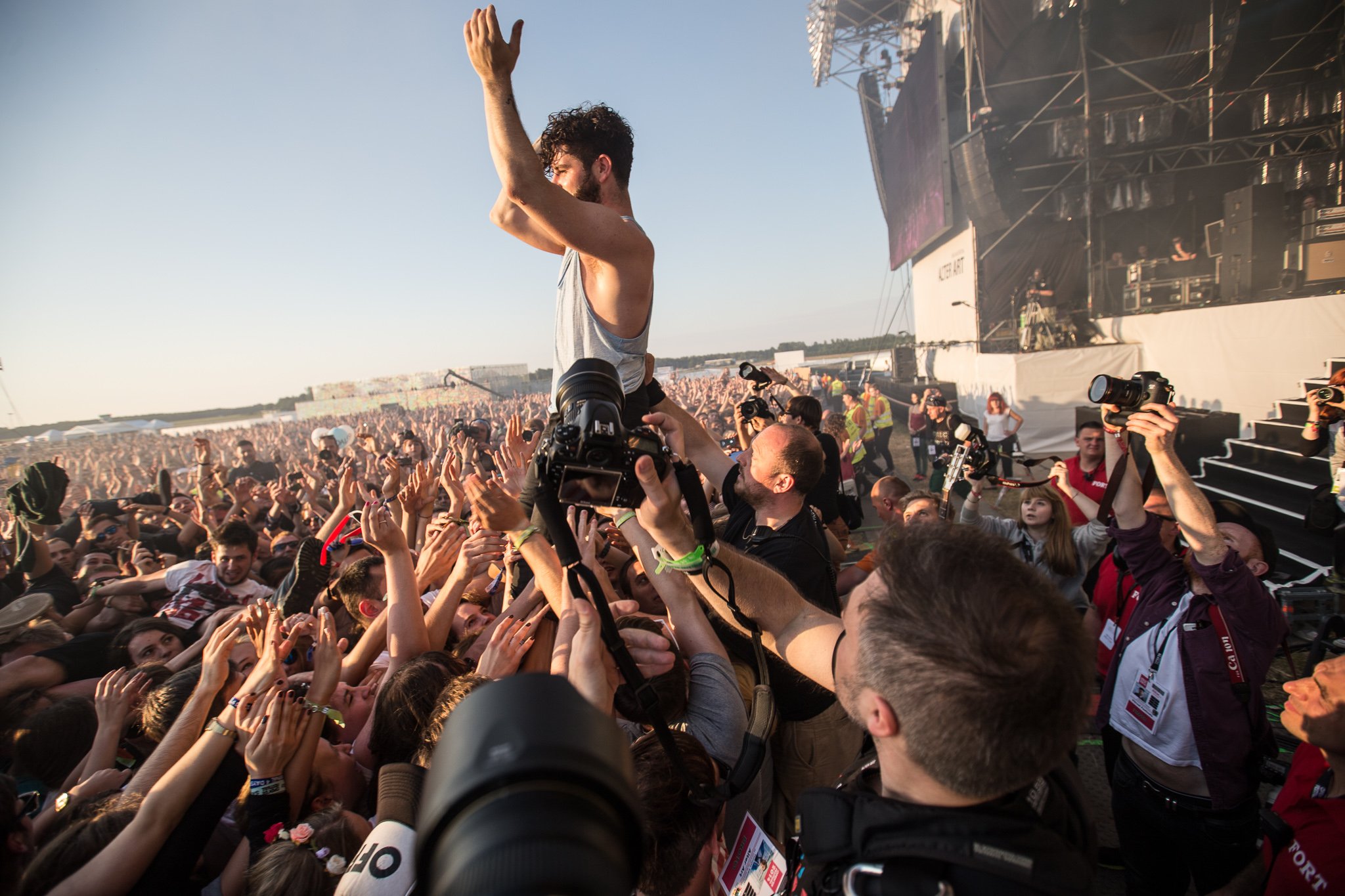 The odd lineup seemed to work quite nicely too. Foals did their math-rock thing just as the sun set, much to the appreciation of the audience (see the amour above). Pearl Jam attracted a reasonably large following (who knew); as did Jack White, who effortlessly charmed the crowd with his endearing Detroit accent, while playing a selection of solo and White Stripes hits, which were anything but genteel.
MØ managed to steal my heart with her 'I-don't-give-a' attitude, thrashing around the stage without makeup and wearing a scrunchie. She sealed the deal as my new number one girl crush with her cover of 'Say You'll Be There' (Spice Girls), and her Pussy Riot tattoo. Chromeo were no where to be seen (we're still not overly certain why), and MGMT did a stellar job of helping everyone forget it was 2014 and taking us back to our university years.
Remember the contacless card payment system I cautiously praised in the preview? Well, I would to retract that statement please. Despite the heavenly cheap prices (I had a gourmet burger bigger than my face for less than a tenner despite being pescatarian) – the whole system was a bit of a pain, especially since drinks queues were relatively non existent. And the tokens? I'm still finding them, a week later, in every pocket possible.
Food and beer moan aside – the festival is undoubtedly one of the cheapest you'll find in Europe. Return flights are less than £100, and tickets are just over. Treats, you save for at home, become everyday luxuries in Poland… pint of prosecco please!
The locals are lovely, and the town itself is beautifully picturesque, which I imagine against the likes of Warsaw and Krakow doesn't usually get a look in. Its rich history certainly surpasses most of its European rivals.
After a little deliberation I've come to the conclusion that Open'er is innovating in a way that no other European festival is – by keeping things simple. Using a wrist band system as opposed to QR codes/photo ID works. As does the layout and space. Despite the nuisance, the designated drinking areas are adhered to, and work splendidly. On top of all else, the festival insures that it's not being left behind by offering local arts, fashion and food – an edge that Sonar can't offer just yet.