With Russia's anti-gay laws casting a cloud over the Sochi Winter Olympics, musicial heroes of the LGBT community have spoken out. Take a look at this potted history to see how far the gay music industry has come.
After a new leglislation banning 'homosexual propagand'a cast a dark shadow over Russia hosting the Winter Olympics, a number of musicians spoke out in retalliation. After all, the industry, and in particular pop music, is one of the best catalysts LGBT culture has. Upon the revelation that under-18s would be banned from learning about homosexuality , Elton John took to his website and instantly took it upon himself to raise awareness for the community.

"The people I met in Moscow were decent, kind, patriotic men and women who had no thought of forcing their sexuality on anyone. Whatever the intention of Russia's homosexuality and paedophilia propaganda laws, I am absolutely clear from my own personal experience that it is proving deeply dangerous to the LGBT community and deeply divisive to Russian society."
Elton John's words led a torrent of backlash of artists rejecting Putin's offer to perform at the Sochi Olympics Ceremony, including Cher, and Elle Goulding saying, quite simply:

"I immediately said no. I want to know why all of this gay hate just exploded over there."

It is certainly not the first battle that's been faced over the years, with censorship and allegations dotted all over the fabric of music's history - be it Queen's music video Body Language being banned in 1982 for bearing "too much skin" - or rapper T-Pain recently noting that homosexuality in hip hop is still ominpresent in reference to gay artist Frank Ocean.
Pop music has flown the rainbow flag for gay artists in such an open way, from protests to songs that have united communities. Here are some of the best times pop music spoke out.
Madonna dresses as a boy scout
A strong leader of the LGBT movement, there is most likely nothing Madonna will do when it comes to fighting back. Vogue, after all, is a dance taken from the 80s gay ballroom scene, that Madonna catapulted into the mainstream.

In 2013, Madonna played dress up in a more purposeful manner than popping on a trusty cone bra, when she took to an award ceremony dressed as a boy scout. Did she have a new brand of cookies to promote? Not quite. It was in fact in retalliation to the 103 year old rule that Boy Scouts of America could not be openly gay.

"I think I should be allowed to be allowed to be a Boy Scout," she said. "And I think they should change their stupid rules."

The ban was lifted in January 2014.
The elite of rock and pop pay tribute to Freddie Mercury's legacy.
When the Queen frontman's death of AIDs devastated an army of fans in 1991, a crop of musicians made sure that the work Mercury had done for homosexuality awareness was kept strong.

In 1992, the Freddie Mercury Tribute Concert for AIDS Awareness tribute concert was initiated, with stars ranging from David Bowie to Robert Plant taking to the stage to honour the Radio Gaga singer. The gig was massive, very massive. It broadcast over 76 countries, worldwide, to an audience of over a million. 72,000 tickets were sold for future AIDs research.
Lady Gaga alters National Anthem
Known as a firm supporter of the friends of Dorothy, Lady Gaga has peppered her pop career with a string of alliegances to LGBT culture, quickly becoming an icon and an advocate of her time.

One stand out moment, was during a performance of the US National Anthem, where Gaga amended the lyrics to be more gay-friendly.

"O say does that star-spangled flag of pride yet wave..land of the free, and the home for the gay."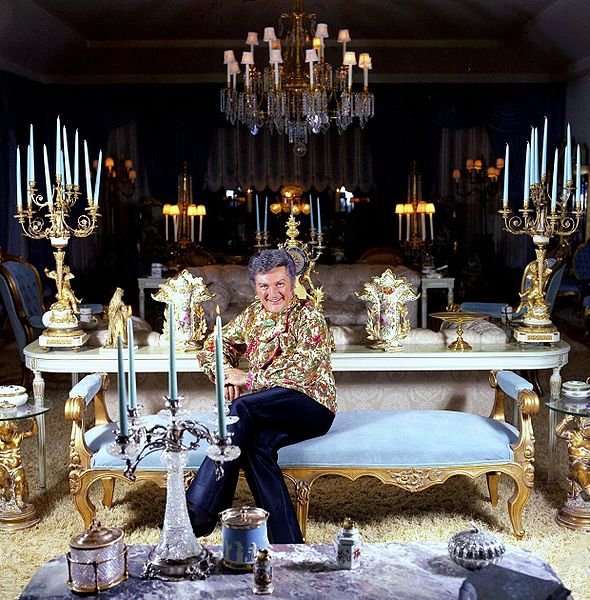 Liberace loves lawsuits
Despite always denying claims, Liberace was very much known as a prominent figure in gay music fan circles. Elton John revealed him to be the 'first gay person he'd seen on TV'.

Having numerous albums rejected for simply being "too gay", Liberace managed to seal off many newspapers questioning his sexuality, by winning a melee of lawsuits in his career.

When a Daily Mirror columnist implied his inclination, Liberace sent a telegram saying famously: "What you said hurt me very much. I cried all the way to the bank."

Despite his lover Scott Thorson outing him several times via a lawsuit of his own, and his book Behind the Candelabra, Liberace never publicly divulged his leanings, earning quite a lot of money playing on the press' obsession with outing celebrities.
What moments in music have inspired you?