To Glasgow and the final week of the Voom Tour 2017. So far this year the big red bus has travelled across England, Wales and Ireland, unearthing the best entrepreneurial talent around. Which means it's only right to draw things to a close in Scotland, home to some of the UK's most exciting new businesses.
Ahead of the tour finale in Dundee next week, Buchanan Street - one of Glasgow's busiest locations - played host to a day of pitches, free business advice, panel discussions and bracing temperatures.
From as far back as the 18th century the city's business community has been of international importance, with the traders and importers based on the banks of the River Clyde playing an instrumental role in the global ecosystem of sugar, tobacco and cotton distribution. Since those days the business climate in the city has been through many peaks and troughs but one thing remains - an entrepreneurial pulse clearly still runs through so many of the people who call Glasgow home.
One of those very people is Pheona Matovu, who took to the Voom Tour stage to tell her inspirational story to the crowd.
Image credit: Virgin Media Business
Along with her husband Michael, Pheona relocated to the UK from Uganda, where they found themselves unable to work for a period of five years due to immigration controls. During this time the pair relied on help from the church, friends and family to provide for their own family, whilst spending their time volunteering to help others in need.
In 2012 they were granted permanent residence status and found themselves free to work, but struggled to find employment due to the years they had spent without jobs. This resulted in them founding Radiant and Brighter, an organisation which helps immigrants facing similar difficulties find paths into employment, as well as organisations looking to tackle their own diversity problems.
"It's great to be here and share our story, if this was nine years ago I might have been telling a very different story from a deportation centre," explained Pheona. "We were undocumented migrants so couldn't work, we weren't even allowed to access medical support or food banks. But one thing we did do is discover that volunteering can get you places, you can make a lot of difference in people's lives… so we set up an organisation that supports people like us. We were shocked by the amount of skills and qualifications that people come to this country with that were going unused, those people's lives are frozen - we work with them to change that."
Image credit: Virgin Media Business
You can find out more about the Matouva's amazing story by checking back to our Voom Tour section next week, where we'll be looking at things in a little more detail. You'll also be able to get a full review of yesterday's panel session, which asked 'Are Scottish start-ups really the heart of the economy?'
To answer this question Voom MC Chris Reed was joined by three very experienced local business leaders in the form of Findra founder Alex Feechan, Homes For Good founder Susan Aktemel and Scottish Edge CEO Evelyn McDonald. Much like with Pheona's story, the conversation revolved around the strength of the local community.
"I think there's a real community spirit here, mentoring is really strong in Scotland and even people within your own sector will be willing to introduce you to contacts," explained Alex.
"When you're starting out it's a welcoming atmosphere and you won't find networking a challenge here."
However not all of the panel were quite so positive on the community mentality, with an acknowledgement that the realities of competition meaning that cooperation can only go so far.
"I've got more of a mixed view of the community," admitted Susan. "On the one hand Scotland is a brilliant place to do business, however there are a thousand letting agents operating in Scotland and the marketplace can be very competitive and quite cut-throat."
As always the day was brought to a close with the pitching competition, with £5,000 and the chance to meet Richard Branson on offer. Six entrepreneurs all stepped up to deliver two minute pitches to an expert panel of judges, before three minutes of questions. Following on from this week's VOOM Podcast focus on subscription-based businesses it was interesting to see such a strong showing from The VeganKind - the UK's most popular subscription box for vegans.
The competition saw an interesting range of business apply, with pitches coming from start-ups in the housing, cyber security, drinks and education sectors. However there could only be one winner and on this occasion it was Isatou Njai of Drink Baotic, a unique and innovative health drink made from the baobab fruit. Congratulations to team Drink Baotic!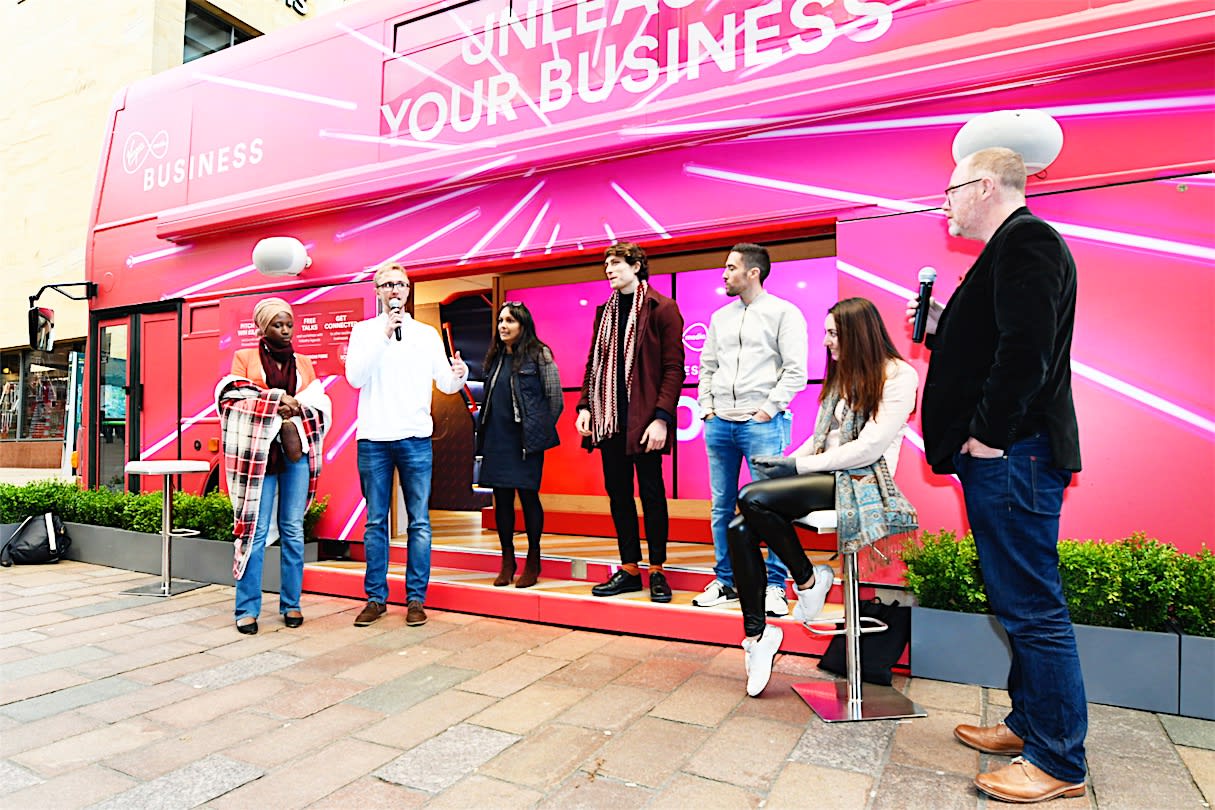 Image credit: Virgin Media Business