Copenhagen plays host to a truly unique entrepreneur housing project, but is it a model which can be successfully replicated across the world? Its residents certainly think so...
It was a sunny, autumnal afternoon in the Danish capital as I made my way up to an imposing set of doors opposite the city's buzzing central train station. Waiting for me were the smiling faces of Morten Krarup Kristensen and Daniel Jensen, the CEO and Press Officer for the world's largest co-living space for entrepreneurs, Nest Copenhagen.
"Hello, welcome to Nest," beamed Morten. "We're looking forward to showing you around, we seem to be getting rather popular. A group came over from Serbia last week to take a look." It's not hard to imagine why Nest is sparking such interest, as the pair were quick to point out, it's a fairly unique proposition being offered to an already thriving scene.
"I mean there's sort of something familiar in San Francisco but that's more temporary accommodation. What we're after is something a lot more permanent," explained Morten, in-between introducing me to various residents as we walked through the complex's central courtyard.

Housing a total of 21 entrepreneurs – from a range of European countries – on first impressions Nest feels very much like any other mid-range block of flats in the city, until that is, you enter the apartments themselves. But that's where I make my first mistake. The individual apartments should, I'm told, never be viewed as such. They may each have a lock on the front door but the residents have keys to enter any one they wish, it's not a block of individual flats, it's a singular communal living space. The rooms all have a rather ramshackle feel to them, with furniture and appliances either sourced from various second hand shops or made by hand. While this gives off an almost university halls of residence aesthetic, it's where those similarities start and end.
The location for Nest, which is on a 10 year lease, is not easily accessible to the city's strong student crowd - both in terms of location and pricing, a deliberate move to ensure that the space didn't quickly become overrun by parties. However the trick to making it work seems to have been striking the right balance, with both Daniel and Morten clear on the fact that nor is it a co-working space. Work is certainly not banned, but there's an acknowledgement that even entrepreneurs need to have some resemblance of a life away from their business.
It is the social part of entrepreneurship; a place where people understand your life, why you do it and what you need.
"There's just so much love in this community. That sounds like we're sat round smoking weed and singing songs but it's very removed from that," explains Daniel. "Before I moved in I was concerned that I'd get home from work and everyone would just be chatting about their start-ups all night long, thankfully that's not the case. It is the social part of entrepreneurship; a place where people understand your life, why you do it and what you need. At the core is the social sharing of being an entrepreneur, we share our knowledge consciously and unconsciously. Being an entrepreneur is a life that most people don't understand."
At this point I had been at Nest for going on an hour, draining cups of coffee as I toured the various levels, and hadn't asked what should have been the first question of the day: how did you become a resident? "Everyone asks that one!" Claimed Morten, happily. "First of all the person has to prove to the community that they're an entrepreneur in some form, then it's a case of matching personalities. And of course, they need to be happy with our set of values [right].
"We've just had the head of one of Scandinavia's hottest start-ups fill out an application. He seems like a really great guy but he's so busy that we're not sure if he'd be a good fit, it wouldn't work if someone was never around. The Ferrari looks great on the outside but if you're on a long journey then you perhaps wish you'd chosen a BMW."
Just shy of its first birthday, Nest has come along at a curious time, with the current trend for start-up spaces taking a very different approach to the idea of a work/life balance. London's Second Home, which was launched this week by former UK Government advisor Rohan Silva, is the sort of creative hub which appears to be indicative of a culture that encourages entrepreneurs to embrace their work tighter than ever before. Self-styled as "London's most creative community of entrepreneurs and innovators," it's an intriguing proposition, but unlike Nest it's one focused on the work aspect of an entrepreneur's existence.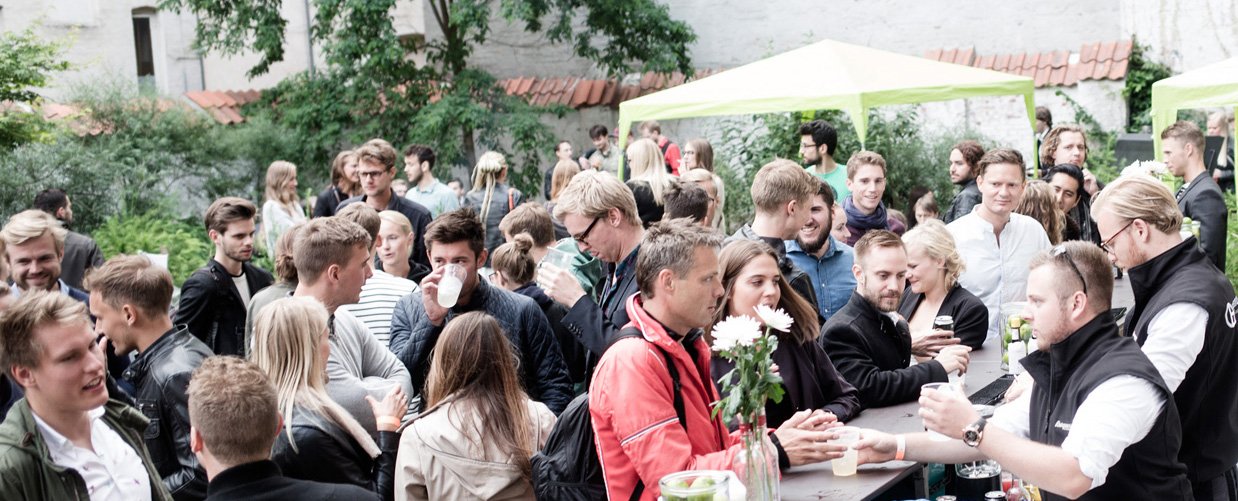 Large, sleekly designed industrial spaces housing young tech entrepreneurs, who come together to further embed themselves in start-up culture, very much seems the order of the day. This design process can also be seen in Paris' Halley Freyssinet project, an ambitious government backed construction which will open in 2017 as the world's largest start-up incubator. Start-ups love to work, so why not create somewhere that will enable them to spender longer periods of time doing exactly that? You can see the thought process, but is that really what every entrepreneur is after?
While there's no doubt that Nest is a genuinely unique entrepreneur housing project, is it a model which can be successfully replicated across the world? "Nothing is set in stone but we're looking to expand in Paris (France) and Aarhus (Denmark). We feel strongly for the brand of Nest. We are still moving forward with the expansion cautiously as to ensure that the concept works. It is vital to ensure that 'the Nest experience' is the same across the globe. We are almost ready for replication of the conceptual idea," explains Daniel. "Our strong community formed Nest - and we want to make sure that it is like-minded individuals who carry it forward in the future. We are very interested in talking to individuals who are interested in starting this around the world."
Images from NEST Copenhagen on Facebook