It's been a big year for the toilet. November saw the first UN-recognised World Toilet Day and the loo even got its own festive hashtag: #celebratethetoilet. In the midst of it all, social entrepreneurs from Haiti to Peru re-imagined sanitation from pay-as-you-go to rental loos without water, and not even the waste goes to waste.
According to UN Water and the WHO, 2.5 billion people lack basic sanitation and 15% of the world population defecates in the open. That's 1.1 billion people who use bushes and fields as their toilet every day. Just think about that for a moment when you next flush yours.
While permanent facilities are lagging behind, social entrepreneurs pick up the pieces – quite literally. In Kenya, Sanergy charges its franchisees for building and operating public toilets in slum areas, who in turn charge people to use them.
WASH United is using marketing techniques similar to those of global brands to give handwashing and toilet-use the 'feel good' spirit. And in Haiti, SOIL literally turns poop into soil, removing hazardous waste and creating a resource for sustainable livelihoods, agriculture and reforestation.
Meanwhile in Peru, x-runner has developed a toilet for inside the house. It is portable, needs no water and –crucially- does not smell and keeps the flies away.
The trick?
Separating urine and faeces in different storage compartments and adding sawdust to the latter. Once a week, the x-runner collection service removes the full tank and replaces it with a clean one. The waste gets turned into nutrient rich compost at x-runner's facility hub.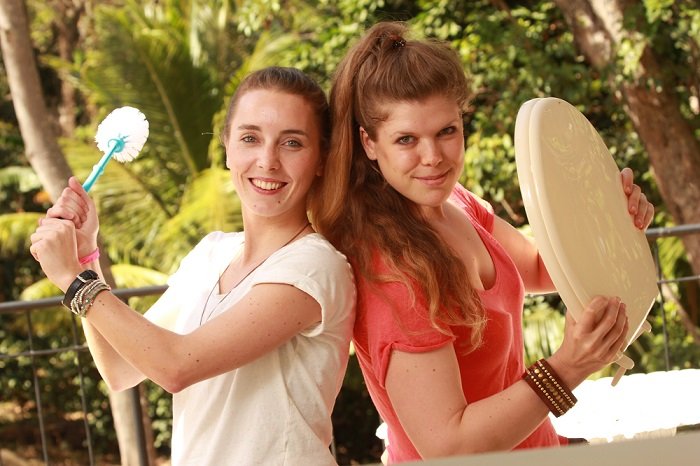 It is the service delivery through the collection model that most excites x-runner co-founder Isabel Medem. The 28-year old half Peruvian, half German entrepreneur moved to the country of her mother's origin last year to get the venture off the ground.
She believes that both the potential client base and the needs of the community are huge. In Lima alone, there are three million people without access to proper sanitation. "You don't see much open defecation here, but the widely used buckets and pit latrines cause many problems.
Families are exposed to a toxic soup of faeces and urine that attracts flies: the main transmitter of fatal diseases. The holes in the ground create the danger of large land collapses, and they are also expensive to dig – particularly on rocky hillsides."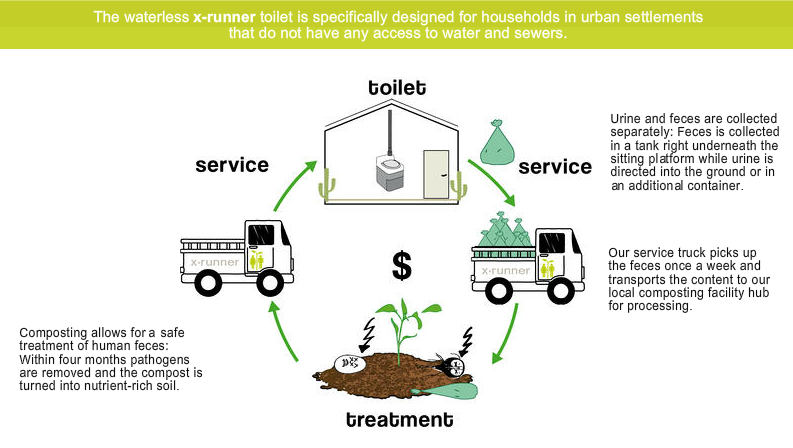 2.5 billion people lack basic sanitation and 15% of the world population defecates in the open
x-runner started with a pilot of fifty families in Lima. The team knew they had to be "extremely efficient" to make the model sustainable, says Medem. "I looked very carefully at our operations in order to keep costs down for customers. The main questions we needed to get answers to were whether people wanted the kind of toilet we offered, and whether they wanted to pay for the pick-up service."
It took a while to convince potential clients that the toilet worked and that x-runner would fulfil its promise of weekly waste collection, recalls Medem. "We spent many Sundays in the community, spreading our message and selling the concept." And the work paid off: 93% of trial users decided to keep the toilet after the pilot ended and have been paying customers since.
Just a year on, and x-runner has expanded into another part of Lima, with 500 new clients joining the scheme. To keep entry costs low customers rent the toilet at a low monthly fee, which includes waste pick-ups and service in case of a break down.
It is a company with a social goal, but a company nonetheless, says Medem. "We don't even call ourselves a social business; we just say we are a business. We have the reliability that comes with an established brand, which is very important to our customers.
Their reasons for joining are practical, but they also appreciate the modern look of our toilets, our consistent service and the German technology. The latter somehow is a real draw here for its quality reputation."
Isabel Medem is one of seven finalists in the Unilever Sustainable Living Young Entrepreneurs Awards, who will be featured on Virgin.com in the coming weeks.
Learn about the other finalists at changemakers.com/sustliving, where you can also share your own project.
- Photos courtesy of x-runner
- By Danielle Batist