Our economy is going through a major restructuring, says social entrepreneur Aaron Hurst, author of The Purpose Economy, and CEO of Imperative. What is this new economy, and how will it change how we live and work?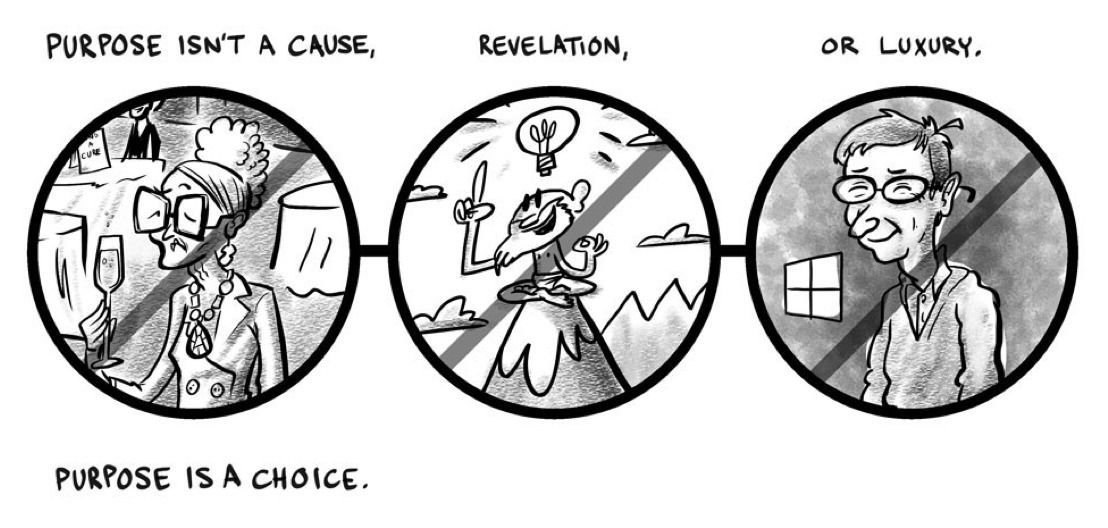 Image (c) Purpose Economy
Purpose comes when we know we have done something that we believe matters.
Through our species' gradual process of 'hacking nature' Hurst argues that we've evolved through the agrarian, industrial, and the information economies. Now, he says, we're on the verge of a new one – the 'Purpose Economy' – "centred on the need for individuals to find purpose in their work and lives".
Hurst traces his understanding back to his experience setting up the Taproot Foundation, which connects non-profits with professionals wanting to share their skills pro bono. In just over 12 years of the Foundation's existence the professionals donated over $100 million in services.
Why? What were they finding in these experiences that they weren't finding in their jobs? Purpose, says Hurst.
So what is purpose, exactly? Hurst distinguishes purpose from having a cause – "it's not only about what you're doing but how you do it and thereby relate to the world". People gain purpose when they "grow personally, establish meaningful relationships, and when they are in service to something greater than themselves." As Hurst describes it, "purpose is a verb, not a noun".
Hurst cites ten drivers of this new economy. From our changing family dynamics and our longer lives, to globalisation, how trust in our institutions is changing, to human scale technology.
Environmental, economic and political turmoil are other drivers, with Hurst citing 9/11, Hurricane Katrina, and the financial crisis (and the closeness with which they touch all of us because of technology) as having a profound impact on our collective psyche.
So what does this new economy mean for us as individuals, for businesses and for markets?
Image (c) Purpose Economy
Personal purpose
Purpose is the currency of the 'Millennial' generation, who are: "increasingly constructing their identities around purpose to make sense of the rapidly evolving world and their equally fluctuating role in it". As millennial Emily Reeve, who recently interned with the Virgin Unite team, attested to in her guest blog.
But it's not just the millennials – the growth of freelancers is another indication of the search for purpose, looking for control over their lives and work. And the traditional model of 'learn-earn-pay back' – i.e. do your time in an organisation with which you feel little common purpose in order to earn enough/get rich, and then pay back to society through philanthropy or volunteering – is an increasingly outdated model, Hurst says. People are increasingly looking for purpose at all stages in their careers and the organisations that can offer this will be at an advantage.
Is it just a first world preoccupation? Hurst says not, and has plenty of stories to demonstrate it, saying purpose "is a universal need, not a luxury for those with financial wealth".
Purpose is a business imperative
"In today's world, running an organisation without an intentional emphasis on purpose for employees and customers is like running an organisation in the early 1990s and failing to implement technology", says Hurst.
Changing people means changing business. Every organisation has a purpose or value proposition, or it quickly dies, says Hurst. But having a purpose doesn't necessarily make an organisation a Purpose Economy organisation – this is one which creates purpose for its employees and customers, and serves real needs; needs that matter. Organisations will have to keep up and adapt if they're going to continue to provide value. That means new ways of working, new products and services, and new styles of leadership.
Moving markets
But entrepreneurs and innovators beware. If you really want to disrupt, you need to think bigger than just the next product or service – you have to build a market. For me, this was where the book got most interesting. Hurst looks to one of the great innovators of our times, Elon Musk, to show how Musk is taking on the challenge of creating an electric car market, not simply a great electric car.
In Musk's case, he identified and built a sales approach around a group right at the front of the adoption curve, building a network of superchargers to combat range anxiety, and even sells some of their technology to competitors in order to grow the overall electric vehicle market. They're in a smart, long-term game. For another great example, read this story of how Edison won the electric light bulb race.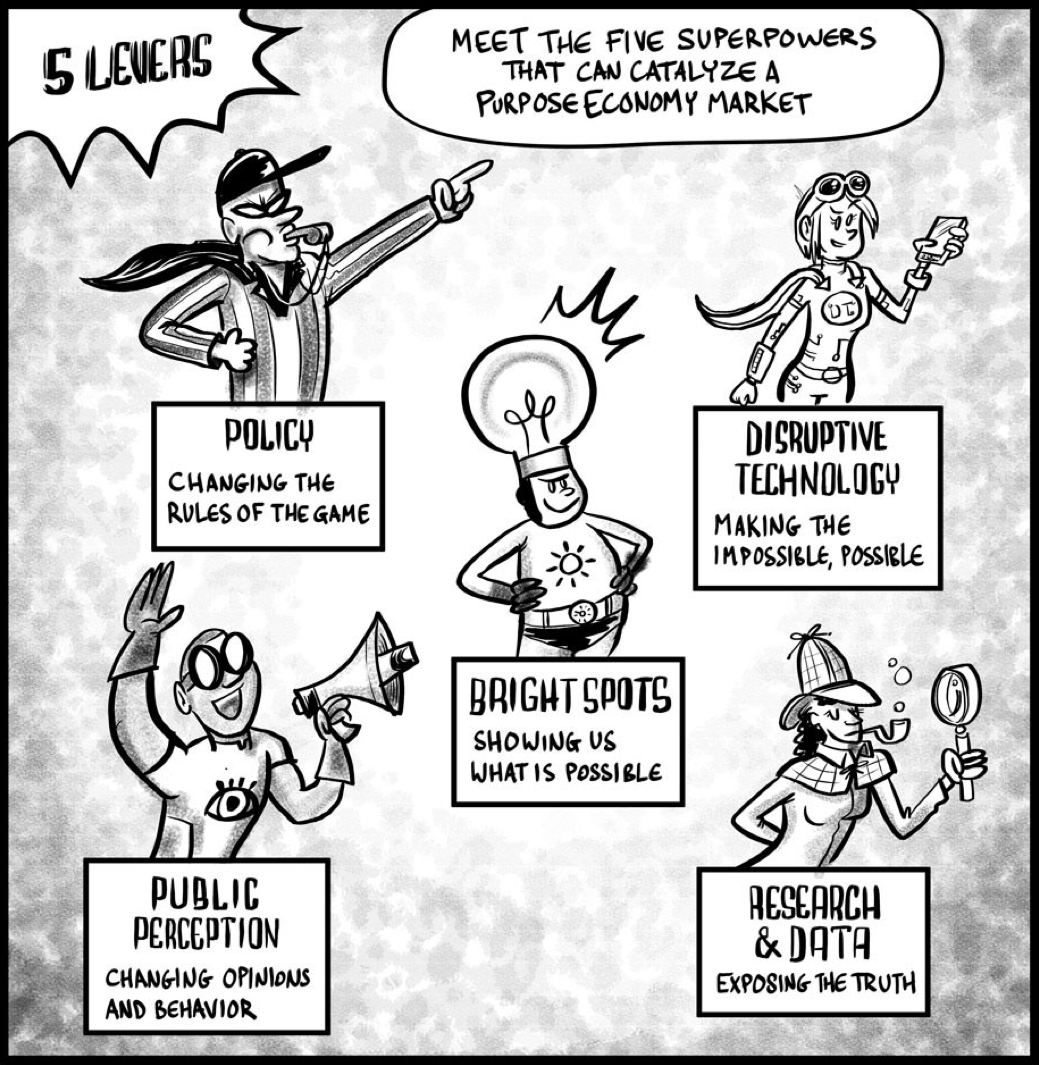 Image (c) Purpose Economy
How to get ahead
If you've bought into Hurst's case by the end of the book, he goes on to share a couple of useful approaches which are worth reading. The first is how to run an 'Action Tank', a way of understanding where your potential customers or audiences are in relation to your idea, and how to tackle barriers to adoption. The second is a framework for looking at the different levers that can shift markets, complete with a bunch of interesting case studies to explore.
If Hurst is correct, this new economy represents an exciting era with people at its heart; he suggests it is, "the first economy built for humans." But of course we've all got a role to play in building it. This line got me, "Your approach to work will most likely be inherited by your children."
The potential is huge: "There are unprecedented opportunities that exist in this nascent economy. It is ours to design and own, to create and expand markets in still unimaginable ways. As current and future leaders, we have the opportunity to improve the lives of billions of people."
I came away feeling that the Purpose Economy is here if we are prepared to create it. I'm in.