Want to be the kind of leader our world needs? Scilla Elworthy shares how you can improve your self-awareness and tap into your inner strength…
I'm excited because this week my new book, Pioneering the Possible, is published. It's about how any one of us can become a new type of leader; not the kind who barks instructions and sets impossible targets, but the exceptional kind of person who inspires others by their integrity, and makes a positive contribution to the world rather than simply building their own ego.
In fact, the trick is the opposite; the trick is to learn to observe and control your ego, to listen and to develop self-awareness. I've learned that this kind of inner work is a pre-requisite for outer effectiveness: the quality of our self-awareness directly affects the quality of the work we do in the world.
Here are three steps from the book to help you find your inner power..
ONE: Let's start with listening
You probably think you're a good listener; most of us do. Yet few really are. Why? Because most of the time, when someone else is speaking, we're thinking about whether they are right or wrong, attractive or not, or what we want to say, or what's for lunch. Our minds are full of our own opinions. That means we're not present to the other person.
Here's a really simple exercise you can do with a close friend or partner (there's a longer version in the book). One of you is partner A, the other B. A asks B a non-trivial question, such as, 'Tell me who you really are?' A sets a timer for five minutes and during that time gives their full attention – keeping eye contact, but not reacting –to B. B puts their full intention on finding the truth of the answer, taking the question into the belly (the centre of gravity of the body) and then reporting back what answer they find. During that time A simply gives continues to give full attention and does not repeat the question. Once the five minutes are up, the partners swap roles.
The exercise has three benefits:
It enables you to understand what's really going on inside you and another person.
It lets you discover your own inner wisdom; what you didn't know you knew.
You can check your ability to give another person your full attention without "helping."
I've done this exercise with corporate leaders, top executive teams, and young social entrepreneurs from all over the world. They all found it quite tough to do at first but came out of it astonished at what they found – their own truths as well as their partner's.
TWO: Become an observer of your mind
I've seen so many people who are trying to do good work but end up causing misunderstanding, feuds and draining everyone's energy. Why? Because they were unaware of the inner anger or fear – or even envy – that was driving them, and ended up 'projecting' it out onto colleagues or friends. So a key part of anyone's education, I believe, is to learn to observe our own minds. In this way we can gradually bring to the surface and deal with the unconscious stuff which otherwise can hurt or injure others.
But how do you do this? Today there are many forms of mindfulness, reflection and self-awareness training that help to uncover the habits that inhibit our growth and help us discover the core of our being – our own inner power. The advantages are of practical help in daily life: if we calm the mind, that vital space between stimulation (something that might trigger a strong emotion) and response (what I choose to do about it) becomes accessible on demand, giving us choice. Pema Chödrön is my heroine here – she's the author of When Things Fall Apart: Heart Advice for Difficult Times, which has become a bible for living for millions of people, including me.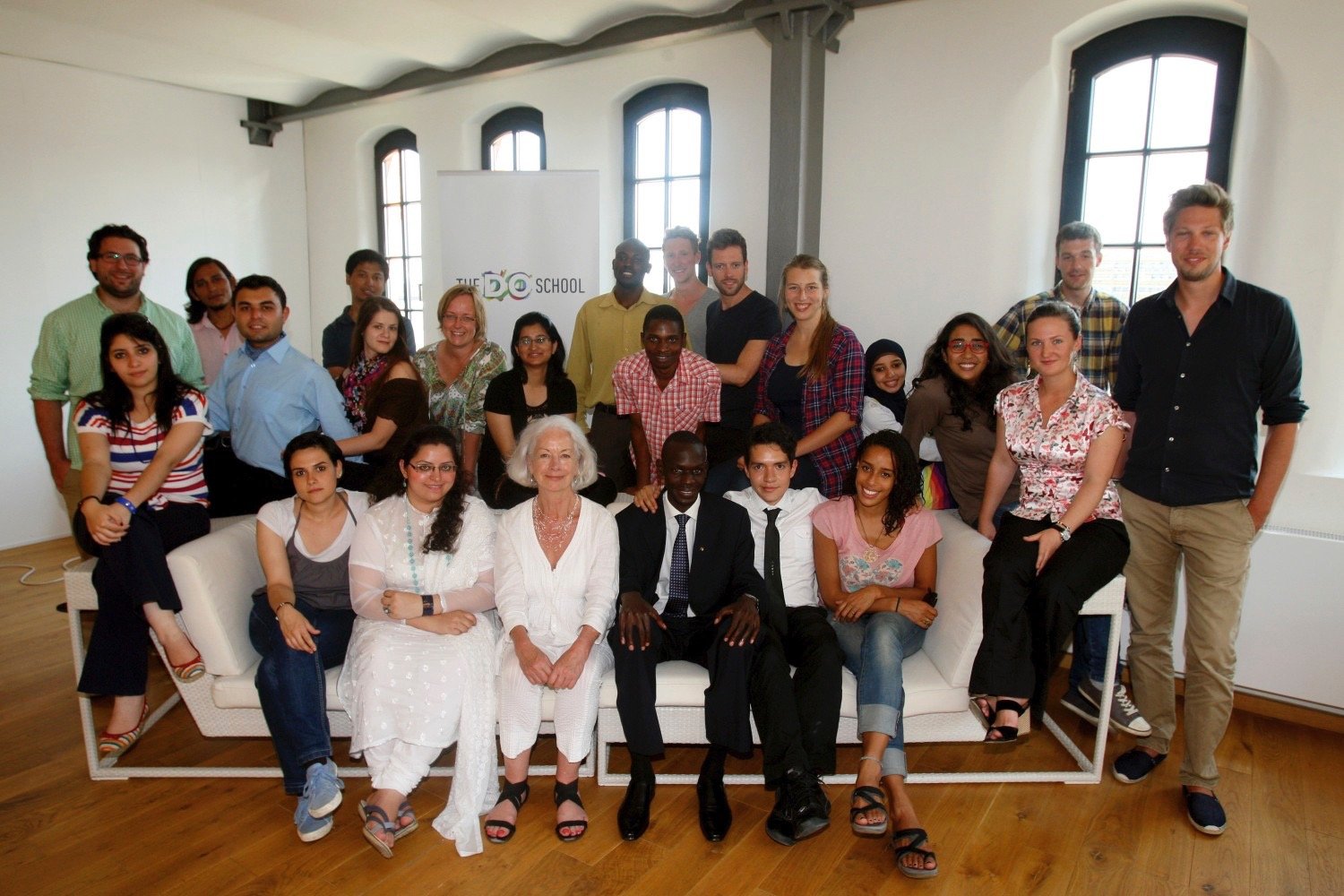 THREE: Find what it is you really want to do
Scilla with Do School students. The Do School is an innovative educational organisation that offers learning experiences to create global impact.
The crises faced by humanity today are so vast and so far reaching that our creativity can freeze. Our capacity to imagine a positive future can simply wither. Instead, we look to others – politicians and movement leaders – and expect them to come up with answers. And, of course, they can't. This is the moment when grassroots, bottom-up creativity is most needed: yours. So how do you decide how you can contribute? Here I can offer you a series of questions to ask yourself:
What breaks your heart?
What do you profoundly care about?
Where does your passion lie?
Freed from all constraints, what would you be doing about this?
What resources would you need to impact this?
What are your strengths and what skills can you bring?
Who do you need to team up with?
One of the organisations I've teamed up with is Virgin Unite; when I first walked into the offices in 2005, I was really moved by people doing such original and useful things with their skills. A Virgin team even volunteered to design a campaign for Peace Direct, one that was spectacularly successful.
- This is a guest blog and may not represent the views of Virgin.com. Please see virgin.com/terms for more details.
Scilla Elworthy's book Pioneering the Possible is published by North Atlantic Books this week. As Desmond Tutu puts it in his foreword to the book, "I suggest you use this book as a guide, so that you too can become a twenty-first-century pioneer of the possible".
Find out more about Scilla in our 'Cuppa & chat' interview.