Born out of frustration that mainstream news only promotes the negative, we're bringing you a regular fix of the good news buried underneath the bad. Happy Friday!
Sometimes it feels like human beings are determined to screw up the planet and everyone on it. Yet, all around the world, amazing people – just like you – are coming up with new ways of living, loving and doing business to create a better future for us all. So we've decided to dedicate a regular blog to shout out some of the good news we've seen each week. Here's this week's round up...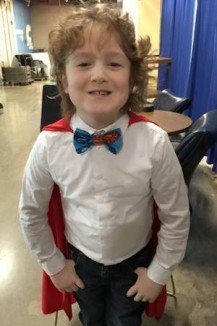 Eight-year-old superhero helping the homeless in Detroit
When Ewan Drum told his mum he wanted to be a superhero teenager and help homeless people, his mum said, why wait? So now every month Ewan puts on his cape and distributes essential supplies to those struggling in Metro Detroit. He's now set up his own non-profit – Super Ewan, Inc – and he's expanding the support to a neighbouring country. Ewan's brilliant strapline is, 'We can all be a superhero to someone'… Who will you be a superhero to today?
Children's climate crusade – protecting our future through law
Young people in the US are demanding that their future be protected from climate change by going to court. They're relying on something called the 'Public Trust Doctrine', which states that "the government is a trustee of the resources that support our welfare and survival". Although an application to the US Supreme Court was denied, there are cases pending in six states. Kelsey Juliana, who is one of the young people involved in the legal effort in Oregon said, "As a youth, and therefore someone on the frontlines of climate change chaos, I have everything to gain from taking action and everything to lose from not."
Muslims create "ring of peace" around Oslo Synagogue
As religious tensions and anti-Semitism rise around the world, Muslims in Oslo have set an inspiring example. More than 1,000 Muslims and people of other faiths formed a "ring of peace" around Oslo's synagogue this week to show solidarity with Jews and promote humanity and tolerance. "Humanity is one, and we are here to demonstrate that," said Zeeshan Abdullah, one of the organisers.
Virgin Trains supports local dairy farmers
In recent years, UK dairy farmers have been struggling to cope and huge numbers have been going out of business. The problem is the unfairly low milk prices paid by supermarkets and processors – often less than the cost of production. So it's good to see Virgin Trains take a stand by announcing that they will source fresh milk for all of their trains from local farmers along their routes. Over a year, this means more than half a million pints of milk, and the average distance between farm and train depot will be just 16 miles. The move means Virgin Trains will pay 8% more for milk than previously, but it represents a fair price for a quality product. Good on Virgin Trains for supporting our hard working farmers!
Image from Virgin Trains
Not one kid turned up to this six-year-old's birthday party – see what his community did
When none of the 16 children invited to Glenn Buratti's birthday party showed up, his mum was justifiably upset and angry. But after venting her feelings on a local forum, the community had an incredible response. Within a few hours, 15 children and 25 adults had dropped by to join the party, the local police flew their helicopter overhead, the officers pooled money to buy gifts, and the fire department dropped by to let Glenn explore their fire truck.
In other (brilliant) news...
Have you spotted any good news you want to shout about? Get in touch with us via Twitter or Facebook using #GOODNews we'd love to include your stories in future editions!