Andrew fell in love with Ulusaba's landscape and wildlife whilst on a Virgin Unite Connection Trip in late 2013. As an artist and painter focused primarily on the natural world, he knew that his couple of days at Ulusaba would not be enough. So he arranged to return in March of the following year to observe and sketch to his heart's content, and his finished work is now being exhibited at the Mall Galleries in London.
Image from Andrew Stock
But Andrew fell in love with something else whilst there – the communities of people living next to the Sabi Sand Reserve, where Ulusaba is located. Pride 'n Purpose is the joint initiative of Virgin Limited Edition and Virgin Unite, and supports the sustainable development of over 35,000 people through improving access to food, water and health services. Andrew is donating 10% of the sales of his work directly to Pride 'n Purpose and will be used to buy seeds and plants for a vegetable garden at Kasani school. This will provide fresh vegetables for school lunches and extra crops can be sold, used for seeds or given to those in need.
As Richard Branson says,
"Andrew's work captures the beauty of Ulusaba and I am delighted to be supporting his exhibition. We are extremely grateful that 10% of the proceeds from the exhibition will be donated to Ulusaba's charitable arm Pride 'n Purpose to assist us in improving the lives of communities in the surrounding area, and I encourage everyone to buy one of his beautiful paintings!"
Take a look at some of Andrew's beautiful work, accompanied by some of his diary entries from his time on the Reserve.
Image from Andrew Stock
Image from Andrew Stock
Excerpts from Andrew Stocks' Ulusaba diary, March 2014:
"I was up again for another drive at 4.30 am. The bush is an enchanting, unpredictable environment that I find very addictive – I am learning about the local wildlife all the time and the numerous beautiful birds, often overlooked by the guests, are proving quite a challenge. And then there are the many plants, some in flower, the numerous and spectacular insects and various other creepy-crawlies including a six-inch long millipede... and various snakes."
"In the first few days that I have been here in Ulusaba I have seen so much more than the 'big five' during the drives and have managed to sketch every day as well as snap many photos. Sitting up in the tree house overlooking the lake one afternoon proved very rewarding and I was able to sketch all afternoon. As well as the hippos and crocs there were hammercops, a black necked stalk, various lapwings and a fish eagle.. and then there were the baboons, not so popular at the moment having raided Safari Lodge a few times."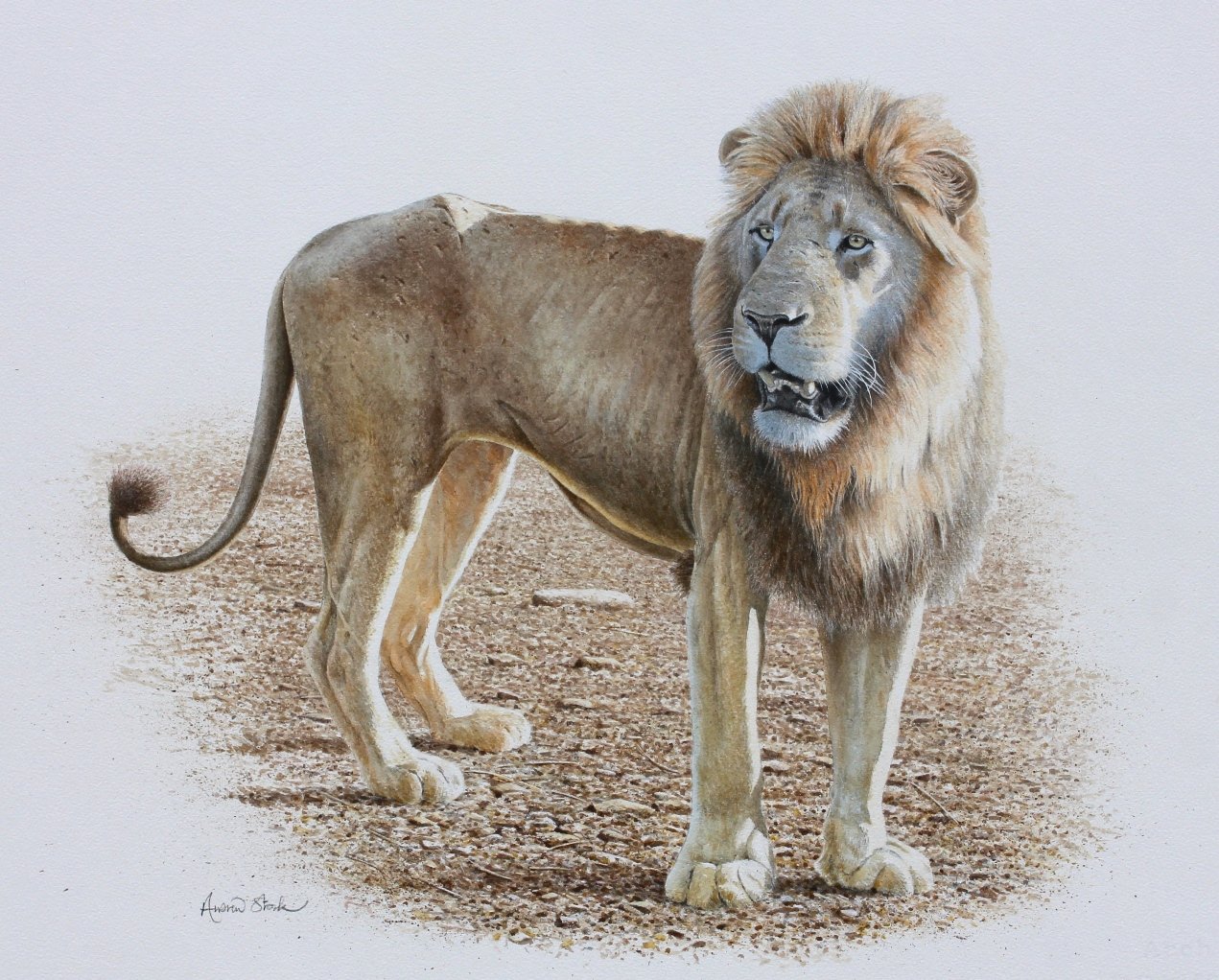 Image from Andrew Stock
"The end of March has been all about the changing of the guard; the three male lions in the western sector of Sabi Sands, known as the Selati lions, are brothers and have been dominant here for the last year. But four males, possibly from Kruger, the Majingilane brothers, decided they wanted this patch and on Sunday morning beat up one of the Selati lions. He was in a bad way with wounds on his back and leg and was lying up in bright (and hot) sunshine, looking a little sorry for himself. Incredibly three of the Majingilane four were lying up within yards… We think the Selati Lion eventually got away.
Today, Monday morning, we found another of the Selati lions, uninjured and strutting his stuff in the middle of his territory. He was roaring, possibly calling for his brothers, scent marking and rolling in elephant dung – he looked dominant and assertive but this was his last hoorah – all was about to change.
Our Selati lion was suddenly off as from nowhere the four Majinglane brothers moved swiftly through the scrub; they were after him and he had to run. And run he did, all the way to the river, which was flowing rapidly after last night's rains. He had no choice and had to cross 70 metres of rapids, which looked extremely treacherous. He battled through despite the current, and disappeared once as he plunged off a rock and into deep water. Eventually he was out of the water and carried on his trot, occasionally looking over his shoulder until he was out of sight.
There may well be two Selati lions still in the western sector – one is injured – they may both have been chased out or even killed by the Majingilane four who have now claimed the western sector of Sabi Sands. They will also want the lionesses for themselves and will destroy the cubs sired by the Selati Lions… messy business, nature."
You can support Pride 'n Purpose by donating here. 100% of our overheads are covered by Richard and the Virgin Group, which means that every single penny you donate goes directly to the initiatives. And you can buy one of Andrew's paintings by getting in touch with him via his website.