You may have seen something in the news recently about the President of the United States taking a little trip to East Africa. Something you probably didn't notice however, was Obama swatting away a few awkward questions about his Power Africa initiative – an ambitious plan to create 60 million new electricity connections through
collaboration between
government and private sectors.
This top-down approach to energy access initially came under some strong scrutiny – fears that extending a lumbering and unwieldy national grid system would take too long, cost too much money and never fully service the needs of the very poorest, were being voiced by many in the off-grid sector.
It was thought by many, including ourselves, that a solution already existed that could neatly fill the gap until such a time as a mixed energy grid system manoeuvred its way into rural areas. With the right level of investment, solar mini-grids, home systems and pico solar lights could be rolled out across the continent in a matter of years, not decades. In fact, they are already serving millions of people with amazing organisations like Akon Lighting Africa, M-Kopa and Off-Grid: Electric, securing multi-million pound investments. Even our very own social enterprise, SunnyMoney, is already reaching more than 10 million people with safe clean solar light as we speak.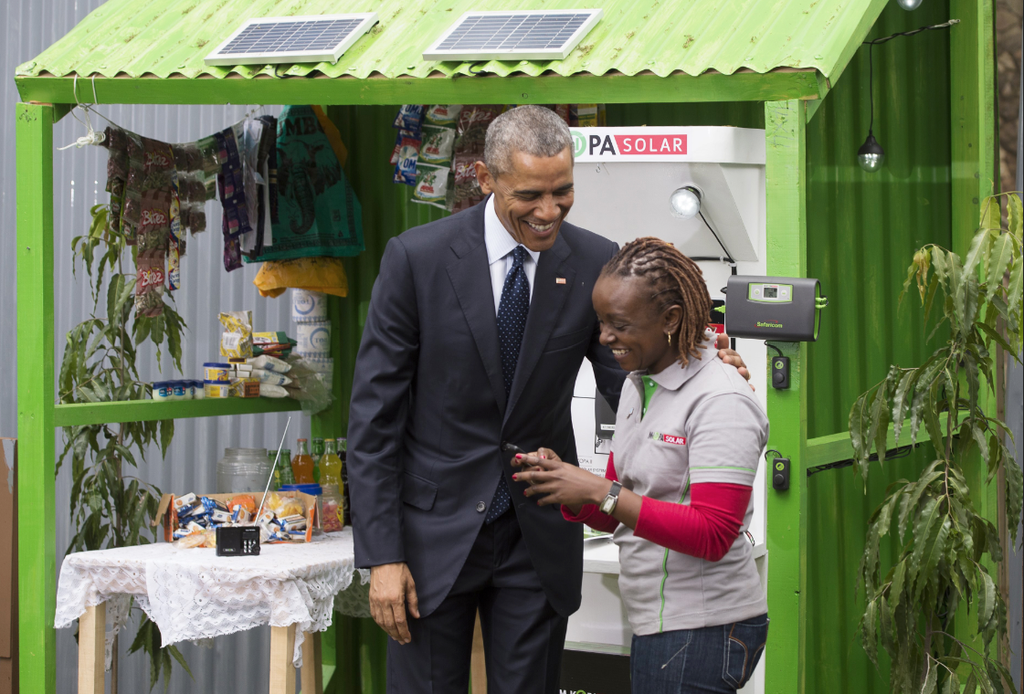 President Obama visits the M-KOPA stand at the Global Entrepreneurship Summit in Nairobi last week. Image by SolarAid
Obama and his administration have more recently acknowledged the importance of decentralised energy access and in June 2014 launched their own 'Beyond the Grid' sub initiative, accepting that 'centralized grid access is not a comprehensive solution' for the millions of people living in rural communities. The plan is to leverage private sector commitments to the tune of $1 billion and while limited progress has been made, it was refreshing to see him fraternise with the likes of d.light and M-Kopa on his recent trip.
But this does raise a few questions... If the right kind of technology is already available, are we doing enough to get it out there? Can we do more to ensure the very poorest communities are not overlooked? Can we really say that Africa is the midst of a solar revolution?
Well, our Research & Impact team have just compiled the results of their latest research into solar penetration in communities in Tanzania, Kenya and Zambia. The research shows a huge surge in awareness, which could well indicate the beginning of a step-change in energy access for the region.
The research was carried out across 45 markets speaking to over 3500 members of the general public, 350 traders and 120 kerosene sellers. The study found that over the last two years in Kenya, and a slightly longer period in Tanzania (28 months), solar ownership tripled – from five per cent to a more affirming 17 per cent in Tanzania (as of March 2015), and from 20 per cent to a rather staggering 60 per cent in Kenya (as of December 2014).
In the same period, awareness of pico-solar products has grown to 96 per cent in Kenya and 88 per cent in Tanzania – with 100 per cent of traders interviewed in both countries having heard of pico-solar lights and an amazing 79 per cent of Kenyan traders already stocking them.
A trader in Kenya shows off his collection of pico solar lights. Image by SolarAid/Corrie Wingate
Kenya in particular looks like a revolution in full swing. The people are spilling onto the streets in their numbers, trying to get their hands on an affordable source of clean light. Recent Lighting Africa figures for small solar homes systems and pico solar lights, (those less than 10 watts), show 2013 to be somewhat of a tipping point when annual light sales leaped from £120,000 per year to nearly half a million.
That figure grew even further in 2014 and is set to almost double this year, with the half a million units sold in the first six months of 2015 set to rocket past last year's total of 680,000. And that only includes the lights approved by Lighting Africa with some sources – such as Evan Mills, senior scientist at the University of California's Lawrence Berkeley National Laboratory, estimating an additional 50 per cent of unapproved and waiting to be approved lights on the market.
SunnyMoney can take their fair share of the credit for their role as market catalysts – being philanthropically funded allows us to do things other businesses simply can't. We can go to areas no one has been before, we can take the time to educate, to instill trust and to seed demand. We can travel hundreds of miles to remote communities and sell only a handful of lights because we're driven by impact, rather than profit.
The small hand held lights being sold by SunnyMoney, or pico solar lights as they're known, are poverty solutions designed specifically for the very poorest families. In a world where 20 per cent of the global energy spend on lighting (around £40 billion) is spent by one sixth of the population – who only benefit from 0.1 per cent of the illumination – pico solar lights are a great way to begin to redress this imbalance.
Pico solar helps those yet to take their first step on the energy ladder and gives them a bunk-up. In areas where communities are becoming familiar with solar technology, distribution channels are being set-up. Families are already saving (we calculate around $70 per year on average), are experiencing better health, and children have more educational opportunities – then it becomes far easier for the likes of those organisations, mentioned above, to sell their larger solar homes systems.
COO of Off-Grid: Electric, Erica Mackey recently had this to say; "SolarAid's SunnyMoney non-profit business model acts as a market primer for companies like ours. We have found it much easier to penetrate markets where customers have already had a positive experience with solar products. We spend much less time educating customers about the benefits of solar in areas where they have worked, as they have already built trust in solar technology and there are much higher levels of demand. SunnyMoney makes it easier for us to extend our operations into rural areas where they have a presence."
From where we're standing the African energy markets look to be in a healthy position, the solar revolution is underway and pico solar lights are the driving force behind it. We just need to ensure there are enough organisations like SunnyMoney around to keep it moving in the right direction.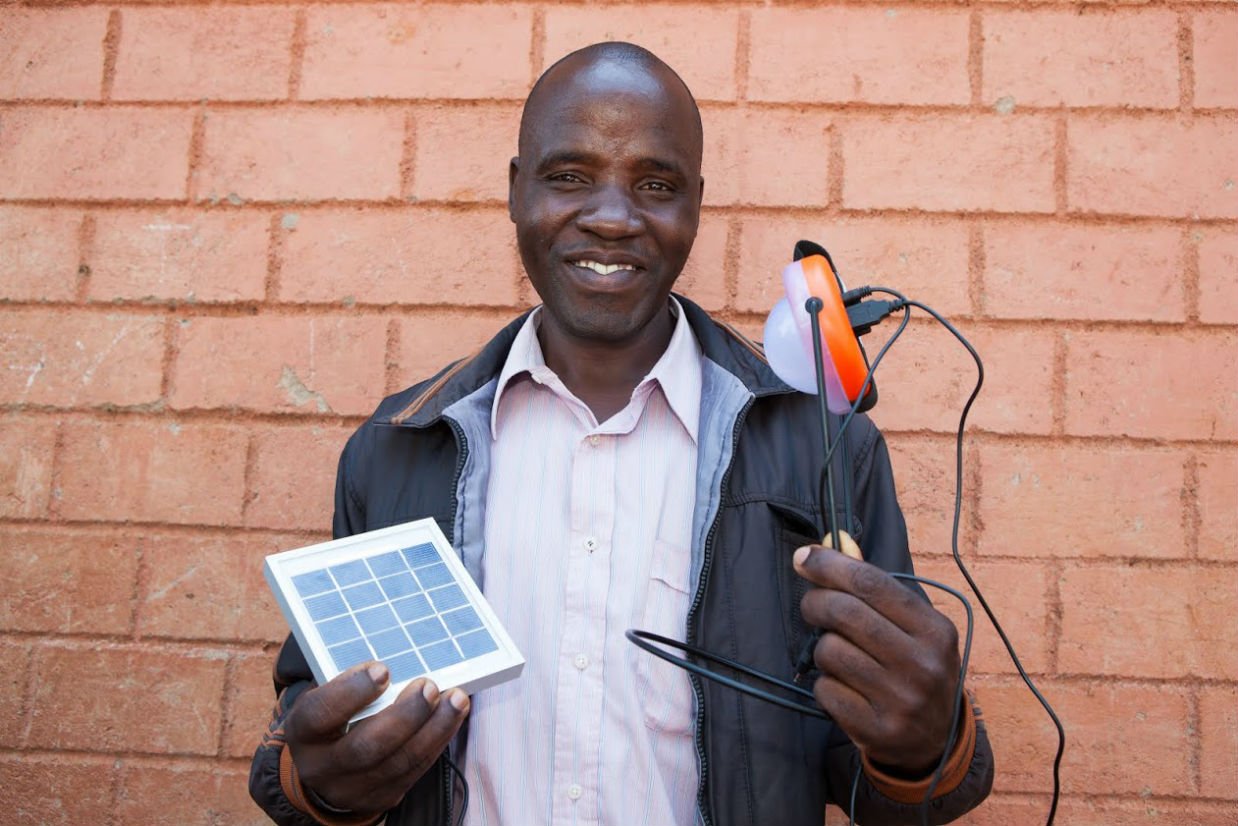 If you would like to support the African solar revolution and help SolarAid build sustainable markets for solar lights why not make a pledge here.
* SolarAid's full research finding can be found here.

-This is a guest blog and may not represent the views of Virgin.com. Please see virgin.com/terms for more details.