This week, the B Team publishes two reports exploring diversity and its role in building profitable businesses that are better for people and planet. Virgin Unite's Benjamin Hay takes us on a tour.
'Diversity' can be a polarising word. It often focuses on labels and categories – gender, race, ethnicity, the underrepresented and the underserved. These labels and categories divide rather than unite us. Yet diversity shouldn't be about 'us' and 'them'; it should be about all of us, because it's what makes us human.
We are all different in how we look, whom we love, what we believe, know and think, what drives and motivates us, what we're good at and what we struggle with, what we've experienced, and how we behave. Some of these differences are constant; others will change over time and some we acquire.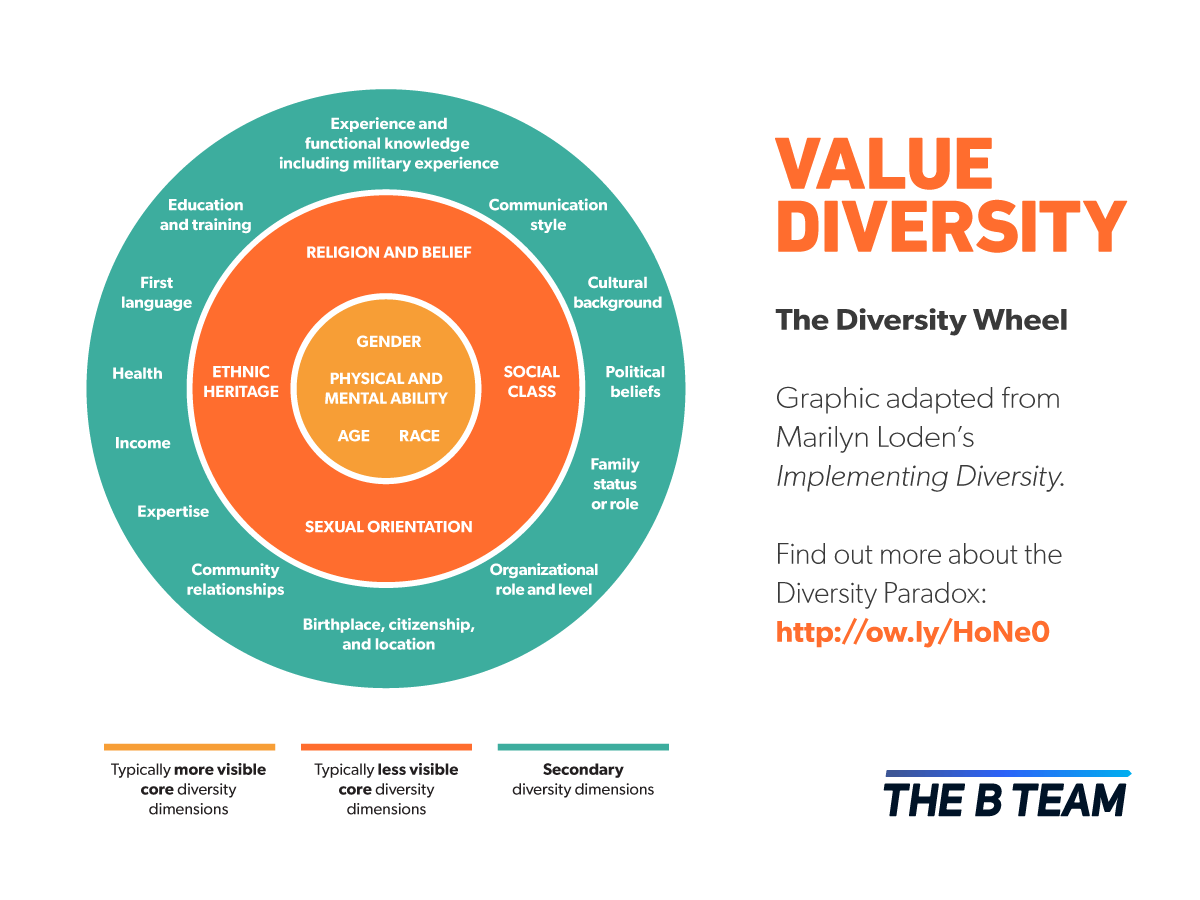 Today at the World Economic Forum in Davos, the B Team announced its 10 challenges to help build a 'Plan B' for Business. One of those challenges is for companies to 'Value Diversity', which asks businesses to cultivate and celebrate diversity right across their organisations whilst ensuring equal opportunities for everyone.
And there's good reason to do so. Firstly, diversity can help transform your business to make it more innovative, more competitive and ultimately more successful. As a 2012 McKinsey report found, "for companies ranking in the top quartile of executive-board diversity, Returns on Equity (ROE) were 53% higher, on average, than those in the bottom quartile."
Secondly, greater diversity doesn't just help the bottom line but also people and planet . A 2011 study by Catalyst found that, "businesses with women leaders were likely to put in place higher quality social and environmental initiatives." And diversity is also recognised as important for innovation and new ideas – as Tim Berners-Lee comments, "We need diversity of thought in the world to face the new challenges".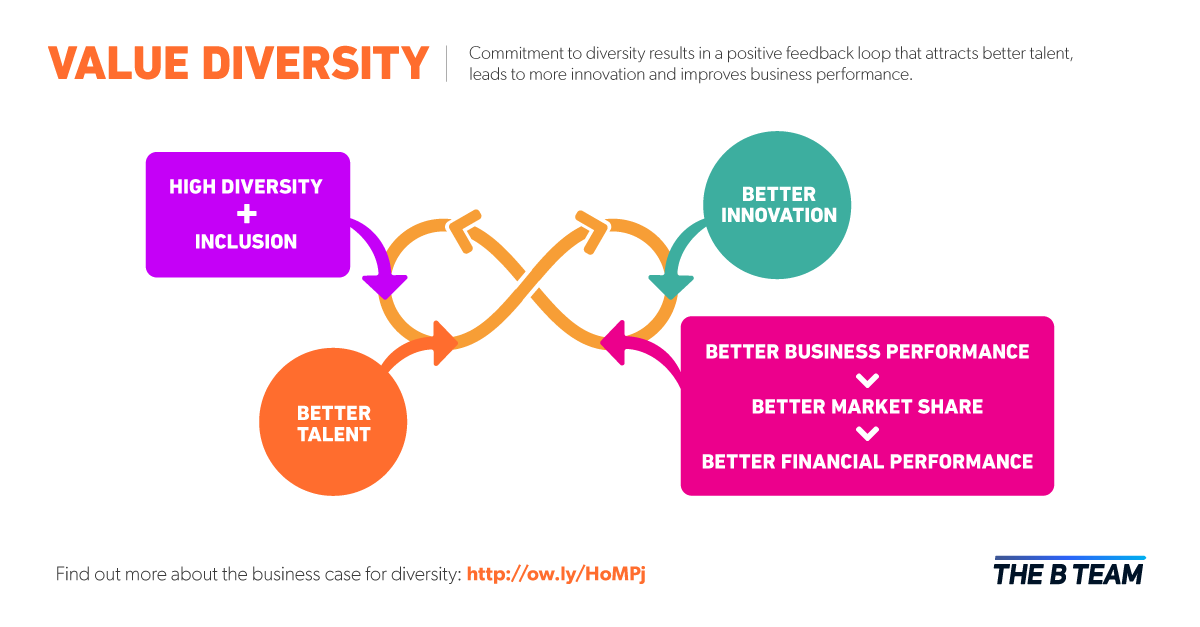 "There is no question that seeking out diversity of thought, background, experience and perspective, coupled with having an inclusive environment where those differences are seen as assets, helps give us a competitive advantage." – Mark King, Business Partner, Office of Diversity and Inclusion, The Kellogg Company.
There's lots more research that proves this, so we've pulled together some of the 'best bits' in our report 'Diversity: Bringing the Business Case to Life'.
Yet despite these clear benefits, progress has been slow. Why? Over the last few months, as part of Virgin Unite's partnership with the B Team, I've been fortunate to listen and learn from over 30 leaders in this field to try and understand why that's the case and to see what we can do to change it.
With The Boston Consulting Group, we've brought together what we've learned in this report, 'The Diversity Paradox'. It explores the pitfalls that derail diversity (including treating diversity as an HR issue, and failing to commit authentically) as well as four key enablers to accelerate diversity (including the importance of a rich qualitative fact base and catalysing experiments).
Our differences are important – they make us more creative, inventive and multi-faceted in our perspectives. I'm fortunate, working as part of the Virgin family, to be part of an organisation that embraces our differences and, specifically within Virgin Unite, to work with talented people who have different nationalities, skills and approaches. I believe it makes us a better and richer team.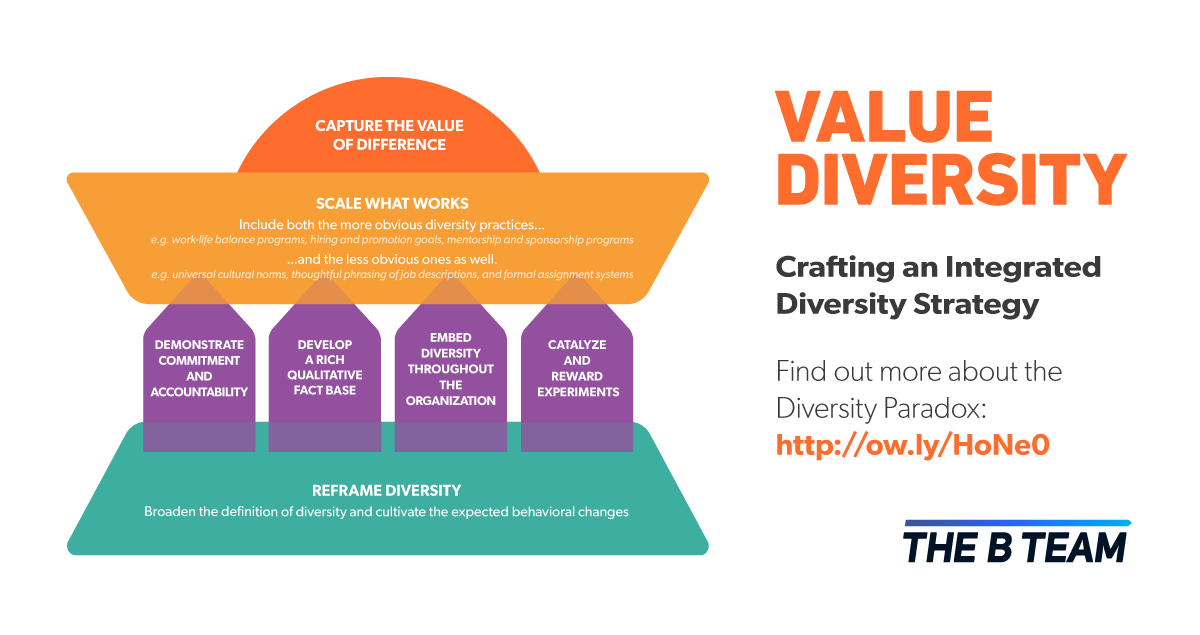 Yet no organisation is perfect and every organisation has its challenges. Throughout our research, we found that one of the most powerful routes to change was having honest and open dialogues. So whatever your role, and wherever you work – start there. It's time to make diversity less polarising – it's time to change the conversation.
Read the reports:
Let us know what you think in the comments box below...