SolarAid are a charity doing great things in Africa by thinking like a business. Digital Communications & Marketing Manager at SolarAid, Tom Moore, gives us an update on how the social enterprise is using local members of the community to spread the light.
Over four years ago, SunnyMoney, stumbled across an amazing route to market by selling life-changing solar lights to some of the world's poorest people through schools. It dawned on us that we might just be able to scale this to a level that could have a genuine impact on people living right across the continent. We began to refine our model and took the time to ensure that the influence of respected local community members was fully utilised.
After trying and failing many times, we developed a way of ensuring that lights could get into remote communities from one central point – without the need to visit each home individually. By using head teachers to recommend these unfamiliar and alien technologies we were also able to overcome perhaps the most important barrier to market: trust. It was a revelation that spurred us on to sell one million lights in only a few years.
Of course it wasn't quite as simple as that, there was still a lot of work to be done in order to get them into the hands of the customer. Finances, logistics, education and culture all play a significant part – but all of a sudden SunnyMoney's market position changed.
Lights were selling and we were all beginning to realise the potential in this huge untapped market. The Schools Programme was working and we were all very excited about a bright future that lay ahead. However, when you're dealing with some of the poorest people in the world and have an upfront cost of around $8, only a lucky few would have the means to invest at the right moment, when the SunnyMoney teams were in town.
SunnyMoney would naturally mitigate these financial barriers as best they could. They would try and visit areas around harvest time, when people were more likely to have some cash to hand, and would revisit areas a number of times to afford people the opportunity to save up. But even then adoption rates were at best around 15 per cent. Not a bad start, but not good enough when we were serious about confining the kerosene lamp to the annals of history.
A permanent presence in the market was going to be required if we were going to nudge this rate up any higher. We'd already tried to set-up local entrepreneurs in the past, but lack of demand made it almost impossible for them to make enough sales. By setting up entrepreneurs in areas that had already benefitted from Schools Campaigns however, the results were much more positive.
The SunnyMoney Agent network is a collective of local community members (turned entrepreneurs) armed with solar lights, an entrepreneurial spirit and support from our sales teams.
There are currently around 700 or so in East Africa who are supplementing their income with SolarAid.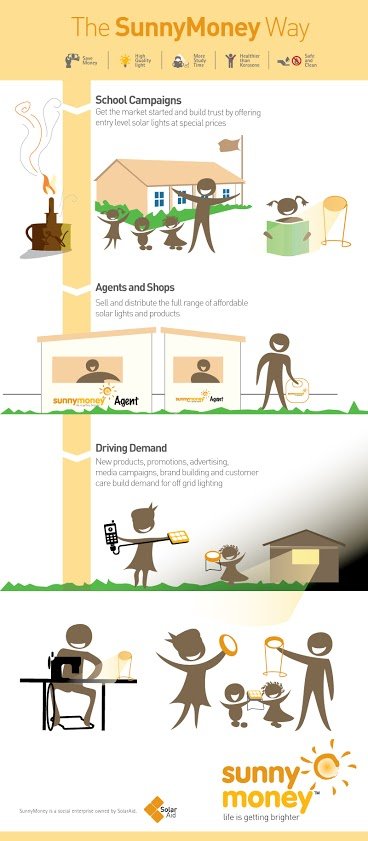 There are obvious benefits to becoming an agent, not only do you get to help your community access lights but you can also make a bit of money too. As Rebecca Manyiko, a teacher from Tanzania said, "My life has been improved since I become a SunnyMoney agent. My income has been increased, my children now get a balanced diet because I can use the profit I get from these lights to buy them food." In fact 26 per cent of agents across all countries said their motivating factor was supplementing their income.
Interestingly though, our research shows that the majority of agents' motivation, (37 per cent across all countries), was altruistic – they wanted to help provide access to these life-changing products. In Kenya, Joseph Karanjain told us "I am gaining popularity as a local community leader. Many people now call me 'karanjawamatawa' meaning he of the solar lights."
Either way, both reasons are equally as valid and have positive benefits for the individual and the community. Our model is there to cultivate an atmosphere of enterprise, where people can work, make money and prosper, and SunnyMoney Agents are a great way of ensuring even more money stays within the local economy.
We're finding that the agent network not only plays an important strategic role in increasing access, but in some cases it has become the main route to market. In Kenya, as far back as September 2013 agent sales began to outstrip School Campaign sales. Now the Kenya team reports that agent sales are at least three times higher than school sales.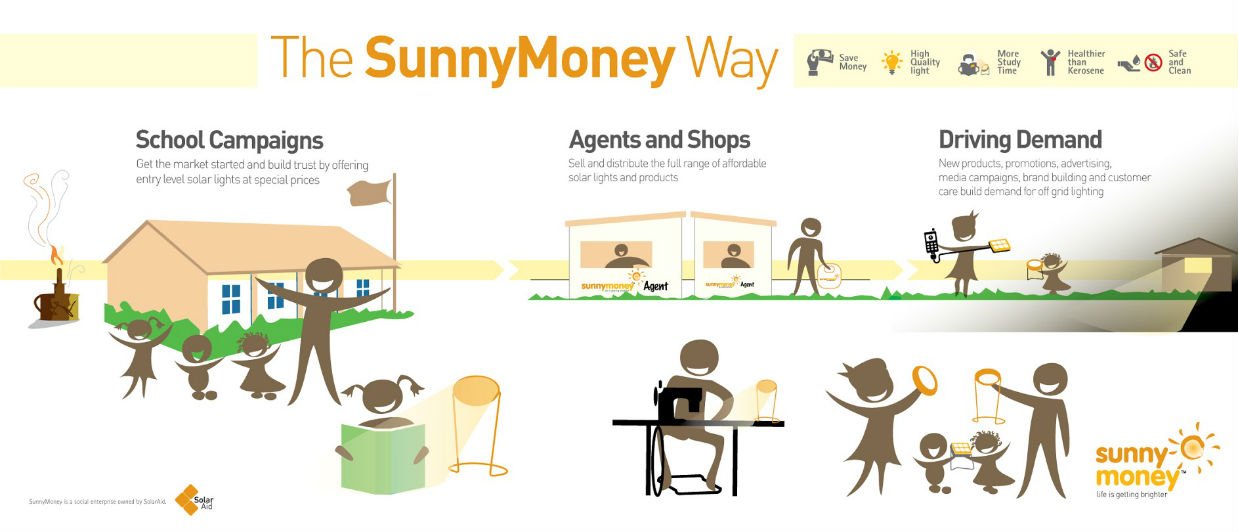 "Since I started (as a SunnyMoney agent) I have managed to have my own shop: the dream I had for so long. My income has been increased so even my family can get more food and other basic needs." - Benedicto Norbert in Tanzania.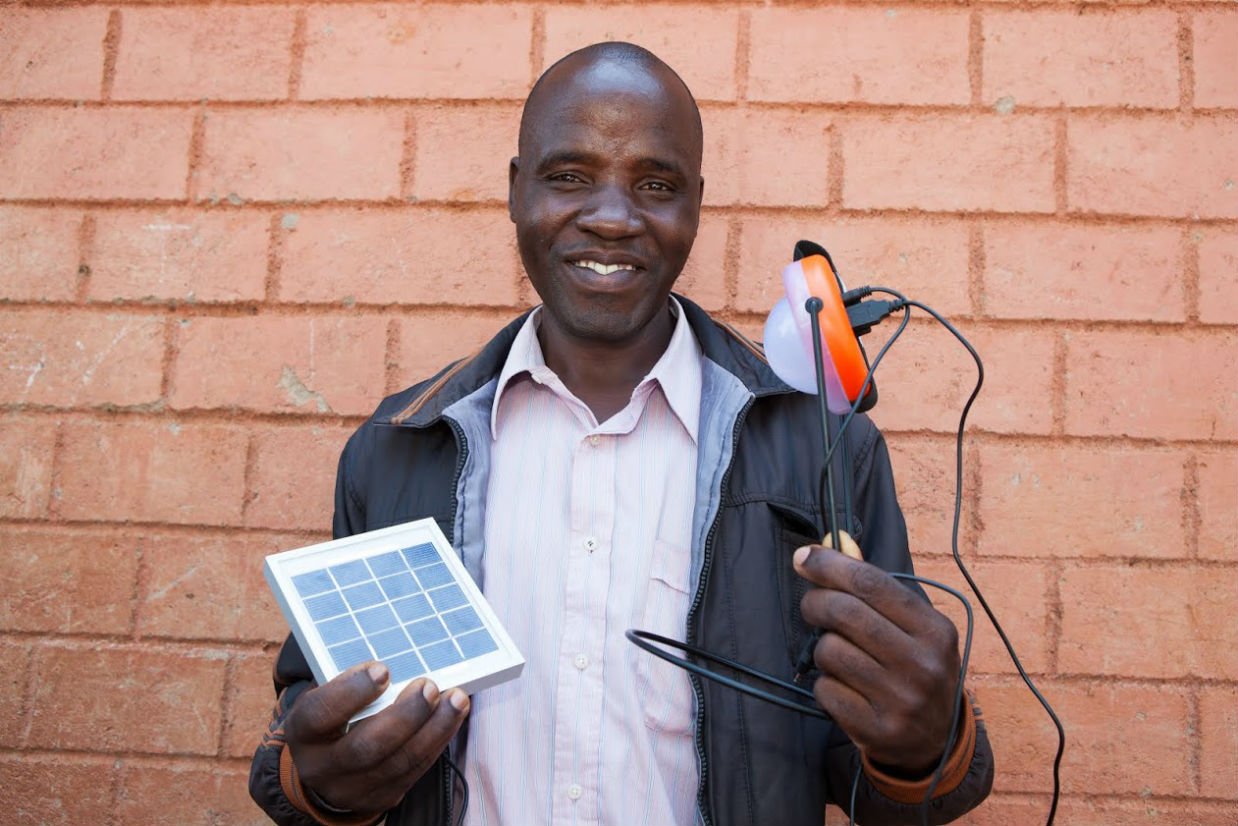 The research is taken from a pool of 240 agents and provides more information on the obstacles they face and the type of support they feel they need to make their enterprise even more successful; such as merchandise, radio advertising, training and support from SunnyMoney staff. We're going to use this information to offer even more support in the forthcoming year.


This is a guest blog and may not represent the views of Virgin.com. Please see virgin.com/terms for more details.