The days of boring layovers are almost gone, with airports around the world coming up with inventive ways to keep flyers entertained. No, we're not just talking about wifi… Discover what top innovative airports have to offer time-rich travellers.
Dubai International Airport
A global city and business hub, renowned for its envelop-pushing and over-the-top construction projects, it comes as no surprise that Dubai hosts one of the world's most impressive airports. Like everything else in the Emirate, Dubai International Airport is extravagant.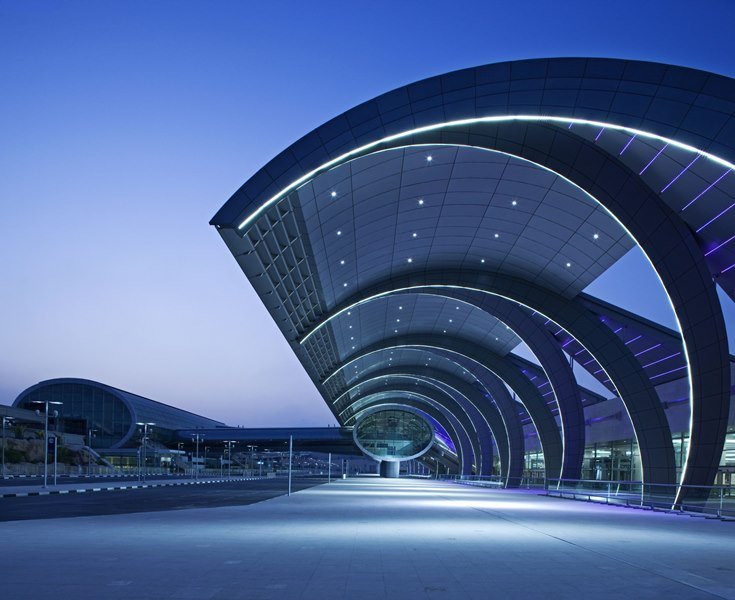 There's the world's largest duty-free airport shop, totaling a huge 58,000 square feet, where you can buy gold bullion and win a Porsche. If you prefer real exercise to exercising your credit card, you can burn a few hours at the G-Force Gym, open 24 hours a day, seven days a week. Those looking for more tranquil surrounds can find inner and outer peace in the Zen Gardens – an open air garden, complete with lush ferns and refreshing mist machine.
With a plan to increase its passenger numbers from 60 to 90 million over the next four years – by constructing an additional terminal space and concourse twice the size of Heathrow's terminal 5 – there's no sign of Dubai slowing down any time soon.
Amsterdam Airport Schiphol
Wooden clogs and delicious chocolates aren't the only things that set Amsterdam apart, the city also flaunts a standout international airport – where, by the way, you can buy clogs and chocolates in abundance. The forward-thinking Dutch are known for there innovative ways, and Schiphol Airport is a clear indication of thier ingenuity.
Love art? You're in for a lovely layover. Rijksmuseum Amsterdam Schiphol Airport, the first museum in the world to be annexed in an airport, offers free admission to both permanent and temporary exhibits – where you can ogle masterpieces by the likes of Van Gogh. Maybe you'd like to earn some cash to fund your appreciate for art... head to the Holland Casino.
The casino is the only element that will have you thinking you're in Vegas; thanks to the airport's in-terminal wedding-planning service, you can also get married! When the celebrations finish, seek peace and quiet in the Silence Centre – a calm, device-free sanctuary.
Hong Kong International Airport
What does a futuristic city deserve…? A futuristic airport. And that's exactly what Hong Kong boasts. The airport itself sits on a man-made island off Hong Kong Harbour, and therefore has ample space to keep layover travellers amused.
Sports lovers beware; overstimulation is imminent! Fancy a hit of nine holes? You can at the airport's outdoor golf course – open 24 hours a day, seven days a week. Or perhaps you'd prefer to test your tech and sporting abilities at the same time with the iSports simulator. Basketball, soccer, and auto racing… take your pick! If your plane ride there didn't have the blockbuster you've been dying to see, don't fret; It's more than likely that the airport's IMAX movie theatre will be showing it. Want to know more about the aviation industry? You can learn through The Aviation Discovery Centre's exhibits and attractions, including SkyDeck and Cockpit Model.
Hong Kong's neon lights aren't the city's only sparkling fixture; the future of the airport also looks bright... To keep on top of the game, Hong Kong International Airport is looking to build a third runway, and has invested HK$12 billion to construct new facilities.
Vancouver International Airport
Bright, airy, cultural, and modern with some pioneering twists, Vancouver International Airport is a perfect match for the city from which it takes its name.
Vancouver's distinct maritime vibe is carried throughout the space, and is most notable at the airport's aquarium. Got a few hours to waste? Check out the 31,000-gallon tank full of more than 5,000 sea creatures native to the region. The area's local jewels are also on showcase, in the form of native art from the Pacific Northwest, throughout the airport. Peruse Bill Reid's sculpted Jade Canoe or Joe David's traditional 11-foot-high Clayoquot Welcome Figures.
Need to freshen-up before flying onto your next destination? Take your pick from four different spas, which offer an array of jetlag-busting and anti-fatigue treatments.
What's in store for the future? Vancouver International is looking to lift its game by appealing to shopping enthusiasts with a 460,000-square-foot luxury outlet mall within the airport possibly in the works.
What's your favourite layover airport, and why? We'd love to hear about it in the comments below.