Being Cabin Crew for Virgin Atlantic has to be one of the greatest jobs in the world. They get to travel the world, experience some of the most exotic and exciting places and they get paid for the privilege. To find out more about what life is really like for Cabin Crew, we caught up with some of the staff to hear their best stories from the sky.

How did your first flight as Cabin Crew go?
Megan Wright: I was buzzing. I had worked so hard to get there, so putting on my uniform and getting ready filled me with pride. The nerves disappeared the moment we took off, I had a job to do and I couldn't wait to put my training into practice. I think I smiled the whole way to Orlando! It was the fastest flight I've ever done too as the excitement meant the time just flew by.
Eliska Kelly: It was back in 2003, myself and two of my newbie training friends were rostered on a Los Angeles flight. I think I spent a few hours getting ready, making sure the make-up and hair were perfect and feeling nervous about the briefing questions.
I had flown for another airline before but never long haul and I remember wondering how such a long flight would feel to work on! It flew by and before we knew it, we were at the crew hotel. We had a memorable time at a Denny's at 4am (we weren't used to the jetlag!), then did the beaches and a tour around Los Angeles and star's homes. It was then I just knew that this was my dream job with the best airline.
Image by Eliska Kelly
John Wade: I remember turning up to check in very nervous like it was my first day at school. Sitting in the briefing and waiting to answer that dreaded safety question nearly made me vomit with nerves. Once that was out of the way I thoroughly enjoyed both sectors there and back. I couldn't believe this was now my job and I was going to get a night stop in Miami and a day on the beach before flying home that evening.
Image by John Wade
On the way home though towards the end of the meal service we hit really bad turbulence and I just thought 'oh my god!'
People were getting sick everywhere and screaming. On the outside I was calm but on the inside I was screaming just like those passengers.
Fortunately, I am now used to turbulence and take it in my stride.
I think that day was the first day of a new beginning for me.
Steve Atkins-Steele: My first flight was on December 23rd, 2005, to Barbados but I remember it like it was yesterday. I completed my training course on just a few days before and as a group we sang Mariah Carey's 'All I Want For Christmas Is My Wings' to our friends and family.
I had never been to the Caribbean before and I was so excited to see it for the first time and to be in a job that took me to far and exotic places was just incredible. Boarding a Boeing 747 for the first time is something special – it's huge, the economy cabin had 379 seats, all downstairs and my first thoughts were how are we going to feed all these people?! Thankfully I had a great team and I was well looked after by all my colleagues.
I remember saying half way through the flight, "If you don't need me I'll just pop out into the cabin to see if any passengers need anything." When I came back Paul Manning (our team leader on the flight) said to me, "It's amazing that on your first flight you are so passionate about ensuring the passengers have a great experience. Well done."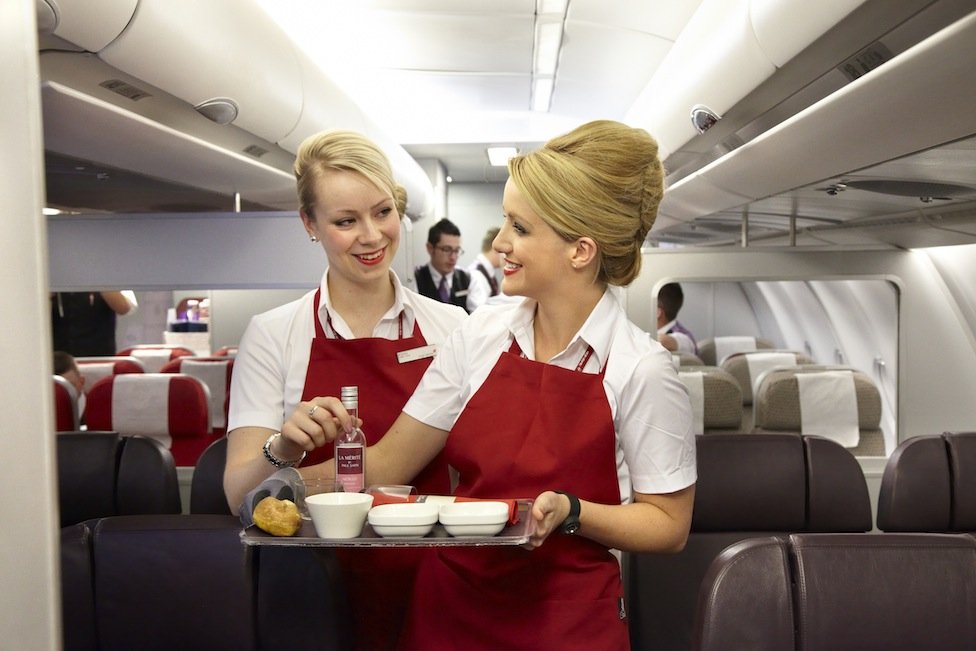 Image from Virgin Atlantic
Karen Donnellan: My first flight was in January so it was freezing cold in the UK and I was flying out to Barbados. I was a young 19 year old and had only been on a plane on two occasions before! I remember feeling excited and nervous about what the day would hold. There aren't many jobs out there where you go to work not knowing the people you are going to be working with and not knowing what the day will hold but that is the norm as Cabin Crew.
After our briefing at check in we went out to the plane. All the crew knew exactly what they were doing and were rushing around. I felt lost and felt a bit awkward having to ask where everything was. Once the passengers came on board though there was a real holiday buzz. We never stopped the whole flight, I barely had time to eat anything but the day went in so quickly!
During the drinks service a boy on a school trip fainted right in front of me. I remember going straight into training mode even though I was terrified inside and we raised his legs, gave him oxygen. He was fine a little while later. When it was time for descent I sat in the flight deck for landing and I can still remember that view. When stepping off the plane into that heat I felt relieved I'd made it through my first flight! What still amazes me every time is you get on that flight with strangers and you step off as friends.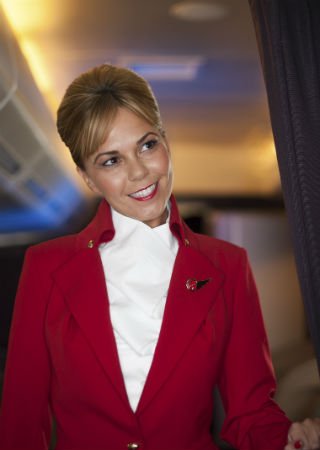 Image from Virgin Atlantic
Charlotte Holland: My first flight as Cabin Crew gave me mixed emotions, I was nervous but excited. It was a daunting experience after six weeks training in a class room then suddenly you are on an aircraft full of passengers and have to put your training into action. I felt like I didn't have a clue what I was doing, however I had such a nice crew who helped me and pointed me in the right direction.
My first flight was to Lagos, which has a late check in so I had to adjust straight away to working through the night which was challenging. On that flight I quickly learnt the importance of understanding different cultures as passengers would 'hiss' at Cabin Crew to get their attention.
What has been your most memorable moment as Cabin Crew?
Steve Atkins-Steele: I was selected to operate on the inaugural flight to Cancun in July 2012; this was a fantastic opportunity and an amazing privilege. I know how important our new routes are to the business and after talking with friends in the travel industry; it was clear that Cancun was an especially important destination for Virgin Holidays.
The flight was filled with press and celebrities, I've never worked so hard nor had so much fun on an aircraft. The bar in our Upper Class cabin was packed from start to finish, there were sombreros and maraca's everywhere and all the passengers were very excited to be onboard. Down in the Economy cabin the passengers were gearing up for a great holiday.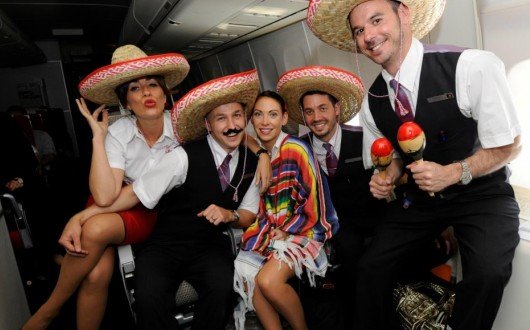 Image by Steve Atkins Steele
Richard Branson made an announcement over the PA at the end of the flight and most passengers in the Economy cabin assumed it was simply a recording. When the man himself appeared they were all in shock, but very excited.
John Wade: It has to be when I was chosen to represent Virgin Atlantic to go to Masa Mara with Free the Children. We got to see how the money we were raising on board was helping these local communities. We saw a new school being built, we met local tribes, and most importantly we got a glimpse of the daily lives of some of these amazing people. I remember it was pouring with rain as we arrived at this local school, as we got out of the vans all the kids ran towards us and started hugging us. Even though it continued to pour down with rain, these beautiful kids put on a performance for us to say thank you for helping them.
I came away from this experience feeling blessed to have the life that I do. As a result of this trip, today I am more open minded and willing to help those less fortunate than me. What you give out is what you get back in life.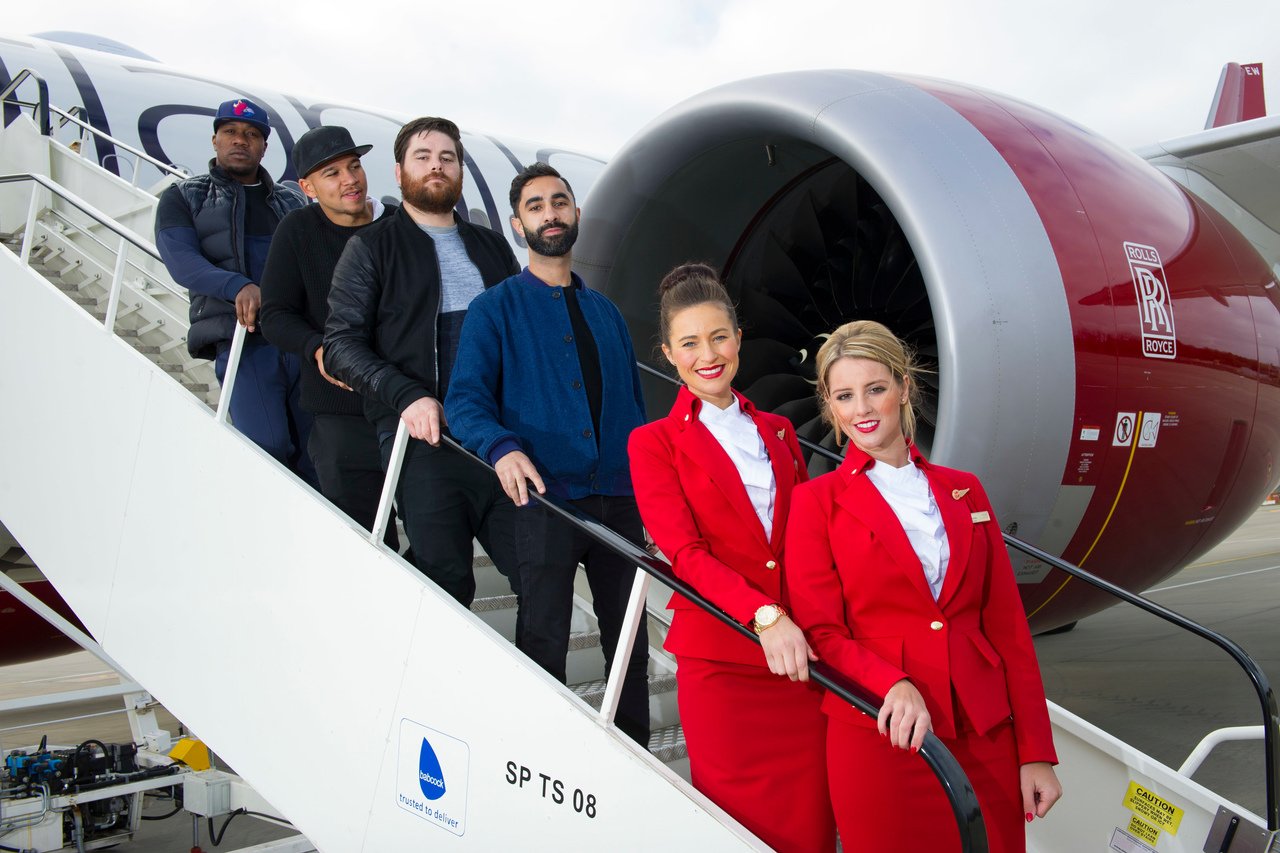 Image by Matt Crossick/Virgin Atlantic
Charlotte Holland: My most memorable moment whilst working for Virgin Atlantic was definitely in October last year when I was lucky enough to be a part of the Atlanta Inaugural flight on Virgin Atlantic's new 787 Dreamliner.
Rudimental and Gorgon City were playing on board during the flight at 35,000ft which was quite surreal, and the atmosphere on the plane was like something I had never witnessed before. I didn't operate this flight as Cabin Crew as I was there to do the promotions - I attended press events, a launch party and photo shoots down route which was all very exciting as I had never done anything like this before. I also got to meet the big boss Richard Branson which was a great experience. The whole experience from start to finish was memorable and showed what a fun and enjoyable airline Virgin Atlantic is to work for.

Image from Virgin Atlantic
What is the most dramatic moment you've had during a flight?
Eliska Kelly: There was one flight where we had a security threat on board and had to divert back to JFK. It was all resolved quickly and professionally, the training kicked in and we were able to fly home the next day. The passengers were so impressed with how the situation was handled, that we even received thank you messages on our way home.
Steve Atkins-Steele: I was working a flight to Barbados in the summer of 2009, we had a group of teenage boys onboard going on a cricket tour to the Caribbean. Halfway through the flight one of the boys felt unwell. Quickly this escalated and he started to have the first of three fits. Cabin Crew are trained to a high standard of first aid but facing such a situation onboard an aircraft where the passenger only had the support of teachers and no parents with him was a little challenging.
Through the help and advice of our onboard medical equipment and advice from doctors on the ground we managed to monitor his blood pressure, pulse and vital signs and give medication. He slowly became better during the flight and we continued to the Caribbean, although we did look at diverting the flight to the Azores Islands.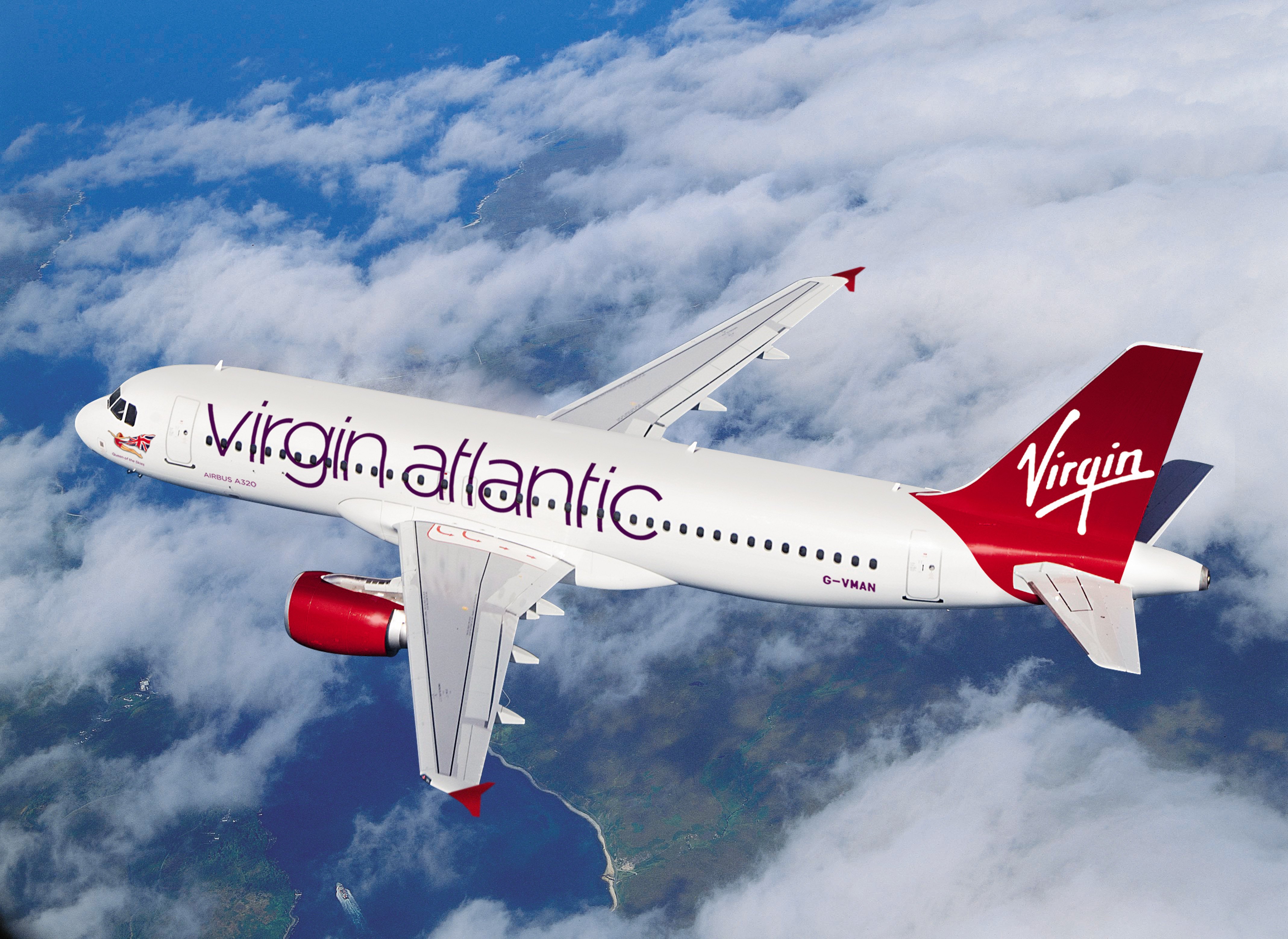 On arrival we were met by Port Health, as the world was facing the swine flu pandemic at the time and the authorities in Barbados were taking no chances. They insisted on assessing the casualty before anyone was allowed off the plane. Thankfully it was all ok in the end and we were allowed to disembark. The young man and his teachers were very grateful for all we had done for them and we all enjoyed a cold drink that evening, safe in the knowledge that we had earned our salaries that day.
Karen Donnellan: About an hour into one flight we hit unexpected turbulence and the plane dropped suddenly. I and the rest of the crew hit the ceiling, which I never knew was possible. It was a scary moment and there was lots of screaming from passengers.
After the turbulence had calmed down we went to those that needed help and cleared up the mess. There was a lot of our equipment broken and drinks had gone everywhere, bar carts were on their sides. Every passenger who was wearing their seatbelt was absolutely fine but there were a few minor injuries from those that weren't. As crew we all pulled together and fortunately nobody was injured too badly. It wasn't a nice experience but definitely the most dramatic one etched in my memory!
Gemma Vaughan:
Every flight is different and there is never a dull moment on board. Talking to passengers is always interesting as you never know the reason why people are travelling. From the high flying business man or woman who flies to New York every week to a family going on a once in a lifetime holiday to Disney world in Florida.
Image by Eliska Kelly
It's important to remember that as Cabin Crew, we can make a difference to their Virgin Atlantic experience. A friendly and approachable demeanour is a must along with a smile of course! I look forward to going to work, meeting our passengers and planning our down route adventures with the pilots and other crew members. I often get asked if I will do this job for a long time. My response: Absolutely!