Cycling mania has experienced a renaissance over the past decade, with an average cycle mileage in the UK up by 20% over the last 15 years. (That's over five billion kms!). While all across the world cities are quickly becoming more cycling friendly and a raft of new technology is making it easier than ever to get around on two wheels...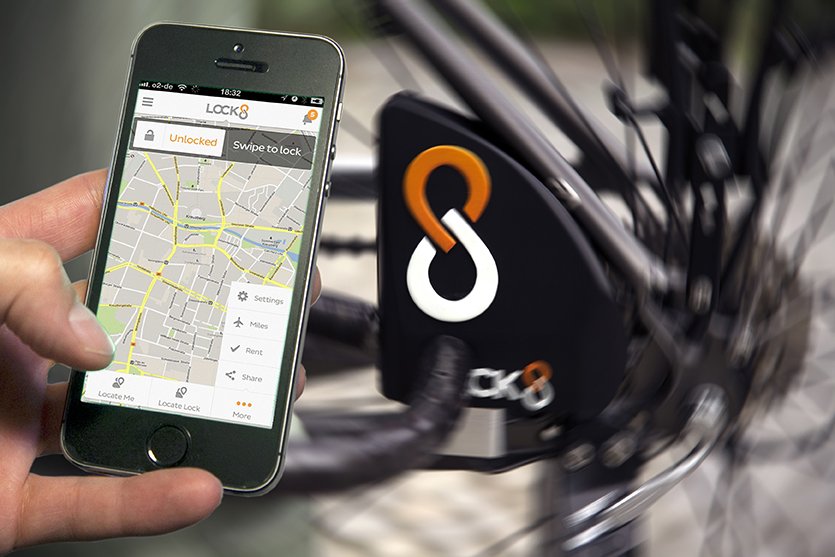 Image courtesy of lock8.me
Text messaging smart-bikes
As bike technology ascends, sadly, so do the theft statistics. In 2013, it was highlighted by BBC London that reports of stolen bikes had tripled in just two years. As such, lock designers are getting crafty in an attempt to keep your wheels safe.
For example, wouldn't it be incredibly handy if your own bike could text you if it was in danger? Thankfully, the combined minds of design team Lock8 thought precisely this in 2013; coming up with an intricate locking app for smartphones.
Inspired by their own bikes being stolen several times at university, Lock8's founders decided to design their own locking system - and promptly started a rather successful Kickstarter campaign.

"Surprised that there wasn't a technologically advanced bike lock on the market, we decided to build one ourselves. We installed our own little workshop, decided not to tell anyone and started drawing, machining, soldering and testing."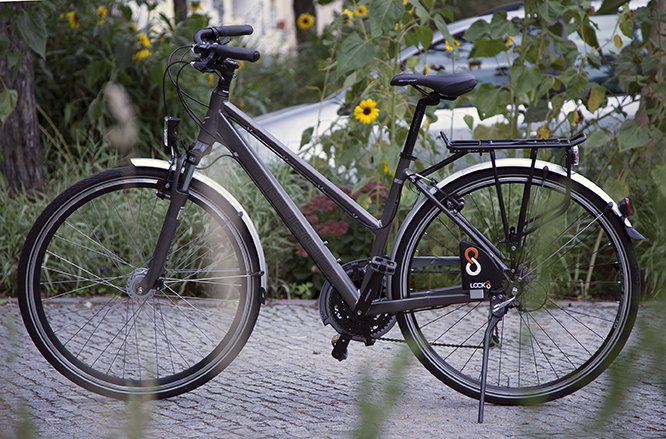 £50,000 later, Lock8 is now with us today with a whole range of security features. So, if someone tries to take a bike equipped with the device, it will promptly scream in alarm at a resonating volume that will likely scare off the most masterful of thieves.

Not only is it criminal-effective, but has also been transformed into a social experience. Using an intergrated GPS tracker, bike-lovers can also share and 'rent' their beloved conveyances with other like-minded cyclists, at just a swipe of their smartphone. Blimey, doesn't anyone just send letters anymore?
Image courtesy of lock8.me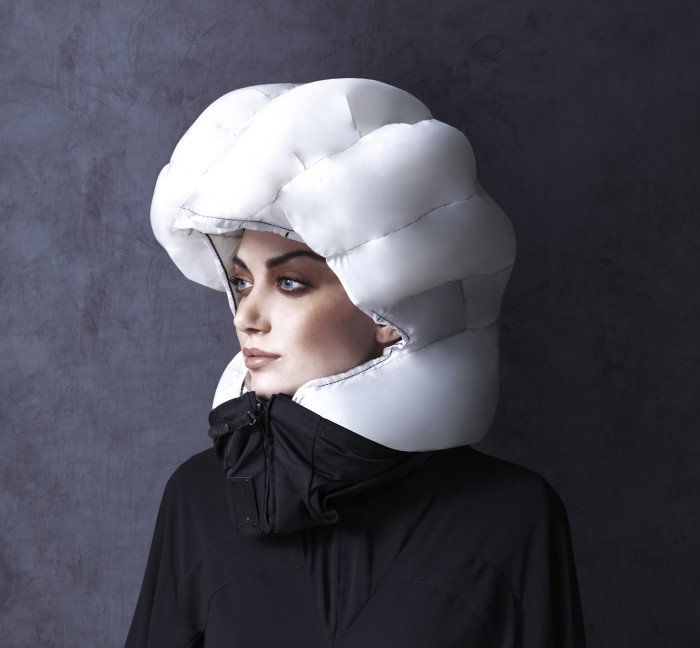 Image courtesy of Hövding
Invisible airbags
No, this is not from Lady Gaga's favourite hat collection, but instead a rather nifty invisible airbag designed to revolutionise bike helmets.

From the Swedish designers Hövding, the unconventional piece of headwear is only visible if the biker is involved in an actual accident, much like a car airbag.

Worn subtly round the neck, the device expands on impact, giving the wearer this rather lovely judges-wig look if the worst should happen. The idea for the design was created after years of young cyclists declaring that traditional bike helmets are uncomfortable and cumbersome.

Now available in the UK, could Hövding have solved the problem?
Extreme glow in the dark
This illuminating concept from California company Revolights is a simple, yet rather beautiful way to keep bikes seen on the road; a common problem when it comes to accidents. Once again, beginning its life as staggering Kickstarter success (the project earnt over $200,000 of an original $43,000 goal) the product is built with LED rings fitted strategically into the bike's wheels to give it a rather disco appearance.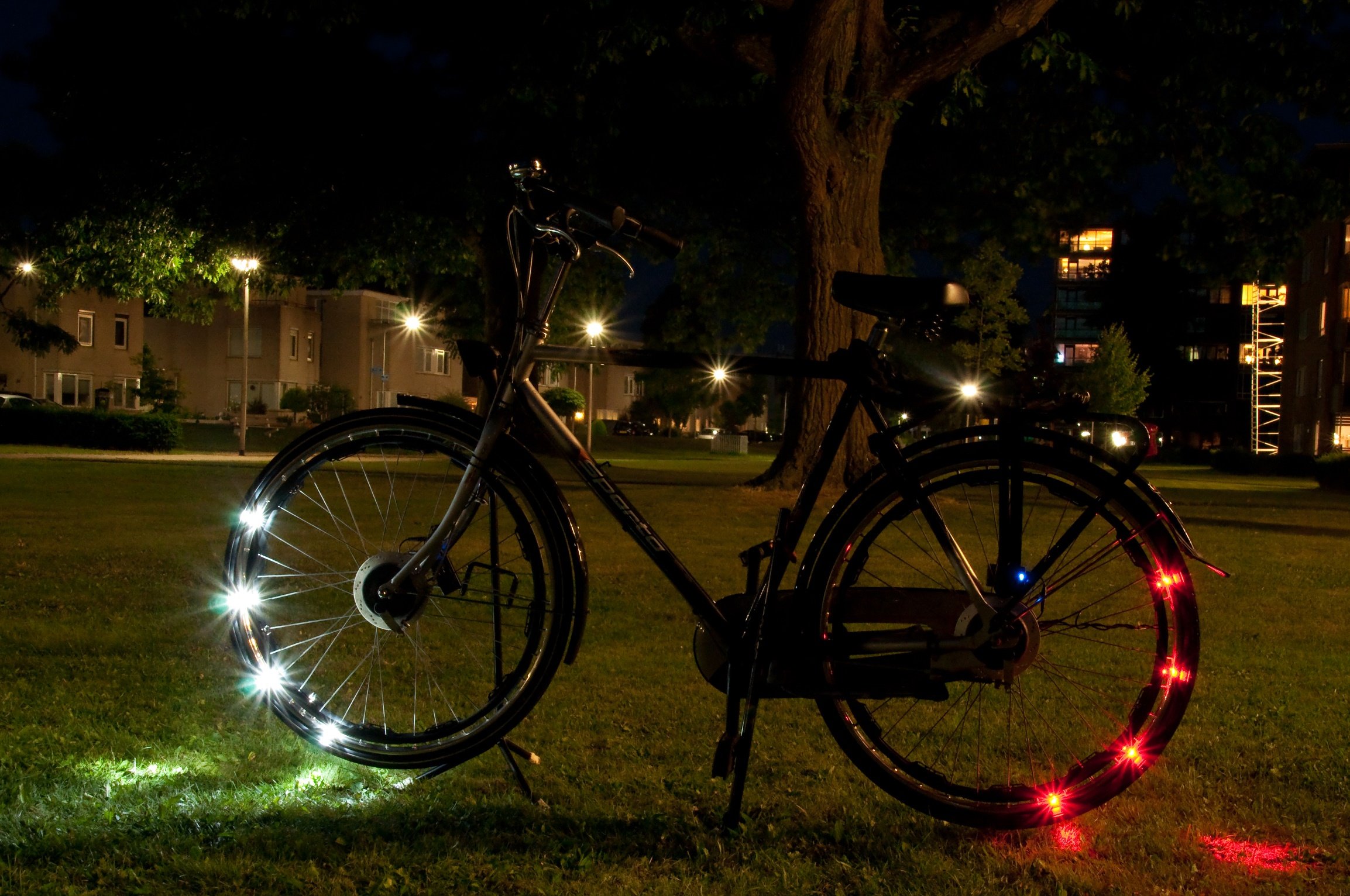 Although the chief cause for Revolights is to raise awareness for road safety, the sophisticated look of the technology could also make our cities into never-ending light shows.

As the website explains, though, it is revolutionary in regards to being seen for the right reasons.
"Unlike traditional bike lights, which project light in only one direction, Revolights cast 360 degrees of illumination, making it much easier for others to see the rider. This improves safety tremendously, as most nighttime bike-car collisions are due to inadequate side visibility."
Following in Revolights' footsteps is Lumen, a San Francisco-based Kickstarter project with a chameleon-style bike that is grey by day, and resplendent by night-time.

The technology used here is called " retro-reflection"; an intense paint-coating that digests natural light to help the bike glow in the dark. The same science is used for cat's eyes embedded in motorways.

Having smashed their Kickstarter goal, Lumen is now a readily available bike product, giving city-riders the opportunity to really glow in the dark. Spooked?
Flat-packed bicycles
We're sure at one point you've either been grumbling at a man with his bike on a busy train, or been the one others are grumbling at. Step forward the delicious concept of SandwichBike, from Dutch designer Basten Leijh. Made with a wooden frame, and easily buildable wherever you are, the concept for this vehicle is rather straight forward: "If you can make a sandwich, you can make a sandwich bike." Fair enough. Just don't get the two mixed up. No one likes their bike covered in mayonnaise.
Image courtesy of http://www.sandwichbikes.com/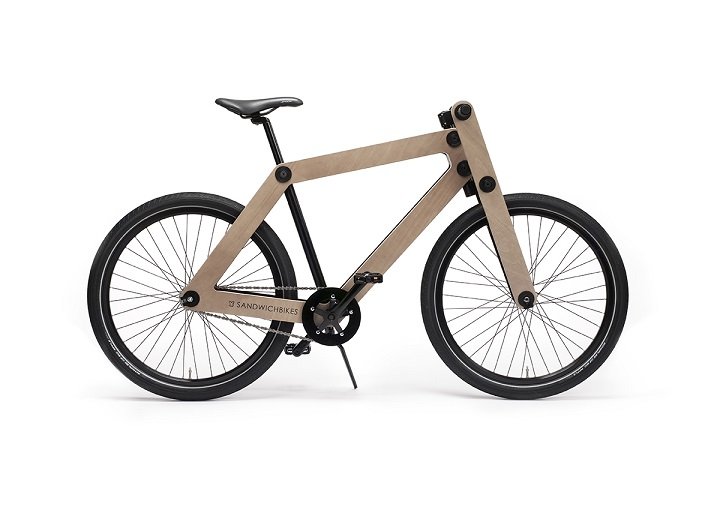 Image courtesy of http://www.sandwichbikes.com/