For the last two years at Virgin Atlantic our focus has been on recovery. It's been about changing our business to move ourselves out of the red and into the black while protecting what matters to our customers...
You are reading an article from The class of 2015, to read more about this you can visit the series homepage.
Now we're looking forward to 2015, our position is getting stronger, and I'm excited we are making the transition from recovery to winning. Although we're not yet in a position to announce our detailed financial results, we know we have returned to profitability for 2014. We're now looking forward to executing our plan to win, to make a significant profit this year, and move towards record profitability by 2018.
2015 will be a very exciting year for Virgin Atlantic and it's already kicked off in style with our new advertising campaign. We're encouraging our customers to live their dreams and 'Let it Fly'. It uses the campaign message of 'life doesn't come to you, so go to it', which perfectly captures the spirit of both our customers, and our people.
We're investing a great deal into our customer experience (£300 million over the next four years) and those travelling with us will see lots of innovations and investments in the coming year and beyond. In April, we will be opening a Clubhouse in Los Angeles for the first time. It was a natural choice for our next Clubhouse investment as it's such an important route to us – we've been flying there for 24 years now and we see much repeat custom, especially in our Upper Class cabin. Together with Delta we will be offering three daily LA services from March this year.
We took delivery of our first Boeing 787-9 in October last year. Our second Dreamliner was welcomed into the Virgin Atlantic fleet on the 2nd of January and has now started flying to Washington DC. This is just the start of us moving towards having a younger and more fuel-efficient fleet as throughout 2015 we will be getting seven more 787s, which will eventually total 21 by 2018.
In addition, the 787 is not just more environmentally friendly, it is also our best aircraft for customer experience. As well as moving towards a younger fleet, we will be investing in our existing aircraft – driving enhancements in food and wine services as well as being the first UK airline to roll out WiFi across our entire fleet.
Unlike other transport modes, aviation's infrastructure costs are 100% paid for by its customers

Over the coming year there are a few things that we would love to achieve at Virgin Atlantic. The Net Promoter Score tells us how satisfied our customers are, and we're delighted to have exceeded our target for last year. We're now hoping to continue to improve on this score in 2015.
I'm particularly proud that in the more detailed customer satisfaction ratings, we're seeing specific rises where the customer has face-to-face interactions with our people, and we'd love this to continue into the next year and beyond. Our people are what make the airline what it is and we'd like to continue to embrace our colleagues and their hard work, and continue to grow our employee engagement score.
Whilst we do everything we can internally to strengthen our business, there will always be external factors affecting the industry. This summer, The Davies Commission will make its recommendations to the Government on runway capacity in the UK. I've been quite vocal that I believe a hub model is the answer to capacity shortage, which would make Heathrow the preferred option.
However, unlike other transport modes, aviation's infrastructure costs are 100% paid for by its customers and we want to make sure that the new runway will be value for money and today's passengers are not asked to pay upfront for a runway that won't be used for many years.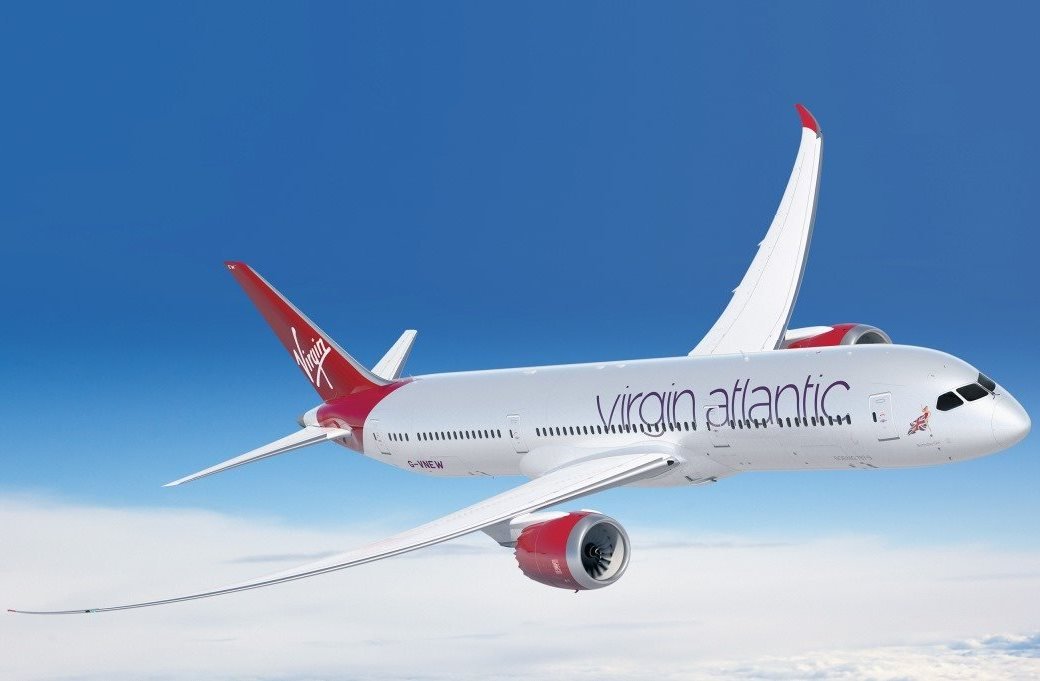 Image from Virgin Atlantic
It's been positive to see that fuel prices have been reducing recently, but the challenge we face is we buy our fuel months and years in advance. This means that decrease in the price of crude oil does not automatically lead to an immediate significant reduction in our on-going fuel costs. Despite this, we have recently reduced our fuel surcharge, and we will always do what makes sense to in passing on any benefit to our customers.
While we are seeing promising signs in terms of the global economic environment recovering and fuel prices reducing, we still operate in an incredibly competitive sector which includes new entrants to the market, as well as the more established ones and a fuel price which is historically volatile. We also know that we operate in an industry that's incredibly impacted by geopolitical events in the world that we have no control over so there's no time for us to be complacent as a business. We have to keep our focus on the future, always with an eye towards winning by making things better for the customer!
This is a guest blog and may not represent the views of Virgin.com. Please see virgin.com/terms for more details.