Image by Greg Rose
The morning began revealing the Carbon War Room's initiative to massively improve trucking efficiency. The North American trucking industry spends $105 billion per year on fuel, averaging $70,000 per truck. There are more than 70 proven fuel efficiency technologies on the market today, which could save $40 billion worth of fuel per year, but aren't getting fitted to trucks. Working with the North American Council for Freight Efficiency, we've launched TruckingEfficency.org to help the industry get access to these energy and money savings.
Fleets we work with have improved their fleet-wide miles per gallon by 10% over the average North American truck, with their new trucks having a 25% increase.
It's a simple, effective step towards a low-carbon economy, and a great practical example of what The Elders and The B Team have been discussing here in New York. After the incredible, 400,000-strong Climate March yesterday, The Elders are calling on leaders to act now, not tomorrow on climate change.
As Elders Chair Kofi Annan said: "If ever there were a cause which should unite us all, old or young, rich or poor, climate change must be it."
Image by The B Team
Today I was honoured to attend the Opening Plenary of Climate Week, where The B Team joined forces with seven of the world's largest business platforms to help launch We Mean Business.
It is a coalition to accelerate the transition to a low-carbon economy and help achieve climate justice. Professor Muhammad Yunus, Paul Polman, Mary Robinson and I shared our vision for a low carbon economy and the action and leadership it will require to get there.
Image by Greg Rose
Amongst all of this activity, one topic has been forgotten at the largest gathering of world leaders ever to address climate change: the ocean. The Global Ocean Commission has rightly highlighted why the ocean should be front and centre when it comes to a plan for climate action. However, across town it was inspiring to take part in the OceanElders annual meeting, where we covered ocean conservation issues ranging from the Caribbean to the Arctic to Australia. With the likes of Dr Sylvia Earle driving us forward, I'm proud of the progress we're making.
It is great to see so much positivity and commitment to tackling climate change here this week, which we must take into the months and years ahead. Virgin Unite has incubated The B Team, The Carbon War Room and The Elders as a focus on disruptive collaborations for change. If there is one thing I've learned about this issue, it's that there is no one answer and no miracle solution. It is going to take all of us, and we will keep investing in many different approaches to address climate change. Climate change is the biggest issue facing the world today, and as Kofi Annan added, "we have a duty to be exceptionally ambitious".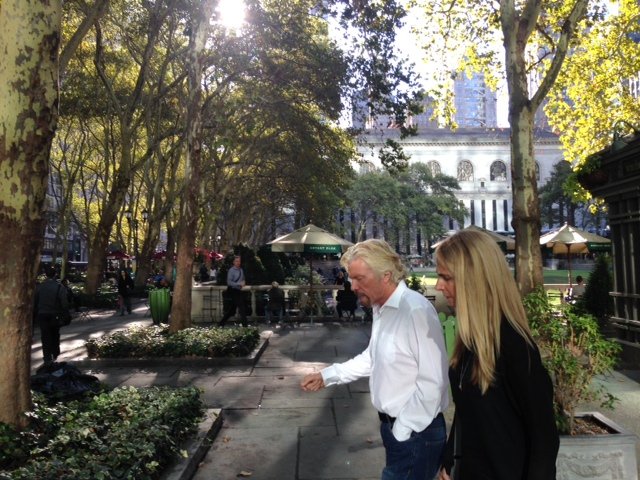 Image by Greg Rose