Image from Virgin.com
29 years ago yours truly and a motley crew broke the world record for the fastest crossing of the North Atlantic. Now, the boat we sailed on is back.
Our first attempt to break the record ended in disaster as the original Virgin Atlantic Challenger sank off Land's End. Thankfully, as it disappeared into the ocean forever, the Virgin logo stuck brightly out of the water and became an iconic image for the brand.
Image from Virgin.com
The Virgin Atlantic Challenger II fared far better. On June 29 1986, it reached Bishop Rock, off the Isles of Scilly, more than two hours quicker than previous record-holder.
I had thought Challenger II was gone from British waters for good, after it was sold to a sultan years before. Then Dan Stevens found the boat abandoned in Majorca and set about restoring its former glory.
Last year we went on a trip down memory lane by getting the crew back together on board the original Virgin Atlantic Challenger II. We travelled from Plymouth to Fowey and back again on the historic boat and enjoyed a perfect day with blue skies and cheering crowds to wave us on.
Many of us hadn't seen each other for nearly 30 years, and the boat was arguably in better condition than some of the crew – that was certainly the case after a few pints in the pub afterwards!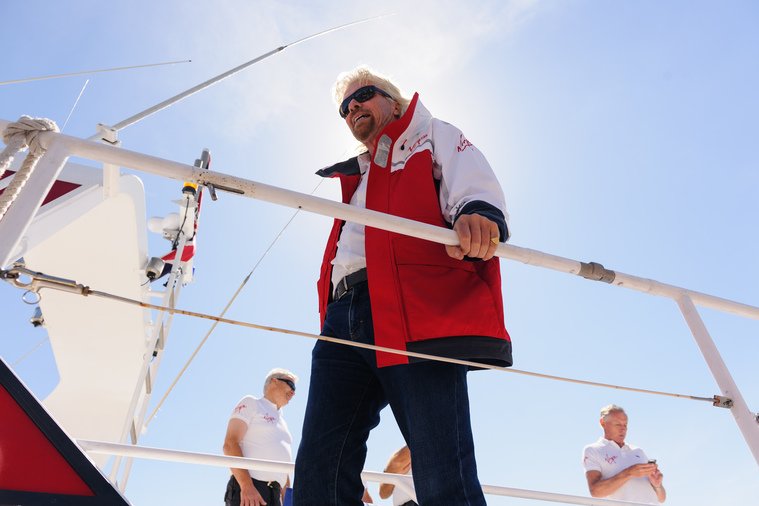 Image from Virgin.com
Now Dan Stevens, can be contacted through his firms Mount Batten Ferry and Seahawk Work Boats, is putting the renovated boat up for sale.
I love Challenger II not only because it is a beautiful boat, but as it gave us a platform to challenge ourselves, push boundaries and embrace the spirit of adventure. I hope whoever buys it is keen for more explorations on the high seas.
Watch the video above to see our voyages, old and new, on the Challenger II. Who knows, you may be tempted to set out on a new adventure too.