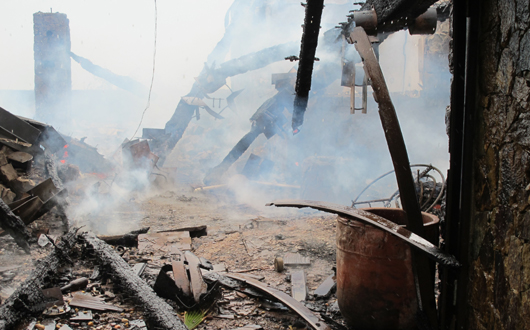 There wasnt much sleep to be had last night. We all sat together as a group of friends and family and shared stories of all the wonderful times wed had in the house it was our home Holly and Sam grew up here. We all had to camp down together - grabbing duvets, blankets anything we could find to keep us dry in the storm. It was quite a funny sight - the whites of my familys eyes shining out of smoke dirty faces while they shared their stories.

There were a few tears - the shock finally hit my son Sam in the middle of the night when he realised what could have happened in the adrenaline of rushing to the house to get everyone out hed forgotten what hed felt when waking up to see 200ft high flames coming from the house and no one moving. At 3 oclock this morning the memory of the dread he felt - fearing that no one had woken up - came flooding back.


But there were also lots of giggles, not least when I tried to get some sympathy for the fact that Id jumped out of bed naked and rushed to the Great House in pitch darkness and hurricane force winds and ran straight in to a cactus bush the sympathy was not forthcoming for my injuries!


The overriding emotion though was a strong sense of relief that we had all got through it unscathed. Special congratulations and lots of hugs went to Kate Winslets two beautiful children Mia, 10 and Joe, 7 they were real troupers and two of the bravest kids Ive ever come across!


Watching the sun rise this morning was surreal and haunting the true extent of the damage highlighted in the early dawn light. Smoke still rising and what was once our incredibly beautiful Balinese home nothing but ashes. But like a phoenix something beautiful will rise again from those ashes. It will take some time and it will be a few days before we understand the full extent of what is needed but lots of the talk in the middle of the night turned to what we could build, what would it look like, how could we design something even more beautiful. These thoughts kept the emotions at bay and stopped us dwelling on the fact that we had just lost our much beloved home and got us concentrating on the future.

Everyone here has been amazing - they all want to stay and help with the clear up in any way they can. Just their support, their love and their friendship is the most amazing gift we could have right now. Im so proud of them all. We did offer to get anyone off the island who wanted to go but none of them want to leave!

The staff on Necker have been truly outstanding the way they mobilised took charge of the fire brigade and looked after everyone so incredibly well Joan and I will never forget how amazing they have been. Looking after everyone in torrential rain and hurricane force winds - they were totally unflappable!


We have a wedding to celebrate in December and I cant imagine giving my daughters hand in marriage, to the very lucky man (!) who is her fiance Freddie Andrewes, anywhere other than on Necker Island beach. Joan and I were married here and we want nothing more than our daughter Holly to get married on our beautiful island. We would love to get the house rebuilt in time but we know there is so much work to be done but we will start as soon as possible and its safe to do so. Simply put we suspect that there may be slightly more tents for the wedding guests on the beach now but Holly and Freddies wedding will definitely still happen here!


We have been truly moved by the messages we have received from around the world. The support from the public has been incredible. We are so blessed that no one died or was seriously injured and we are counting those blessings together as a family.

Read Richard Branson's blog on the fire on Necker Island