Having recently shared 12-year-old Isley's inspiring story about dyslexia, I was delighted to receive a letter from young Honor Smith, a nine-year-old girl who has the condition. She had seen some videos I made encouraging people with dyslexia to use it as a positive rather than a negative.
As Honor went to the trouble of handwriting her note, I thought I would do the same - you can read Honor's letters here, and mine below.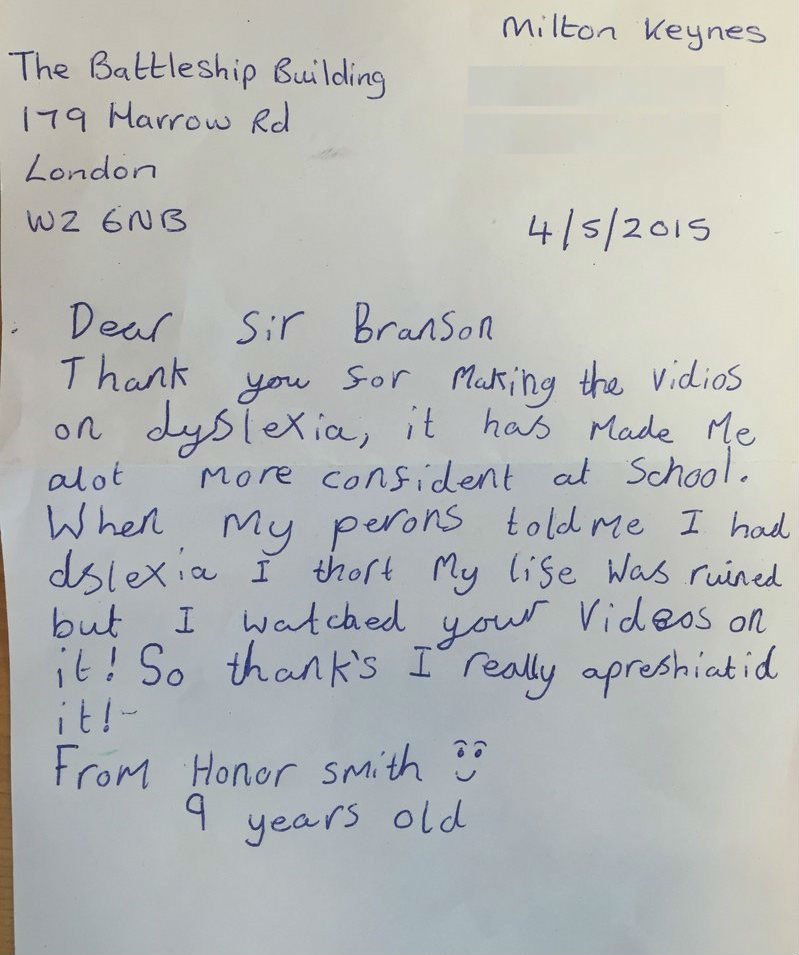 Image from Virgin.com
And my reply:
Dear Honor
Thank you very much for your delightful letter. It is so nice to receive a handwritten note that I thought I would send you one back too.
I am really glad you enjoyed the videos on dyslexia, and I hope they help many more young people like you as well.
If anyone ever puts you down for having dyslexia, don't believe them. Being dyslexic can actually be a big advantage, and it has certainly helped me.
Image from Virgin.com
Your life definitely isn't ruined – I look forward to hearing what great things to achieve in the years to come.
Best wishes to you and good luck for the future, love Richard and all the family.
Image from Virgin.com
Do you suffer from dyslexia? Don't let it hold you back - use it in your favour. It can help you to focus on the things you do excel at, keep messaging clear and simple, and also fine-tune your delegation skills.
Image from Virgin.com
Plus, if you do have dyslexia, remember that the likes of Thomas Edison, Henry Ford, Ted Turner and even Albert Einstein did too. You are in good company!