There are few countries more welcoming than Ireland. It's something we quickly discovered when opening Virgin Megastores in Dublin, but also when unexpectedly landing our balloon off the coast of Donegal more than 20 years ago.
Image from Virgin Media
Since the closure of the Virgin Megastores there has sadly been no real Virgin presence in Ireland, so it was with great delight that we were able to rectify that yesterday as UPC Ireland - the home of Ireland's best broadband – officially became Virgin Media. As you can see, we made an entrance the only way we know how – horns blaring and ready to party.
With the room full of so many new Virgin employees there was a great buzz about the place, with many of them offering up great words of advice and insight into how we can continue to build our customer base by offering real innovation in the market. It feels as though Magnus Ternsjö, CEO of Virgin Media in Ireland, and the team have more than a couple of intrapreneurs on their hands who will never be short of new ideas.
Talking of which, it was also good to see the spirit of entrepreneurship alive and well in the Irish capital, as many local entrepreneurs turned up to share their experiences. One particularly interesting start-up to come along was Food Cloud, run by young Iseult Ward, which aims to help companies redistribute their surplus food supplies. With the topic of conversation repeatedly returning to the growing trend for socially conscious businesses, it's great to see young entrepreneurs shaking up rigid and ineffective practises which have gone unchallenged for years.
Image from Virgin Media
That's something we'll be looking to do ourselves in Ireland, starting on Monday with the launch of Virgin Media's mobile offering, we'll continue to give customers a better deal wherever possible. While talking with the local entrepreneurs we reflected on the profound impact the internet has made on doing business and how quickly word can now spread.
While we miss the physical presence of Virgin Megastores in cities like Dublin, we're now able to positively impact the lives of so many more people – with Virgin Media's 500,000 Irish customers all being able to enjoy our services from the comfort of their homes.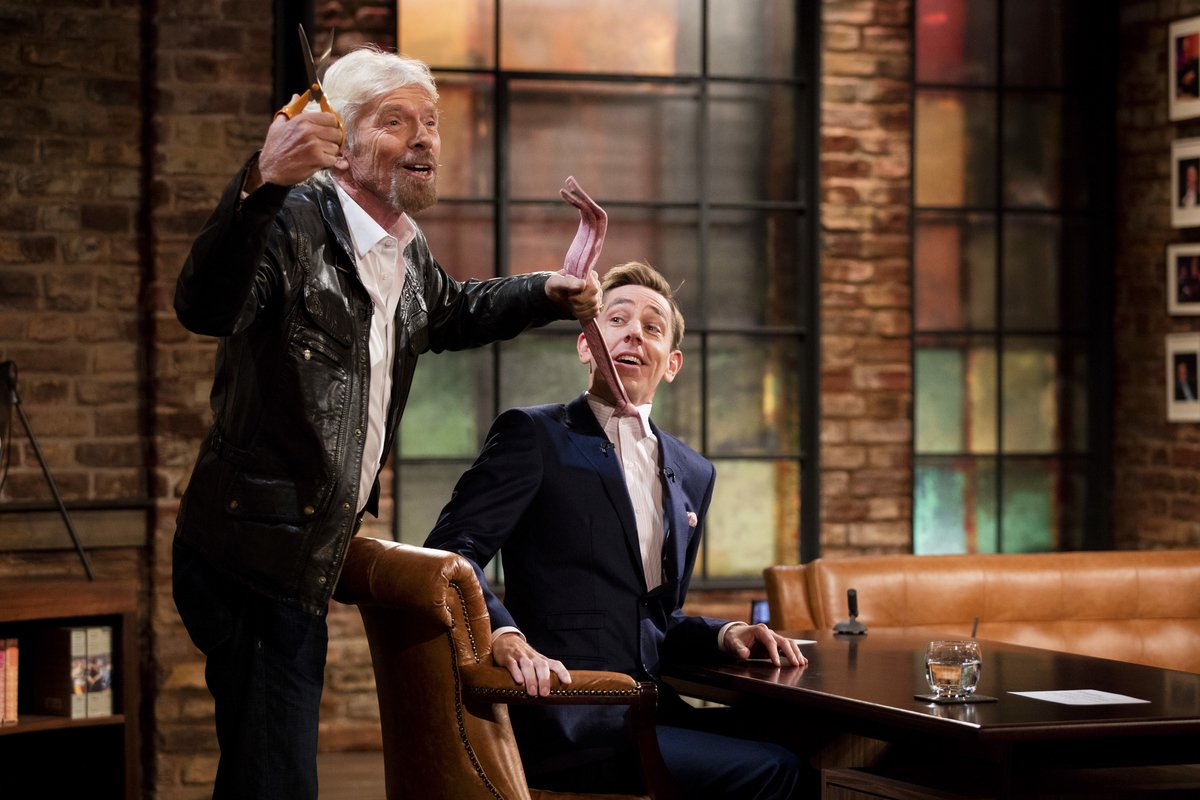 Such a presence means you have to do right by the customer and offer value wherever possible, as if you fail to do so they'll let you know loud and clear – something we'd never want to change.
And lastly, when are people going to start remembering it's never the best idea to spend time with me when wearing a tie. I enjoyed snipping another one in Ireland, this time from around the neck of Ryan Tubridy during an appearance on The Late Late Show. Luckily he demonstrated his great sense of humour. That'll be taking pride of place with our collection of half cut ties at the Virgin Hotel in Chicago!