Are you a carer? There are now seven million unpaid carers in the UK alone who look after family, a friend or a neighbour who couldn't cope without them. One in eight of us will be a carer at some point in our lives.
Image from Virgin Care
This Carers Week, Virgin Care has launched a new Carers Club to give simple, straightforward advice to carers. Carers UK defines a carer as "someone of any age who provides unpaid support to family or friends who could not manage without this help due to illness, disability, mental ill health or a substance misuse problem". Not everyone who is an unpaid carer would define themselves in that way, which is part of the reason why carers are not getting the support they need.
Whether it is providing emotional support, simply listening and talking, doing household chores, or providing medical, personal or physical care, unpaid carers have an enormous positive impact upon people's lives. They also save the NHS £119 billion each year.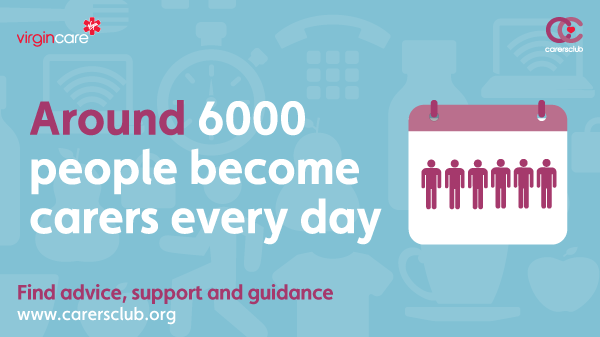 Image from Virgin Care
About six thousand people take on caring responsibilities each day. They often don't look after their own health, and need to be helped so we can end the cycle of carers becoming the cared for. 46 per cent of carers give up work because of their caring roles, while 75 per cent struggle to pay basic bills and 87 per cent say caring has a negative impact on their health.
I recently met up with some incredible people who have become carers very early in their lives. Renaissance Foundation, an educational charity that inspires young people to overcome obstacles, has developed programs for young carers, young hospital patients and school pupils at risk. I caught up with the team, as well as young leaders Fiona, Qasim and Wahid, in Oxford recently. It was inspiring to see their commitment to supporting others and helping the next generation to achieve more.
Image from Virgin Care
Anyone from anywhere in any circumstance can be a carer. If you are, or want to find out more about caring, head over to Carers Club and help to spread the word about keeping our communities happier and healthier.