Delighted to announce a series of landmark agreements at our Creating Climate Wealth event, transitioning the Caribbean islands to renewable energy.

The Ten Island Renewable Challenge is an idea that calls for us to scale up renewable energy across the region and then across the wider world. Today, seven countries have committed to working with us on the 'Ten Island Challenge' (a friendly, informal competition for the most progressive island states to see how fast they can scale clean technology).
St.Lucia
The British Virgin Isles
Colombia for the Islands of Providencia and San Andres (Caribbean)
Turks & Caicos
Dominica
St.Kitts & Nevis
Aruba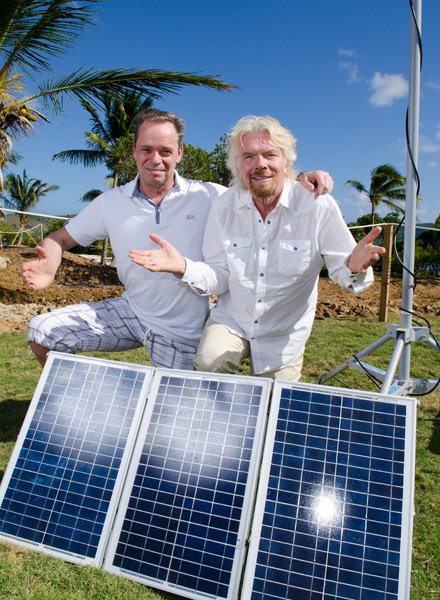 The last few days have been incredibly productive. The leaders here are determined to take their countries as close to carbon neutral as possible. They will save resources, save money and help people and the planet.
Having kicked off the conversations and split into five working streams, we divided into a series of working groups and began to form practical action plans for making positive change in the respective areas. Each group contained people with the expertise and insight to actually get things done rather than merely make meaningless presentations. We are privileged to have RMI as partners in this event and look forward to working with them in the future.
Everyone was very excited by taking such a hands-on practical approach, disrupting the normal staid conference format - the beautiful Moskito and Necker settings may have helped! - so much so that we brought forward the moment when everybody shared their ideas to the whole group. There were so many good plans flying around that it made sense to get back together again and share where each individual group had got to. This proved very useful, as everyone could get feedback, sense check their ideas and feed in extra suggestions.
In addition to the country-based projects, a series of groundbreaking specific project outcomes were agreed - with initial opportunity of $250 million in region. To find out more about them head over to the Carbon War Room.
The commitments were complemented with news that our own home, Necker Island, which we committed to the Ten Island Renewable Challenge as 'Island Zero' – has awarded the contract to transition it onto renewables to US energy company NRG Energy. The programme begins this spring and we hope it will be completed by the end of the year. We celebrated in true Necker style with a party to remember.

The idea for the Carbon War Room was born here at the Temple on Necker. The Elders was also born of a conversation here in the Temple. The B Team was born out of yet another conversation here. I hope the Ten Island Renewable Challenge can be another example for the world to follow, and a new low-carbon future will be born out of the work done here over the last few days.