One of the best parts of building a global brand is receiving notes from people whom the Virgin story has touched. Every letter is an instant blast from the past, which often pulls on the heartstrings with nostalgia.
One such letter that got me reminiscing came from Michael Clayden, the son of our first accountant, Jack. Michael wrote to me to tell me of Jack's sad passing. In his email he included a letter I sent to Jack back in 1986. Unbeknown to me at the time, the words of that letter became fundamental in shaping the Virgin ethos.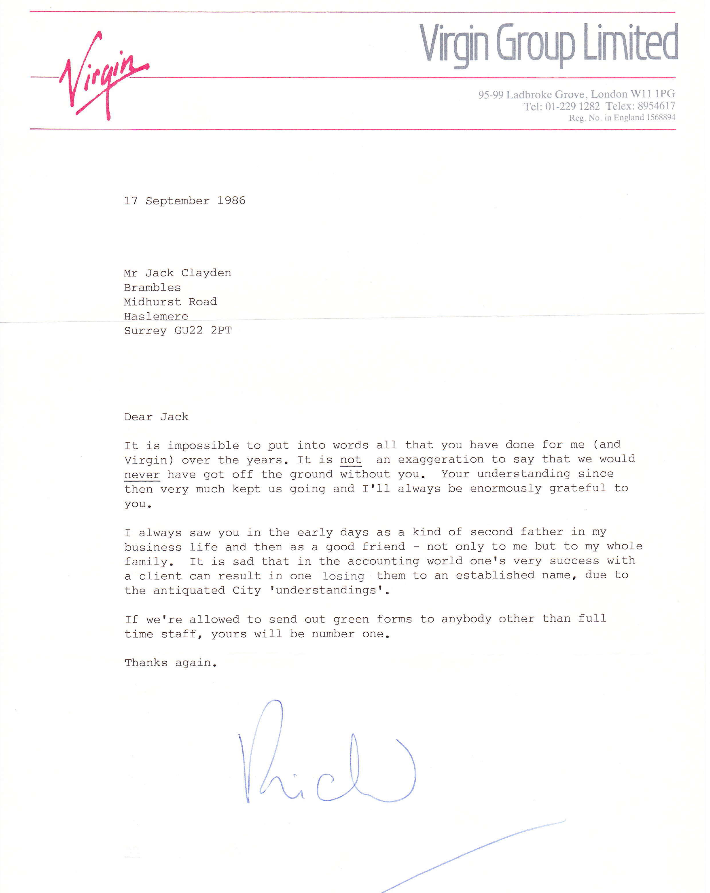 When people ask me for my secret to success, the answer is always Jack and people like him. I wrote in that letter almost 30 years ago, and still believe today, that: "It is not an exaggeration to say that we would never have got off the ground without you… Your understanding since then very much kept us going, and I'll always be enormously grateful to you."
Starting out with Virgin Records, we knew very little about business, let alone accounting. Jack had the skills we needed to not only get us off the ground, but allow us to thrive. He was one of my first mentors, and taught us all the importance of delegation.
Image from Virgin.com
To grow as an entrepreneur, you have to learn to delegate. There's no shame is admitting the places where you may fall short, and engaging with people who can help. I was never great with numbers, so rather than do the job badly, I found Jack. He shared my vision, but also understood the difference between net and gross – something I didn't fully comprehend until I was 50 years old!

Delegating was one of the first skills I learned – fortunately for me, because I later learned that it can be one of the hardest yet most important skills an entrepreneur can possess. Figuring out how to juggle commitments and still have time to think about the big picture can be daunting. So much energy can go into keeping a business afloat, but a leader must be able to move on from that role, or the business will not grow and flourish. People who understand your passion, want to add to their own ideas, and can envision ways to create improvements, will make your business successful and fun.
Image from Virgin.com
With Jack's accounting skills, we not only grew Virgin Records into a success, but also adopted a family-like atmosphere. People like Jack instilled me with great confidence in our people – an attribute which became a defining part of the Virgin culture. As I wrote in my letter: "I always saw you in the early days as the kind of second father in my business life and then as a friend — not only to me but to my whole family."
Thank you Michael for sharing this letter. Your family will always be considered part of the Virgin family.