One of my favourite things is listening to other people telling stories, and telling a few of my own. This blog is a good place for that, but an even better setting is sitting around an old-fashioned campfire.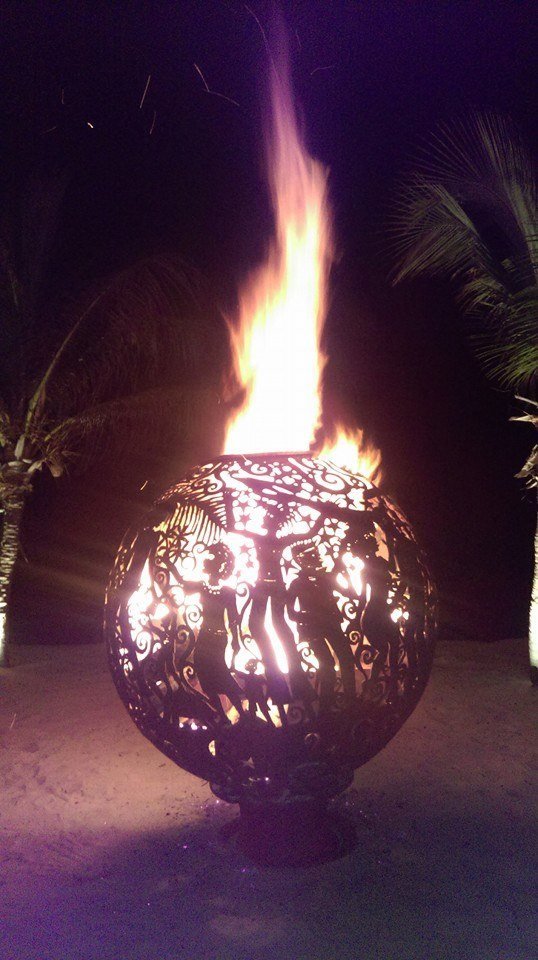 Image by Greg Rose
We often end evenings on Necker by sitting around on the beach swapping tales around the fire. So we decided to commission a wonderful local artist named Aragorn Dick-Read to create this beautiful new fireball for us to gather around.
If you look closely you can see images of: yours truly discovering Necker, Sam climbing a coconut tree whilst Joan helps, Holly feeding the lemurs, as well as some iconic Virgin images and depictions of the wonderful people who have visited the island over the years. There's also plenty of the local wildlife, from our fabulous flamingos to our loveable lemurs, stout iguanas to giant tortoises.
Image by Owen Buggy
Telling a story is one of the best ways we have of coming up with new ideas, and also of learning about each other and our world. It's been happening since humans first inhabited the earth.
Image by Owen Buggy
A study by University of Utah anthropologist Polly Wiessner suggested that by extending the day longer into the night by sitting around a campfire, the culture of ancient people changed. Polly studied the Ju/'hoan people of Namibia and Botswana and discovered that their evening conversations differed enormously from their daytime discussions.
Image by Owen Buggy
In the day, the majority of talk focused upon economics, quarrels and property. By night – when they sat around campfires – 81% of their conversation was devoted to telling stories. As Science Magazine quoted Wiessner: "Stories told by firelight put listeners on the same emotional wavelength," and "elicited understanding, trust, and sympathy."
The same thing happens today, 400,000 years later. Whether somebody picks up a guitar to sing a song, or lowers their voice to whisper a chilling ghost story, or raises a smile with a comic misadventure, we all love sharing our experiences. Just add fire.
Image by Owen Buggy
Do you have a favourite fireside story? I'd love to hear it.