"Test your boundaries: Give more money to charity than you think you should. The amount should make you uncomfortable."
I'd like to use this #ChallengeRichard, which was proposed on Twitter by @exogenista, as an opportunity to highlight The Giving Pledge – an initiative my wife Joan and I joined in 2013 to make a public commitment to dedicate the majority of our wealth to good causes and philanthropy.
I never started out in business to get rich – I wanted to create products I was proud of and make a difference in people's lives. With this in mind and integrated into everything we do at Virgin, we have been incredibly fortunate that people have fallen in love with our products and services, and helped the brand, and in turn my family, become successful.

Joan and I signed the Pledge with the belief that things don't bring you happiness – family, friends, good health, and good deeds do. There's so much satisfaction that comes from making a positive difference. Luckily our children, Holly and Sam, agree with us on this.
While the commitment is called the Giving Pledge, I see it as more of a Living Pledge, where the members spend their time and invest their resources into making a positive difference while they are still around to make an impact – not just after they have passed on.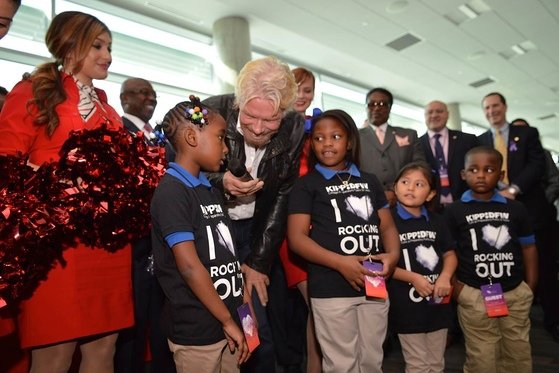 Image from Virgin America
We're committed to using our wealth to support entrepreneurial approaches to help make a difference in the world. We want the value created by the Virgin Group to be used to invest in new collaborative approaches to addressing issues we care deeply about, where business, governments and not-for-profits join forces to create a healthy, equitable and peaceful world for future generations to enjoy. I spend around three quarters of my time now working towards these goals with our non-profit foundation, Virgin Unite.

And we're not alone. 137 other individuals/couples have also signed the Pledge. We're proud to be listed next to the likes of Sarah Blakely, Mo Ibrahim, Elon Musk, Mark Zuckerberg and of course the Pledge's founders Bill and Melinda Gates and Warren Buffet.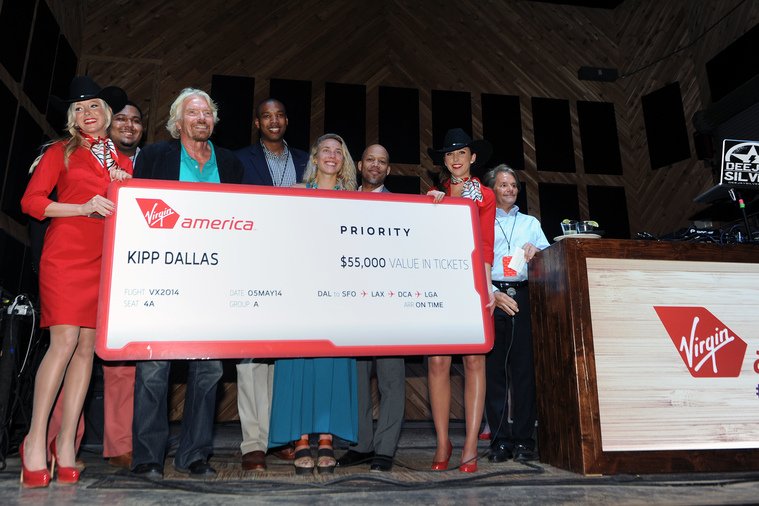 Like Joan and I, most pledgers have their own area of focus. Sarah has pledged to invest in women, believing "we would all be in a much better place if half the human race (women) were empowered to prosper, invent, be educated, start their own businesses, run for office – essentially be given the chance to soar!" While Mo is focused on good governance and leadership in Africa, to improve security, the rule of law, economic opportunity, infrastructure, management of public finance, transparency, education, health and citizens rights on the continent.

We're all in a very fortunate position to be able to dedicate a lot of our wealth to philanthropy, and understand that this is not possible for most people. But giving more doesn't always mean donating money. We can all give more of our time to help others and worthy causes.

Image by Virgin Unite
Through Virgin Unite, we see so many wonderful people donating their time and energy to benefit others and their communities. When you see first-hand the impact it can have, giving inevitably it becomes the best feeling in the world. I would like to encourage all people to give more and do more.
That ticks off challenge number three of my #ChallengeRichard quest. Don't forgot to keep sending in your challenges.