Today is the day: world leaders are set for a final push at COP 21 to secure a bold commitment to tackle climate change.
This weekend, I joined my fellow B Team members in Paris to urge governments to set strong targets. We called upon world leaders to commit to a goal of net-zero greenhouse-gas emissions by 2050. I have stayed on in Paris today for more meetings to urge leaders to set strong targets and long-term goals.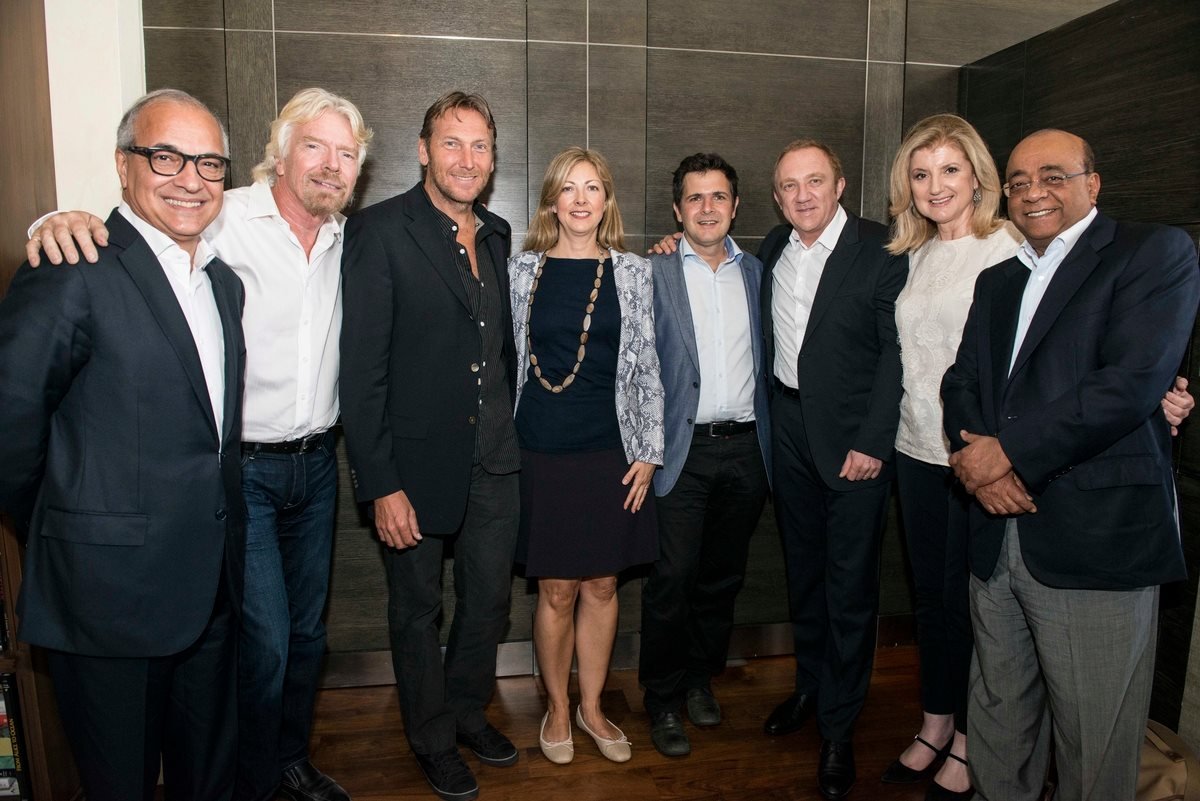 Image from the B Team
After discussions with B Team members and leaders, I was fortunate enough to present the Indian city of Chennai with the 2015 Sustainia Award for its solution to the city's mounting air pollution and traffic casualties. It was also a great pleasure to present Ted Turner with a deserved Lifetime Achievement Award at the ceremony too. I also had chance to gather with ocean advocates including David Attenborough to discuss the future for coral reefs and highlight the important role the ocean has to play in this critical moment for the world. More on that soon.
Business is one of the biggest contributors to climate change; which also means we can be hugely instrumental in tackling it. Companies can help the world get to carbon neutrality by mid-century, so long as governments set the goals. If mandated, net-zero by 2050 will help the world stay below two degrees Celsius – a scientifically-proven safe operating zone.
We're already working towards this goal at Virgin through a number of game-changing projects. Virgin Atlantic has set an ambitious target of a 30 per cent reduction in CO2 per Revenue Tonne Kilometre from 2007 to 2020, and has purchased a fleet Airbus 330-300 and Boeing 787-9 that are roughly 30 per cent more efficient than older aircrafts. Virgin Active is focused on ways to reduce the energy consumption in its clubs – already reporting a reduction of 25% since 2011, with plans to reach 30% in 2015. While Virgin Hotels has earned US Green Building Councils LEED Gold status for its Chicago property, and is aiming for a minimum of LEED Silver certification for all future properties.
Our non-profit foundation, Virgin Unite is also working towards driving positive change in this area, through a number of catalytic initiatives. The Carbon War Room (which last year merged with the Rocky Mountain Institute) have many technologies already in place – such as the Shipping, Trucking, Building Efficiency operations, and the Ten Island Challenge – aimed at significantly reduce carbon emissions. Further investment to scale these initiatives will help the world reach net-zero.
Supporting innovation through early stage investment is pivotal in attempting to bring climate change within a safe operating zone. Just last week, I joined the likes of Bill Gates, Mark Zuckerberg and others to launch the Breakthrough Energy Coalition – a perfect example of a business and government partnership that can tackle climate change.
While the clock is ticking and time is running out, there was a wonderful atmosphere in Paris this weekend. I felt so inspired by all that was going on that I decided to stay an extra day to address a group of world leaders. Tonight I will urge ministers and delegates that now is the time to be courageous, and assure them that business is on their side in making a bold commitment and strong goal to combatting climate change.