In recent years, few species have faced a greater threat from poaching and the illegal wildlife trade than the magnificent rhino. After wild populations in Africa enjoyed a few years of relative safety, the number of animals brutally murdered for their horns has increased dramatically lately. In 2014, more than 1200 rhinos were killed in South Africa alone. First estimates for 2015 don't look much better.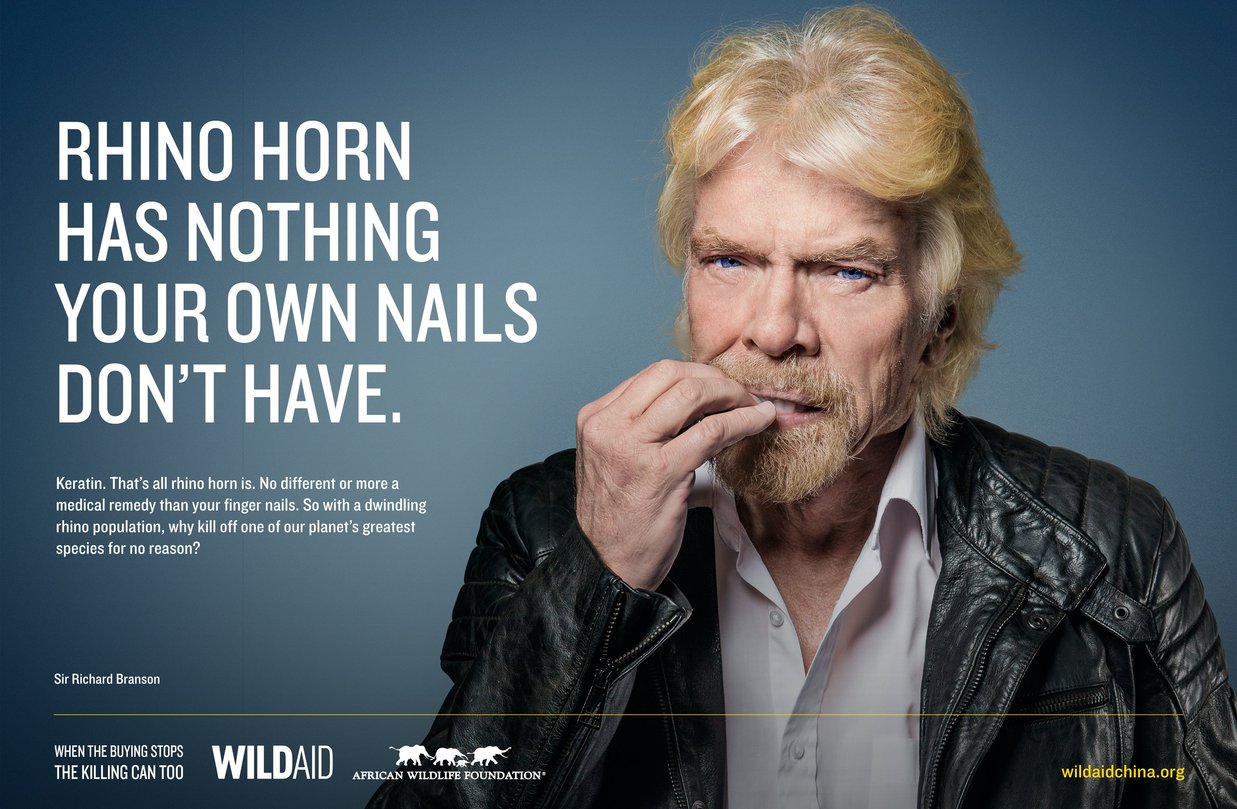 Image from WildAid
Most of this spike in wildlife crime is driven by increased consumer demand in China and Vietnam, where rhino horn is used primarily as a remedy for all sorts of ailments, even though it has long been shown that it doesn't have any medicinal properties whatsoever. It's a sad story of superstition and misinformation on one end of the chain that is responsible for mass slaughter and suffering on the other.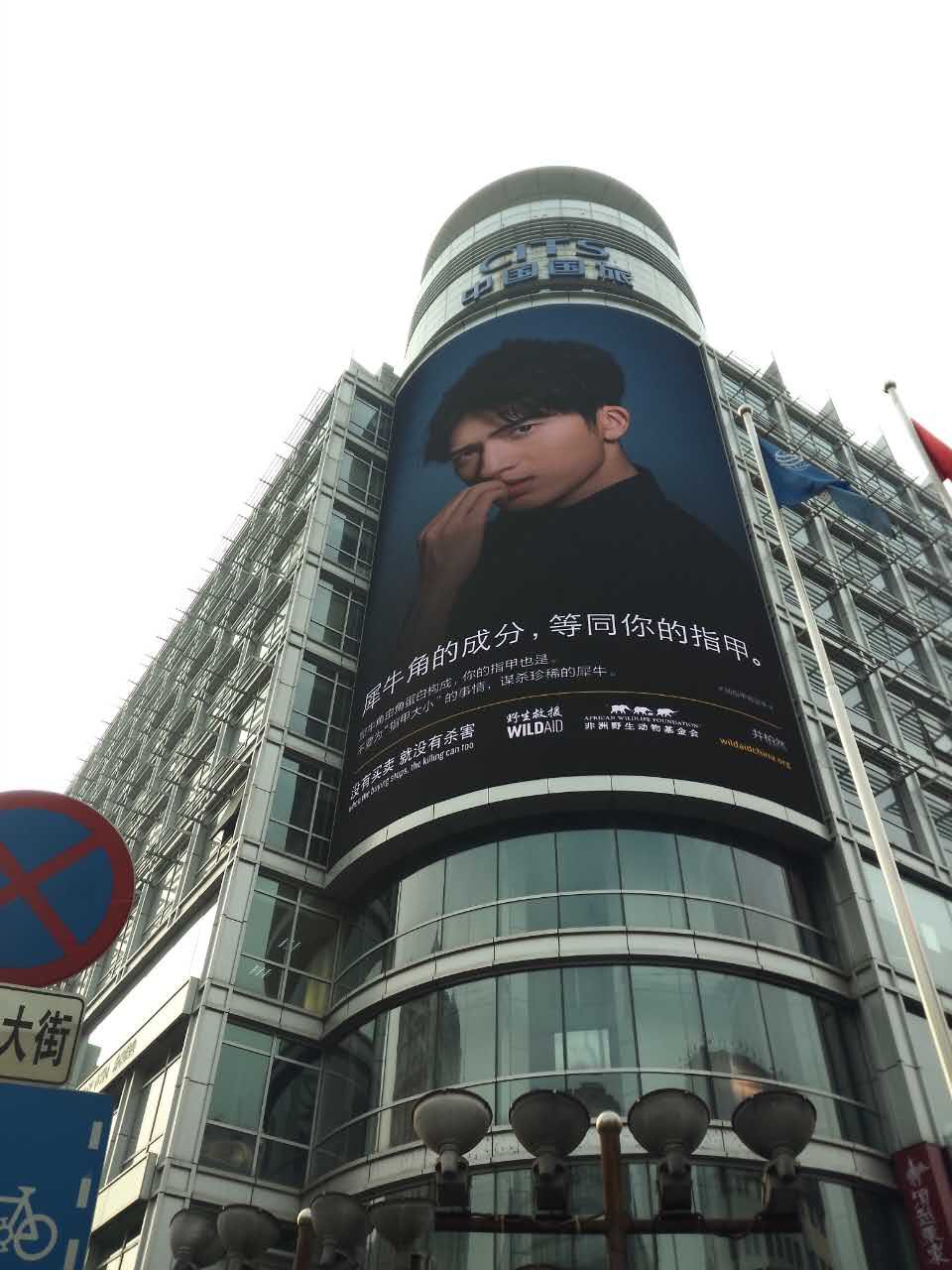 Image from WildAid
I've long argued that the illegal wildlife trade must be addressed along the entire supply chain. Strengthening the capabilities of those brave rangers fighting what looks like a losing battle in many of Africa's national parks is part of the solution, and it has to go hand in hand with better governance, greater accountability, and more effective law enforcement. Yet, supply reduction can only work when we tackle demand at the same time. In other words: only when the buying stops, the killing can, too.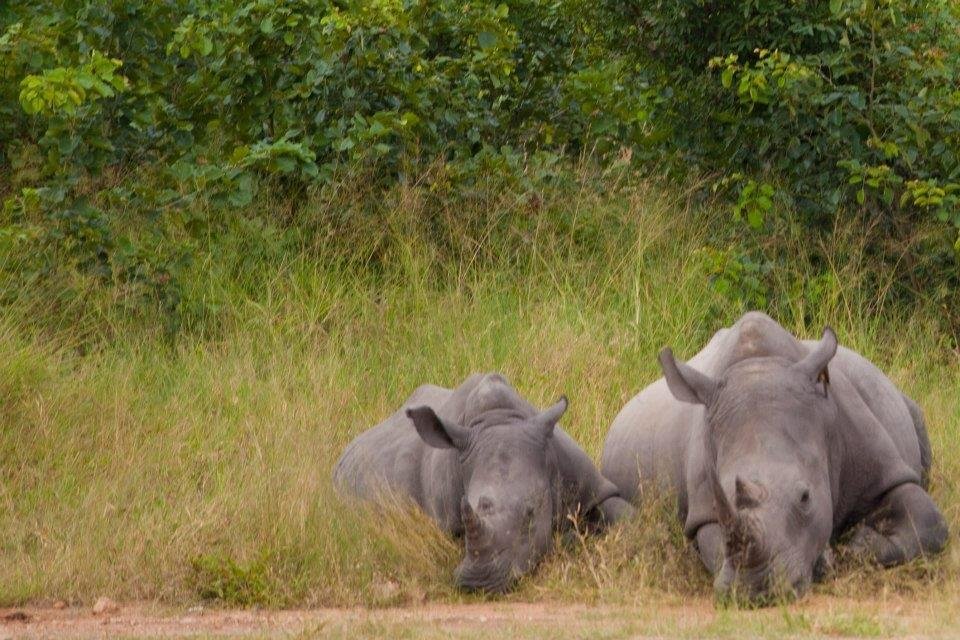 Image by Matthias Stausberg
This is one of the reasons I went to visit Vietnam in September last year and met with local business leaders and other stakeholders. Our conversations about wildlife and the role of Vietnamese business in ending this madness were productive and fruitful. Over dinner, several dozen business leaders pledged to start a movement to end the use of rhino horn once and for all.
It's an uphill battle, for sure. But thankfully, people are beginning to understand that rhino horn is in essence nothing more than keratin, the same substance that human hair and nails are made from.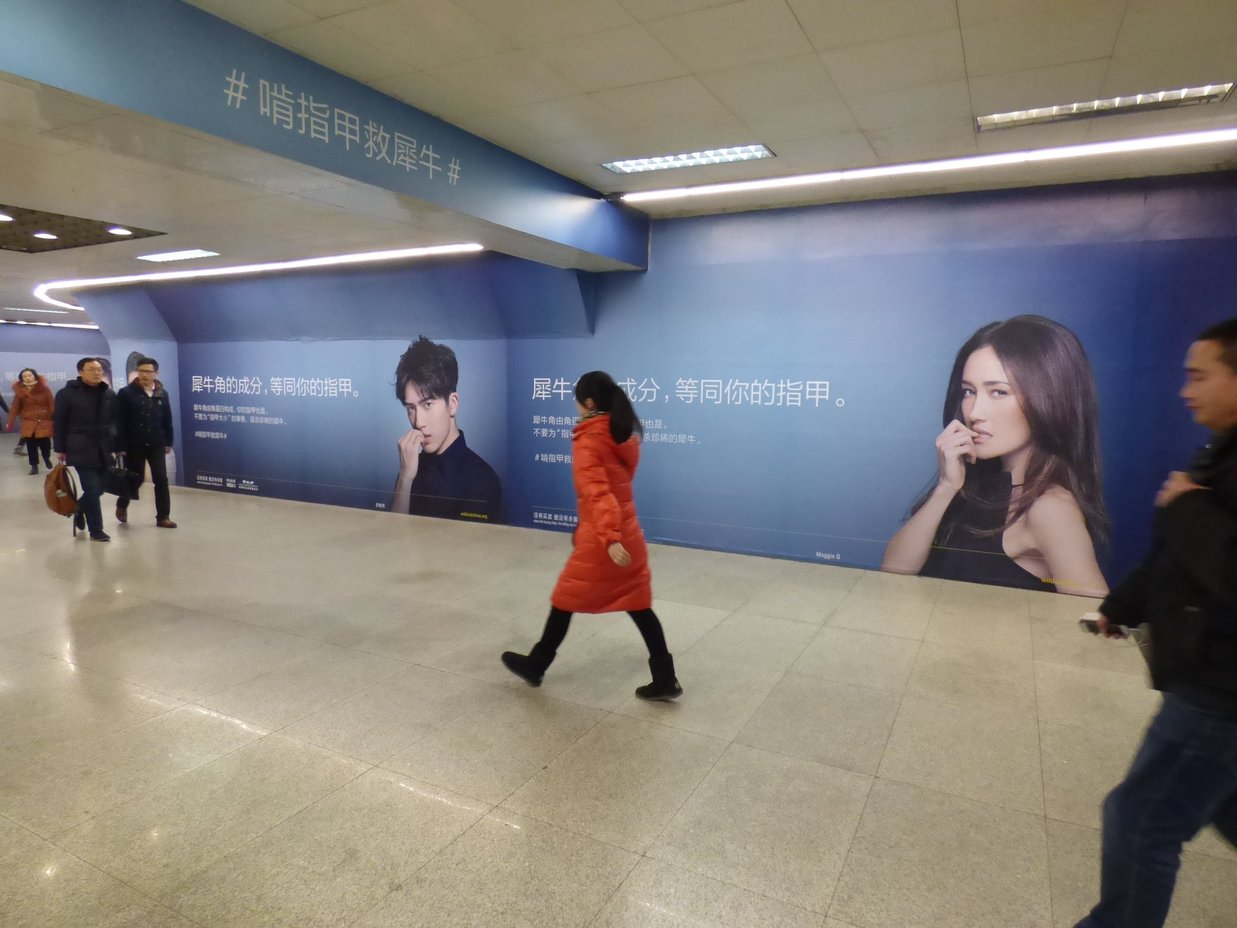 Image from WildAid
To illustrate the point, I joined forces with actress Maggie Q and a few others to support a new campaign by WildAid. Starting this week, you will see yours truly biting my finger nails on billboards all across East Asia. It's perhaps not the most flattering photo shoot I've ever participated in, but it certainly drives home the message: In other words, if you think that rhino horn is a magical substance that can cure disease, you may as well be chewing your toe nails.
Head over to www.wildaid.org to learn more about rhino horn the campaign to end its use.
Update: great news from Hong Kong as the government has signalled the end to the domestic ivory trade. Congratulations to Hong Kong for their example to the rest of the world.
And now in Vietnamese:
Trong những năm gần đây, có lẽ ít có loài động vật hoang dã nào nào phải đối mặt với nguy cơ săn trộm và buôn bán trái phép như loài tê giác oai dũng. Chỉ sau có vài năm có được cuộc sống khá an toàn, số lượng tê giác hoang dã tại Châu Phi bị giết hại dã man để lấy sừng lại tăng mạnh. Vào năm 2014, riêng ở Nam Phi, hơn 1200 cá thể tê giác đã bị biết hại. Ước tính ban đầu cho thấy năm 2015 cũng không khá hơn.
Hầu hết, các vụ phạm tội liên quan đến động vật hoang dã tăng đột biến gần đây là do nhu cầu ở Trung Quốc và Việt Nam tăng, nơi mà sừng tê chủ yếu được dùng là một phương thuốc chữa bá bệnh mặc dù khoa học đã chứng minh sừng tê không có bất kỳ dược tính nào. Đây là một chuyện đáng buồn: chỉ vì mê tín và hiểu sai thông tin mà dẫn đến giết hại hàng loạt một loài động vật đáng yêu, tội nghiệp.
Đã từ lâu, tôi luôn tranh cãi rằng nạn buôn bán trái phép động vật hoang dã phải được giải quyết qua cả một chuỗi cung cấp. Tăng cường năng lực của các cán bộ kiểm lâm dũng cảm đang đấu tranh cho một cuộc chiến có thể được xem như một trận thua ở nhiều vườn quốc gia của Châu Phi là một phần của giải pháp, và nó phải đi đôi với quản trị tốt hơn, tăng cường trách nhiệm, và thực thi pháp luật hiệu quả hơn. Tuy nhiên, giảm cung sẽ chỉ thực hiện được khi chúng ta giải quyết nhu cầu cùng một lúc. Nói cách khác: không có người mua – không còn kẻ giết.
Đó là một lí do tôi tới thăm Việt Nam vào tháng 9 năm trước và gặp gỡ với những nhà lãnh đạo doanh nghiệp và các bên liên quan khác. Cuộc trò chuyện của chúng tôi về động vật hoang dã và vai trò của doanh nghiệp Việt Nam trong việc chấm dứt việc điên rồ này cũng khá hiệu quả. Trong bữa tối, hàng chục lãnh đạo doanh nghiệp đã cam kết sẽ bắt đầu một phong trào để chấm dứt sử dụng sừng tê giác hoàn toàn.
Đây chắc chắn là một cuộc chiến khó khăn. Tuy nhiên, may mắn thay, con người đã bắt đầu hiểu rằng sừng tê thực tế không có gì ngoài keratin, cấu tạo giống như tóc và móng tay người.
Để minh họa cho điều này, tôi đã cùng Maggie Q và nhiều người khác ủng hộ một chiến dịch mới của WildAid. Bắt đầu từ tuần này, bạn sẽ thấy hình ảnh tôi cắn móng tay trên các bảng quảng cáo ở khắp Đông Á. Hình tôi chụp lần này cũng chẳng bóng bẩy gì, nhưng nó chắc chắn đưa ra một thông điệp rất rõ ràng: nếu bạn nghĩ rằng sừng tê giác là một thần dược có thể chữa bệnh tật, thì có lẽ bạn nên cắn móng chân của mình đi thì hơn.
Truy cập website www.wildaid.org để tìm hiểu thêm chiến dịch chấm dứt sử dụng sừng tê giác.