Karen Jones sent me a #ChallengeRichard to "find 65 people who put others first and deserve a thank you treat." I've been saving this one for the end of the year, so that I could reflect on highlights from 2015.
Here's part one of 65 people who have inspired me in 2015.
1.
When Virgin Media Fault Technician, Paul Cook visited elderly customer Patrick, he soon realised the fault was with the TV set and not the service. The idea of leaving Patrick, an avid Liverpool fan with no family and an oxygen tank, alone at Christmas with no access to his beloved Boxing Day football, was not an option, so Paul went out and bought him a TV. Paul and Patrick became friends, and still catch up every now and then. Thank you Paul.
2.
Sheryl Sandberg has wowed me time and time again with her game-changer attitude. We were delighted when she joined us for this year's Virgin Disruptors debate: Your work in the workplace: at what cost? Her passion for advancing women in the workplace and the wellbeing of her colleagues is truly inspirational. Thank you Sheryl.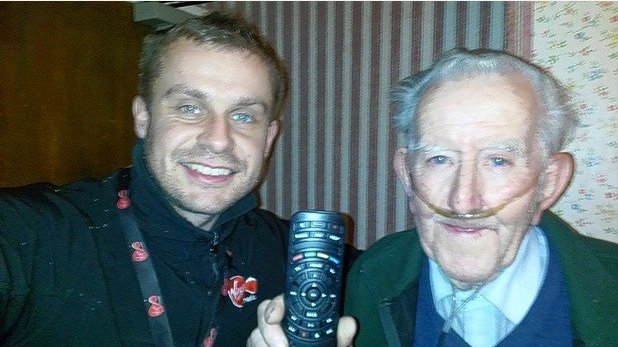 Image from Virgin Media
Image credit: Hardy Wilson
3.
Author of the UNODC briefing paper supporting the decriminalisation of all personal drug use, Monica Beg deserves enormous praise. When she eloquently expressed what many experts within the system had said before, her authority and expertise was downplayed, and her paper was buried. I believed the world needed to see the document, so I released it on my blog. Thank you Monica.
4.
While a number of world leaders expressed their sympathy for Syrian refugees, German Chancellor Angela Merkel took action by welcoming large numbers of Europe's Syrian asylum applicants to live in Germany. When her popularity dipped to the lowest it's been since 2011, she responded saying "We will cope" and stood firm. Her "refugees are welcome" policy is still intact, and has saved thousands of lives. Thank you Chancellor Merkel.
5.
Brothers Craig and Marc Kielburger co-founded annual event We Day in 2007 with the aim to celebrate young people who are making a difference in their local and global communities, and give them the tools to create transformative social change. Alongside my daughter, Holly, Craig and Marc did an amazing job to put together this year's stirring line-up. I was delighted to join them, and my son Sam, on stage this year. The event was so inspiring. Thank you Craig and Marc.
Image from We Day
6.
I received a wonderful note praising Virgin Atlantic Duty Maintenance Manager, Trevor Bloom for going above and beyond to help a customer. After Michelle Hutton lost her wedding ring on board a flight from London to New York, Trevor went out of his way to pull her seat apart and recover the ring. Now, thanks to her 'hero', the ring is back on Michelle's finger. Thank you Trevor.
7.
2015 has been a year in which Virgin Unite has worked to raise awareness about abolishing the death penalty globally. Our case has mainly been focused around the plight of Oklahoma State Prison death-row inmate, Richard Glossip, who we believe was wrongly accused. I had the opportunity to speak to Richard on the phone. His strength and resolve moved me. Despite almost facing lethal injection three times, Richard held his head high in the hope that his case would be used to drive future change. Thank you Richard.
8.
Richard Glossip's lead lawyers Don Knight and Dale Baich (and their teams) have worked tirelessly for months, if not years, to save their client from execution. With Richard now granted an indefinite stay of execution, they are working hard to ensure he will get a real chance to prove his innocence. Here's hoping 2016 yields more results. Thank you Don and Dale.
9.
Last year, I named Malala Yousafzai as one of my 14 most inspirational people of 2014. This year, she continued to impress and move the world by taking further action on global education. On her 18th birthday she opened a school for Syrian refugees in Lebanon, designed to admit nearly 200 girls from the ages of 14 to 18, with all expenses covered by the Malala Fund. In doing so, she had a message for world leaders: "we must invest in books instead of bullets." Thank you Malala.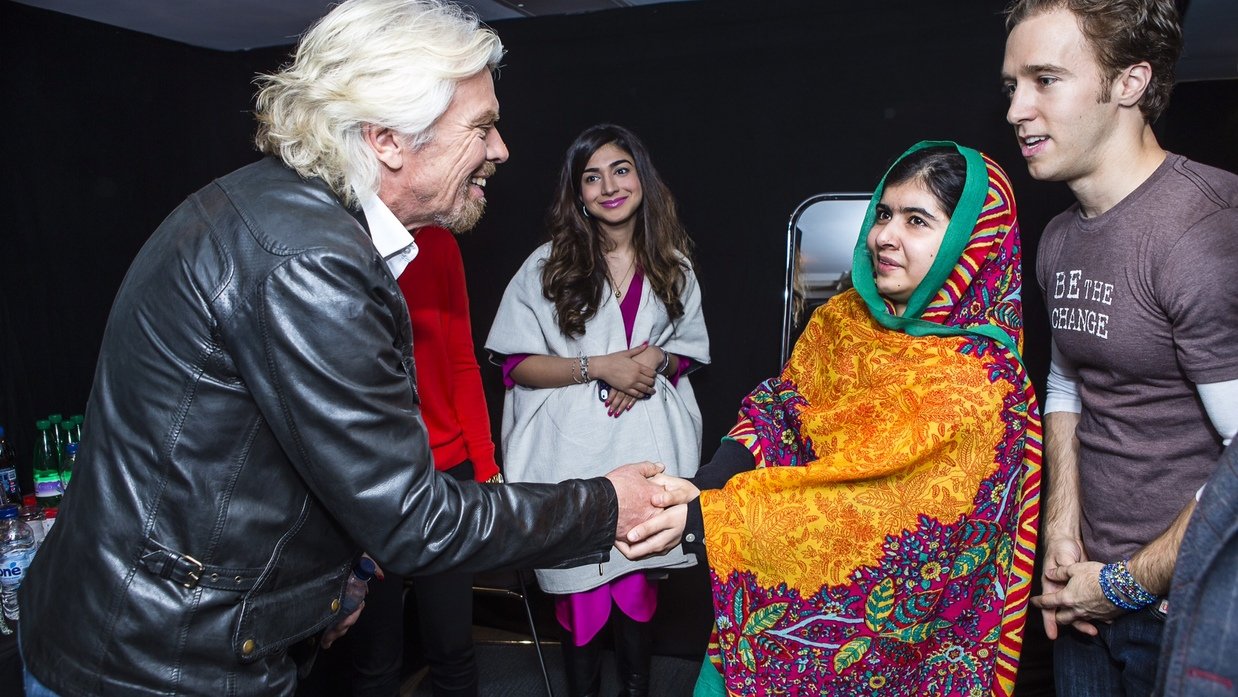 By Vito Amati
10.
Currently, 46 per cent of people who leave prison in England and Wales – and 44 per cent in Scotland – reoffend within a year. More needs to be done to help people with criminal convictions get back on track. Which is exactly why Matt Fountain set up the Freedom Bakery – a social enterprise that trains prisoners within the area of artisan baking. Giving people a second chance in life is not only the fair thing to do, but it is also a position of fiscal responsibility. More businesses should play a role in rehabilitating offenders. Thank you Matt.
11.
2015 has been a huge year for the planet and everyone on it. In September world leaders met in New York City to make a brave commitment to 17 Sustainable Development Goals – which if achieved in the next 15 years will change the world for the better for everyone. Tasked by the UN to make the goals famous, Richard Curtis, turned the Sustainable Development Goals into the Global Goals – a set of relatable, digestible and poignant milestones. The Global Goals is an ambitious, but well-executed campaign. I'm keeping a close eye on how things progress. Thank you Richard.
12.
My family experienced quite a fright this year when my granddaughter suffered a health scare during a tropical storm on Moskito Island. Two of our staff, Sophie from Guest Services and Seth from Watersports, did an incredible job in helping us throughout the crisis. Seth swam out to a boat in extremely choppy waters at 2am and helped get First Aider Sophie to Moskito through the almighty storm. Thank you Sophie and Seth.
13.
The world needs to be carbon neutral by 2050. This can, and has to, be achieved by governments, business and others coming together to create an energy revolution. It is for this reason that The Breakthrough Energy Coalition was established this year. Bill Gates founded and developed the collation, and I'm proud to be a member. Together with a number of other climate campaigners we're working to drive innovation that makes the next generation of energy more efficient. Thank you Bill.
14.
As someone who left school at 15, I believe that education needs rethinking and that schools should be more relevant to what's going on in the real world. I was therefore impressed to hear about School 21 at our latest Virgin Disruptors debate, the Future of Education: does our current education system make the grade. School 21 co-founder Ed Fidoe told us about the system that challenges the status quo to pioneer new ways of teaching, which break away from tradition to put student's needs first. Thank you Ed and the team at School 21.
15.
The main purpose of prison should be to rehabilitate people so they have the opportunity to return back into society and play a meaningful role in society. But if prisoners are cut adrift from their families, it makes reintegration difficult. For the past three years, Pastor Norm Reed has been working with Igniting Change to connect families through video visiting. I was fortunate to join an imprisoned father in Tasmania and his son via video. After I left them in privacy, the father listened to his son playing the guitar and was reduced to tears as the connection means so much to him. Thank you Pastor Norm.
16.
Just two weeks ago, the world watched as a historic document was signed at COP 21 in Paris, after world leaders made a bold agreement to tackle climate change. It was no easy feat, as so many parties had so many different interests and concerns, but the watershed moment prevailed thanks in huge part to Executive Secretary of the UN Framework on Climate Change, Christiana Figueres. Christiana lead the charge, and was pivotal in making sure negotiations were achieved. Thank you Christiana.
17.
I have been incredibly lucky and proud to have a number of wonderful assistants throughout my career – including my current PA, Helen. Helen and I have been working together for over seven years, in which time she's travelled the world with me keeping me on schedule and informed. They say behind every successful executive is a hardworking personal assistant, and I couldn't agree more. Thank you Helen.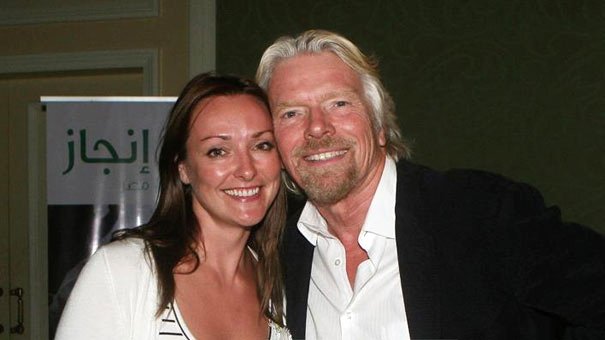 Image from Virgin.com
18.
I have nothing but respect for former US President Jimmy Carter. He has dedicated his life to humanitarian causes and peace keeping missions. His list of achievements is amazing: he's tackled diseases, helped eradicate hunger, stopped conflicts, and made sure that elections are fair. I've had the pleasure of getting to know him in his role at The Elders. Despite suffering from ill-health at 91 he continues to campaign for a better world. Thank you Jimmy.
19.
When I received a letter from a young girl named Isley Hermansen it struck a chord immediately. Like me, she struggles with dyslexia – which has caused her to stay quiet in the classroom, and feel dejected. Upon learning about all the amazing things dyslexic people have gone on to achieve in life, she become to determined to use her dyslexia as a gift, and made a brilliant video to share her experience and motivate others. I had the wonderful pleasure of meeting Isley on a trip to Australia this year. Thank you Isley.
20.
Throughout 2015 I've enjoyed working with fellow B Team member, Unilever CEO Paul Polman to urge businesses all over the globe to put people and the planet on par with profit. Under Paul's leadership, Unilever – which owns and distributes hundreds of household name products –has been showing the world that a focus on sustainability makes great business sense. Thank you Paul.
21.
My mother, Eve, is my biggest inspiration. On top of helping me chart my path to success, she's been very successful herself – a pioneering entrepreneur in her own right. Now in her 90s, most people would relish in some downtime, but my mum has other ideas. As well as spending time with her three great-grandchildren, she's also working hard as the Founder of the Eve Branson Foundation – with a mission to provide access to education and health care to improve the lives of women and young girls in the Atlas Mountains of Morocco. Thank you Mum.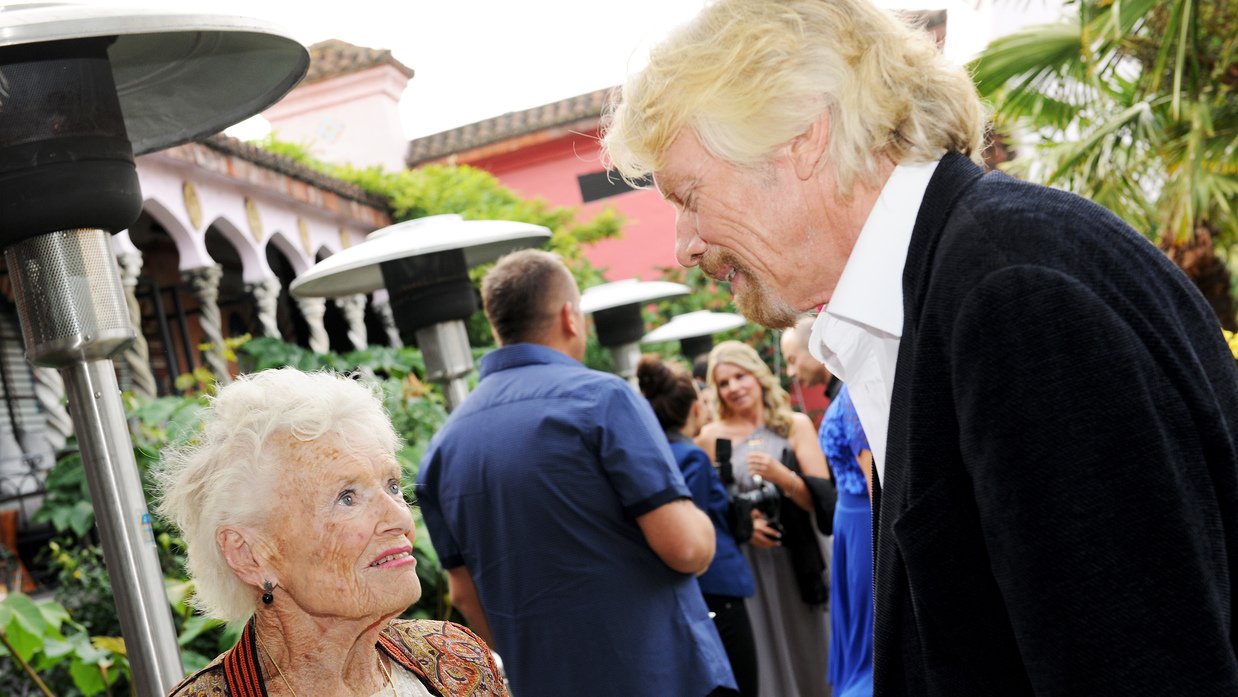 Image from Virgin.com
Check back in on my blog later this week to read about 44 other people who have inspired me in 2015.