Taking children on holiday can be exciting. You get a chance to switch off from normal life and enjoy experiences together – sand between your toes, tasting exotic fruit, jumping in the swimming pool.
But taking kids on a long flight isn't always an enjoyable experience. They'll often watch in wonder as the plane takes off and climbs above the clouds but as the time passes, that wonder can dissolve into complaints of boredom.
Thankfully, Virgin Holidays and Virgin Atlantic have some great tips to make flying with kids less stressful and more fun…
Kid Crew
Virgin Holidays is trialling something new for their younger guests this summer. They'll be sending out a special Kid Crew pack for any children travelling to Orlando with Virgin Holidays from Gatwick in July or August, which gives them some exclusive VIP bonuses.
Members of the Kid Crew will receive a passport, which they can use to collect stickers as they journey through the airport and onto the plane. Plus once they reach the gate, they'll receive a dedicated Kid Crew pack with a brand new activity book.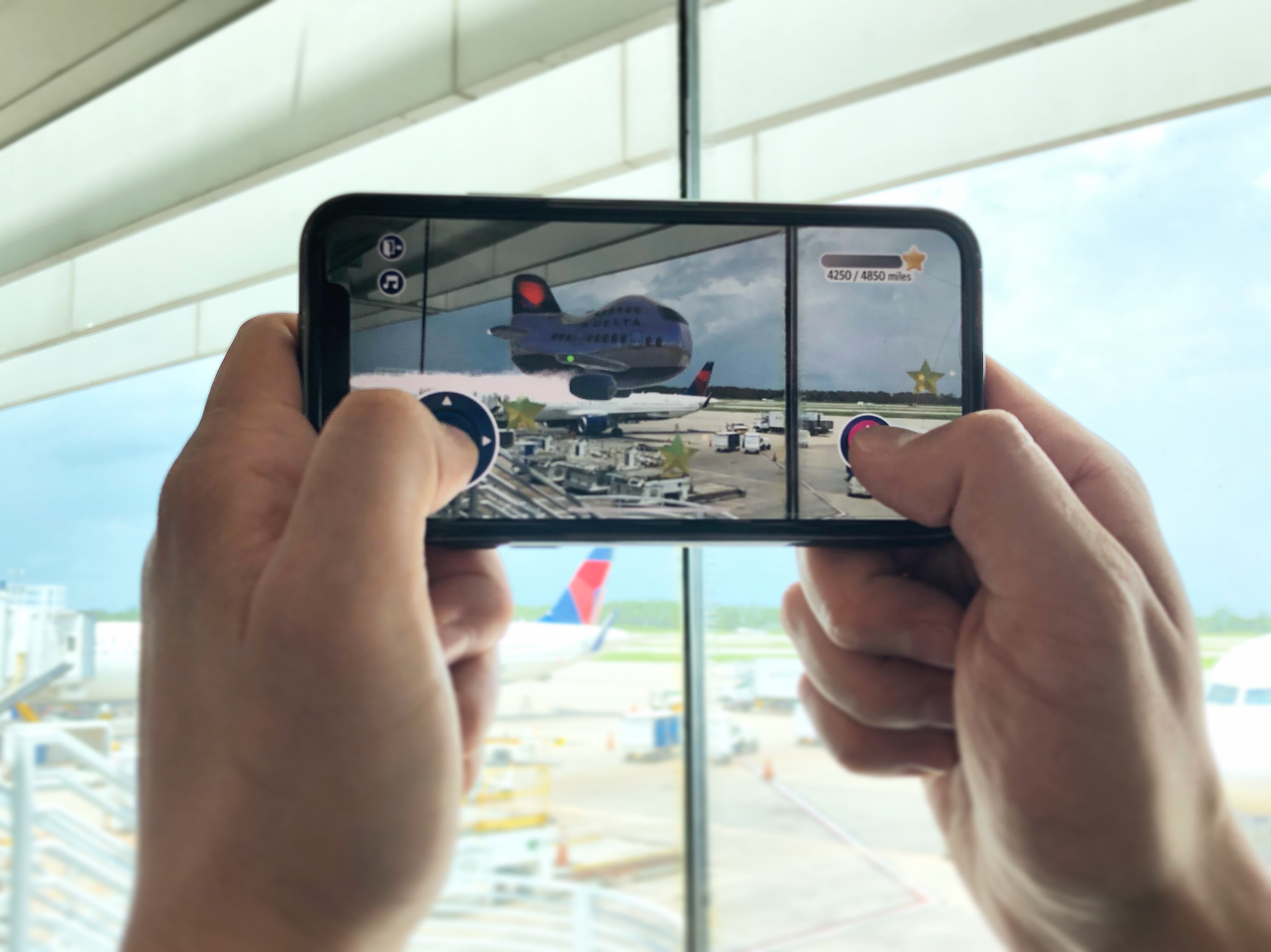 Image from Delta Air Lines
Cloud Crew
Virgin Atlantic's partner Delta Air Lines has released a special app to give kids the chance to fly their own plane while they travel. Simply download Cloud Crew from the iOS store, select whether you want to fly a Delta or Virgin Atlantic plane and get ready for take off.
Using augmented reality technology, you'll fly around the aircraft cabin collecting stars and building up points. It's sure to keep your kids busy for a while on a long haul flight.
Home comforts
Is there a specific toy, game or blanket that your child really loves? Having items from home can really help children to cope with the strange sensation that flying for the first time can be. And, unless it's too big to fit on a plane, there's absolutely no reason you can't bring it with you for the flight. Of course, if their favourite toy is very noisy, your fellow passengers might not thank you – so maybe encourage your child to bring their favourite teddy bear instead.
It's also worth considering what food your child will want on the flight. Booking a child's meal ahead of time is a great place to start but it's also a good idea to have a stock of snacks in your hand luggage for the inevitable moment when they decide they no longer like the pasta you've ordered for them.
Nap time
You'll probably be hoping your child will sleep for at least some of your flight. Not only to give you a break, but also to avoid having to deal with an overtired, grumpy child.
Kids don't struggle to fall asleep on planes in the way that adults do. This is partly because they're used to falling asleep anywhere – if you've seen the positions that toddlers adopt to sleep in a car seat you'll understand – and partly because they don't face the same space restrictions as an adult. To help your child sleep, use pillows and blankets to build a comfortable bed for them and hopefully they'll be drifting off to dreamland before you know it.
Entertainment
Virgin Atlantic has a dedicated Kids Travel section on their inflight entertainment system. Here, children can watch destination-themed animations onboard, which include details about places such as the Caribbean, Israel, India and the USA.
The airline has also recently licensed a short animation called Suzie Goes on an Aeroplane, which has been made especially for autistic children to help them understand the process of flying and travelling through the airport. It's also useful for any child who has never been on a plane before.
There's also 28 hours of family-friendly content accessible on the inflight entertainment system. Virgin Atlantic recently added PJ Masks to their catalogue of kids shows but you'll also find favourites including Big Hero 6 The Series and the Duck Tales TV series.
If you're hoping to keep the kids quiet for a bit longer, there's some great films on offer, including Spider-Man: Into The Spiderverse, Tangled and Ralph Breaks the Internet. There's bound to be something your kids will enjoy.
Of course, if you're worried that you won't be able to find anything on the inflight entertainment system then you can bring your own devices with programmes and games downloaded for the kids. You're able to use tablets and phones (so long as they're in flight mode) for the duration of your flight so they can watch as many TV shows and films as they want – or as you'll allow.
Ultimately, you know your children better than anyone else so you know what will help them relax on the plane – even if that means you're subjected to the same episode of Peppa Pig seven times.
Visit Virgin Holidays to book your next trip and Virgin Atlantic, to discover all that their inflight entertainment has to offer.
Thumbnail from gettyimages