This year saw some of the wildest and most wonderful festival happenings on record, with Kanye West proclaiming himself the biggest rockstar on the planet at Glastonbury, to Calvin Harris blowing the generators at V Festival.
But one of the most noticeable differences between this year's festivals and those gone by was the huge advances in technology employed by both organisers and attendees.
With RFID wristbands fully adopted by Coachella and Tomorrowland, hologram performances at CrazeFest and the use of beacons pretty much everywhere 2015's festivals have come on crazy leaps and bounds since the very first Glastonbury festival 45 years ago.
So just what will the festivals of tomorrow look like?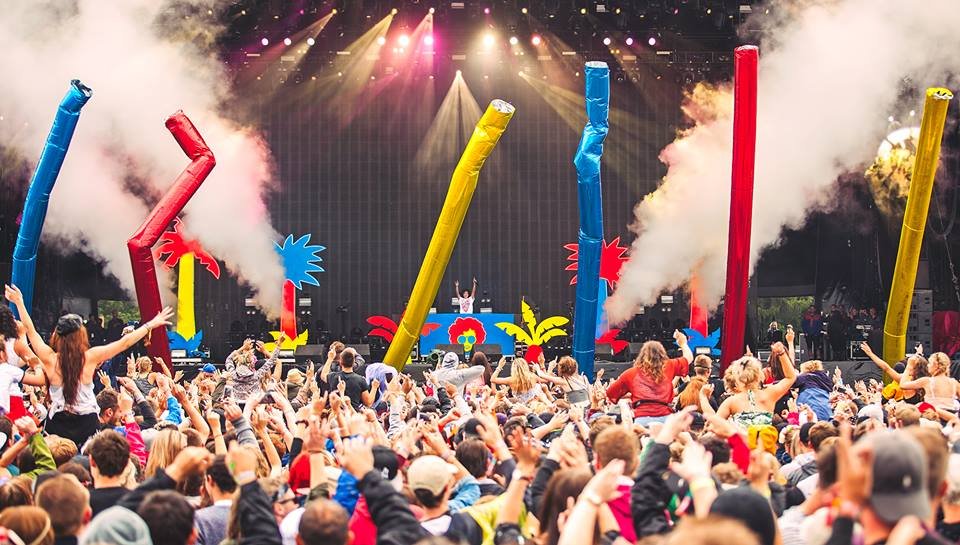 Image by Sam Neil for V Festival
The rise of wearable technology
Whilst still not everywhere, the RFID wristband has been known to the festival industry for a few years now and has almost fully been adopted by Coachella and Tomorrowland.
The wristband essentially acts as a barcode onto which your ticket details, payment options and social media accounts can be all connected to.
Clearly as this bit of kit becomes more commonplace the opportunities for advertisers, marketers and vendors are huge.
Not only that festival organisers can gather real-time feedback on their event as guests take to social media, for example to complain about a lack of toilets in one area of the venue. It also helps organisers cut down costs as fewer staff are needed to process arrivals and departures and, of course, helps cut down on crime as people have fewer possessions to steal.
In the future it is likely that these wristbands will act even more like a data mining device allowing brands to employ real-time targeting to festival goers.
Live streaming and advanced video technology
With huge advances in drones and video technology, festival organisers can capture videos and images of gigs that will be able to transport attendees back to the moment they were there, or entice future gig goers to next year's event.
On top of that, the advent of technologies like Oculus Rift which will be released next year, means that in the future wannabe festival goers won't even need to leave their sofas to experience the event, with organisers perhaps offering two tier ticketing systems for actual and virtual attendance.
The end of camping
With the cost of festival tickets rising every year, more and more people are treating a festival weekend as a holiday rather than a quick muddy break, and as such want a good night's sleep.
John Morley, Director at Spaceships Rentals, a campervan hire service, said: "Just a few years ago there was only one accommodation option for festivals and that was staying in a tent. Today most events have an array of options for accommodation – from yurts to 5-star temporary hotels.
"Having your own space to retreat to at the end of a long day means you're better rested and can wake up the next morning ready to get back to the main stage. One recent Glastonbury customer told us staying in a campervan instead of a tent gave them a completely different experience as they could focus just on enjoying the music instead of looking forward to leaving the festival for a good night's sleep and a hot shower."
Greenest festivals yet
Almost at the polar opposite of the tech bonanza, is the importance many festivals are placing on sustainability.
With Shambala festival in Northamptonshire having a total ban on bottled water, Wood Festival only installing 100% recyclable loos and larger festivals such as Lattitude, Womad and Glastonbury having historic green values tomorrow's festival goers will expect this from their festivals.
In the future we will see festivals becoming an odd hybrid of super advanced technology combined with old fashioned sustainability, all, of course, powered by renewable energy.
A move abroad
Spaceship's John Morley again: "More and more people are finding better value at European festivals. Often the line-ups are even better than their UK equivalents. We find a lot of customers combine a festival with a few days of holiday on the way to and from their European festival, as they can use our campervans to drive and sleep where they wish. People also like the idea of getting some guaranteed sun over a festival weekend, rather than gambling on a UK festival which could be sunny or storms whatever time of year it falls."
This is a guest blog and may not represent the views of Virgin.com. Please see virgin.com/terms for more details. Thumbnail from gettyimages.