Remote working opens up a world of exciting opportunities – and I really do mean world. With the latest technological advances in the realm of communication, borders are no longer barriers. In some situations it is now possible to work remotely from absolutely anywhere...
You are reading an article from the rise of flexible working series, to read more about this you can visit the series homepage.
For many people the term remote working suggests a small office space at home, or a co-working space that provides an alternative working environment. It is a workspace that allows them to apply focus away from the traditional company office. But today's modern inter-connected world allows the true entrepreneur to dream and achieve on a much bigger scale. Let me tell you about my remote workspace, to give an example of what is really possible when you start to live and work on your own terms.
I live with my partner on a small two acre island off the Caribbean coast of Panama. Our home is completely 'off-grid'. We have no connection to mains electricity or water. Solar cells and a bank of batteries provide our power and rainwater collection provides all of our drinking and bathing needs.
Our only utility is a tank of propane gas that we buy once every two weeks to power the fridge, cooker and hot water system. Our lives are simple but comfortable. We have everything we need to live, but more importantly, everything we need to work. This we can do because, despite the remote location of our island home, we have access to modern communications. We can run our business in the same way we could in a modern city anywhere else in the world.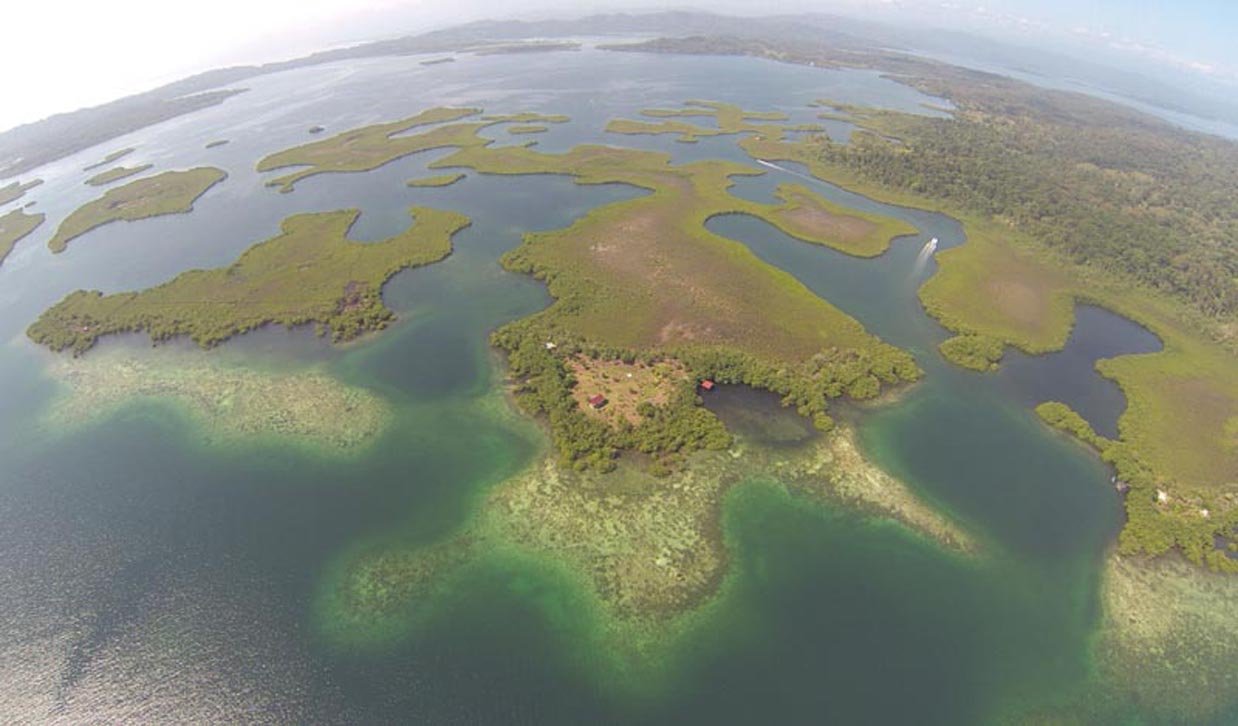 We are six miles (that's 9km) from the nearest small town, but our island has direct line-of-sight to a mobile phone tower. This gives us a good cell phone signal, and we can use this to provide adequate WiFi coverage to the property.
We use online tools such as email, social media, Skype and Dropbox to communicate with customers and suppliers with the same or similar ease to someone with an office in London or New York. The view from our workspace is, however, a little different! We may have to rise early some mornings to work within global time zones, but this is safe in the knowledge that we can be snorkeling in the bay later in the day.
The archipelago we live in is called Bocas del Toro and there is a small and friendly expat community here. Many are retirees but we are by no means the only examples of people living and working remotely.
In a small jungle resort in Dolphin Bay, just to the south of our small island, a group of young entrepreneurs from a US-based real estate 'introduction agency' are enjoying a two month stay whilst building their rapidly expanding business, remotely. We see them each week at a local jungle restaurant, and judging by their deepening tans they are certainly not living an all-work-no-play lifestyle.
Our little entrepreneurial circle here is small, but growing, as more people grasp the real benefits of remote working.
We have neighbours that create animated videos for website owners around the world. They are currently struggling to keep up with demand as their business grows at a rapid pace. They are now considering outsourcing some parts of the creative process to skilled workers in the Philippines to win back some of their precious snorkeling time. We have another friend who lives here between three and five months each year whenever she wants, because her American based employer allows her to work her three days a week from anywhere in the world.
By living in an environment where we can both work and play pretty much as and when we choose, we believe we are far more effective. We certainly don't see many stressed out entrepreneurs here in Bocas, but we do see entrepreneurs that are successful and achieving results.
So take a look at the bigger picture. There really is a worldwide opportunity that remote working offers for those prepared to step outside their comfort zone. Where are you working today… and if you really wanted to, where in the world could you be working tomorrow?