"Even in the best-case scenario we're still going to be facing dangerous climate change. We need yet another new solution." So says Professor Tim Flannery, of the Australian Climate Change Council, talking to me in the latest Virgin Podcast.
Listen to more Virgin Podcasts
Tim's latest book is Atmosphere Of Hope, in which he describes some of the new technologies being developed to help reduce the amount of CO2 in our atmosphere. Tim talks me through these on the show. From kelp to concrete, there're innovative ideas being developed.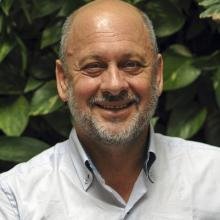 Image credit: Australia Climate Council
Tim has written over 30 books, he's a paleontologist, a mammalogist, an environmentalist, a global warming activist and, in 2007, was Australian of the Year.
"We're not looking broadly enough for solutions," says Tim. "Innovation, government regulation, growing industries quickly - a whole series of things has to happen."
The best way to get each episode of the Virgin Podcast is to subscribe via Soundcloud or iTunes. Then you can take it away and listen on your daily commute, during your daily exercise or whenever it is you do your podcasting. You'll get each show delivered as soon as it comes out, every Tuesday.
If you like the show, please rate and review it on iTunes and share it with friends.