For today's world start-up hub focus we travel to Santiago - a city which has garnered much praise from the start-up community as of late - and speak with two experts in the region about the ups and downs of doing business in Chile...
You are reading an article from The world's best start-up hubs series, to read more about this you can visit the series homepage.
Population: 6.1 million
Pros: Less bureaucracy than most Latin American cities, a high level of trust, healthy economy and high levels of innovation.
Cons: Difficulty with breaking into key markets due to the power of big business.
Cost: Certainly a lot better value than many parts of Europe, but relative to other areas of Latin America it's not cheap.
What to expect: A refreshingly open business culture as well as a very ambitious target for what the region can achieve in the future.
Offering their insights are Sebastian Vidal, the director of Start-up Chile, an organisation tasked with cementing Santiago's position as Latin America's primary innovation hub. As well as Jonny Miller, an entrepreneur whose start-up, Maptia, has progressed through the very same government funded accelerator programme.
How would you describe the business culture in Santiago?
Sebastian Vidal (SV): Trust is a big issue here, so you will always see mechanisms to secure an agreement for example. This is why having contacts is still a big thing in Chile, because the networks that you create will let you know if you should trust this person or not and gives an idea of what to expect. This is a small country in population and diversity so networks are very close. This trust issue can be seen as a good thing since there is a lot of respect for big institutions, for the media, government and economic. The corporate structure is quite rigid and vertical. So high range executives in big companies will demand, figuratively speaking, some sort of respect from the society. Here people are really conscious about the status and what it implies. This leads to a country that is more efficient and less bureaucratic than its neighbours in the Latam region.
Jonny Miller (JM): Amongst the start-Up Chile teams everyone is refreshingly open about their ideas and the sense of trust is infectious. Stroll into one of the Start-Up Chile co-workspaces and you'll hear relentless discussion, pitching, brainstorming, and the whirring of a hundred brains working at top speed. Frequent meet-ups are organised both by the Start-Up Chile team and by the entrepreneurs themselves. Both the diversity of backgrounds and the sharing culture within the Start-Up Chile community are powerful catalysts for serendipity.
What are the best aspects of doing business in Santiago?
SV: I would say that a lot of best practices come from the public sector. And this is possible because Chile has a strong, healthy and stable economy where the government can address entrepreneurship initiatives in a safe and creative way. For example, last year the government launched a complete web system where you can incorporate your business in just one day. This is possible because Santiago is already positioned as one of the top five innovation and entrepreneurship ecosystem in the world. And this certainly wouldn't be possible if it weren't for the creation of Start-Up Chile, the government start-up program that plays a key role in the attraction of international, talented and high impact entrepreneurs to come and boost the local ecosystem. In addition, businesses in Chile are still very dependent on natural resources. And because we need more innovation and technology creation from here is that now there are many different initiatives to start-up.
JM: There is a strong peer-to-peer teaching mentality among the Start-Up Chile participants. Just as we discovered that at university most of the real learning took place between the students, the same is true here with all the participants constantly trading and sharing skills. As one of the less experienced teams, we are tremendously grateful to all the entrepreneurs who have kindly loaned us their time and given us valuable insights drawn from their previous start up experiences.
One of the program's more tangible goals is to incubate a USD $1 billion company. This ambition is reflected in the program's mantras. We were told emphatically at the initial presentation to 'Go big or go home.' The quirky blue stickers emblazoned with 'Dare not to square' or 'Be extraordinary' proudly appear on laptops cases everywhere. Risk taking is encouraged. The encouragement and camaraderie between teams is exceptional.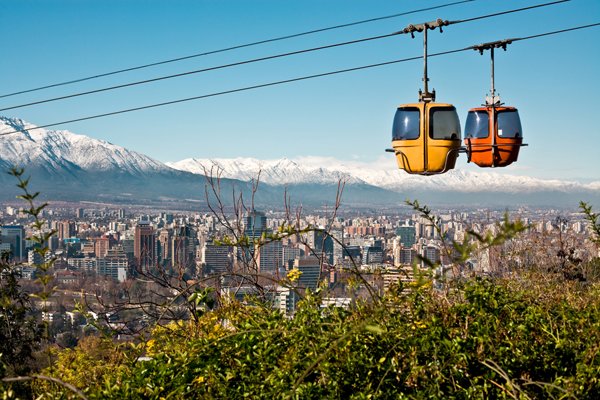 What are the worst aspects of doing business in Santiago?
SV: Chile has a highly concentrated market in almost all big industries making it really hard to enter a market from scratch. Even though we are moving to a less conservative range, and there are some signs of change, we still need to work harder to overcome this.
Nevertheless, I think the majority of the downsides that now Chile is facing are going to soon become a great opportunity for potential entrepreneurs as we show more and more chileans that it is possible to build a company, be successful and compete globally. And that is because once you make that highly talented people to make the switch and believe that entrepreneurship is their best alternative, then all is possible.
JM: In terms of Start-Up Chile, you have to go through a competitive application process to be accepted into the program (however, this process often helps you hone your ideas and value proposition). Also bear in mind that not everyone is able to drop everything and move to a new continent for six months, but for those who can it's an incredible opportunity.
What's your advice for anyone thinking of starting up in Santiago?
SV: I would tell them to check the funding opportunities that the government is giving. Supporting entrepreneurs is a big deal here, and this is by giving funds to start-ups in every stage of development and to promote the creation of investment funds to further support this new companies. Also, Chile is a close environment which if you are good and fast enough you can easily reach the market, validate your idea, learn and continue growing.
It is a trustworthy platform to start if you want to address all Latam, and you will find good partners along the way that will support you. For example, there are many big multinational companies having there Latam HQ in Chile, so then reaching there international network will certainly be easy. A boiling ecosystem is growing exponentially and in which collaboration is the key. Universities, big corporations, Government and investors have their eyes open and they are very receptive to what the start-ups have to say, willing to work with them and give help for them to grow faster. Starting up in Chile has become a common pattern among entrepreneur in Latin America and the world.
JM: Simple. Apply to Start-Up Chile, the government will give you an equity free $40k grant, you get to live in Chile for six months, and you have nothing to lose by applying!