Two years ago, Gumption was one of the first entrepreneurs in the British Virgin Islands to receive a business start-up loan from the Branson Centre. With the money from the loan he purchased a glass bottomed boat to take tourists out on trips.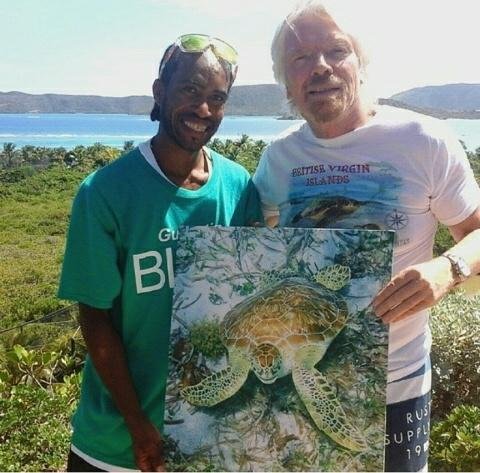 We caught up with him recently to find out what has happened in the last two years since he started the business...
Securing the loan was just rewards for years of grafting by Gumption, with his dream of becoming an entrepreneur something that had been with him since a very early age. "It started with me being very young, about 15, and I saw the boat and I really wanted to do tours with it but I didn't have enough money to get it," he explains. "And I was devastated that I couldn't do what I wanted to. But years passed by and I still really wanted the boat, and I tried everything that I could."
After speaking with fellow British Virgin Islands resident Richard Branson about his dream of running a business which offered tourists trips on the glass bottomed boat, Gumption was approved for a loan through the Branson Centre of Entrepreneurship. He says that the day he received the loan was the day that his life changed, he has not looked back since.
Two years down the line, Gumption says that it's been a challenging journey at times, but an enjoyable one. Over the last couple years he has taken tourists out on hundreds of trips around the British Virgin Islands in his glass bottomed boat and is proud of how far he has come - especially as a role model for other aspiring entrepreneurs in the BVI. "I'm a high school dropout," he admits. "But I think people are inspired by me, it's helped others to realise the potential that they have."
Even though it's been a long two years working on his business, Gumption says that he still loves it and looks forward to every day. "Every trip still feels like my first trip, I still have that same excited feeling when I get into the boat."
And after two years in business, what does Gumption think that every entrepreneur needs to know? "Get a mentor," he says, "someone who can help take your potential further."
He adds that he's learnt a lot from his mentor, but the key thing is that "anything is possible once you have a bit of gumption."
To find out more about what the Branson Centre is doing for entrepreneurs in the Caribbean, head to their website. And to find out more about Gumption, follow him on Twitter or read his blog.
Image by Greg Rose