"As an entrepreneur, you can't hide your weaknesses, no matter how big or small your business is," explains Richard Branson in a recent blog entry.
"Those weaknesses can become even more apparent and, in some cases, debilitating, if you try to pretend that they don't exist. Over the course of my career I've learned that it's vital to identify your weaknesses and come to terms with them. Once they are out in the open, you can deal with them and move forward - or even turn them into strengths."
It's this approach to both strengths and weaknesses that led the Virgin Group founder to adopting his famous 'screw it, let's do it' approach to business. Give something a go, take a risk and if it doesn't come off then don't be embarrassed about admitting it didn't work, as there's great value to be found in even failures.
Image by Thierry Boccon-Gibod
"While my 'screw it, let's do it!' philosophy hasn't always led to huge wins (we've experienced some epic failures too), we've learned so much from the twists and turns that we've encountered along the way. It pushes our company outside its comfort zones and spurs us to accomplish amazing things," notes Branson.
"And if something doesn't work out... well, everyone, especially entrepreneurs, should embrace failure with open arms."
Virgin Cola, Virgin Cars, Virgin Brides – we could all name at least one Virgin venture that didn't quite work out, but that hasn't impacted Branson's relentless appetite for taking risks.
"You must have the courage to trust your instincts and be ready to ask questions that other people are not. And you must seize the chances that other people might miss. I learned this myself as an entrepreneur, as I turned my dyslexia to my advantage. Instead of struggling to follow written text, I asked our team to sum up our latest pitches to customers in a few words," explains the Virgin Group founder.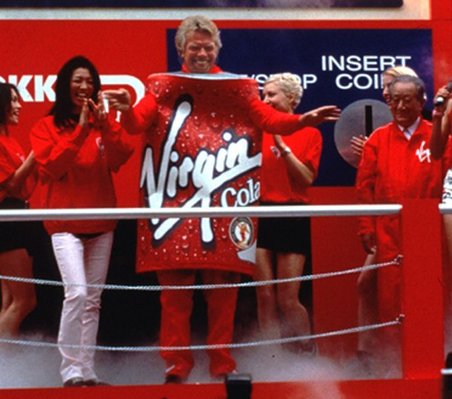 "This prompted me to focus on simplicity - if our offer couldn't be summed up clearly and simply, we couldn't expect our customers to buy it. Eventually this became one of the most powerful tools in my bag of business tricks, and fundamental to Virgin's success."
Have you got an epic failure or a business trick you'd like to share? Let us know below...