Nearly every article we read about business has one thing in common: it revolves around men – men as power brokers, dealmakers and closers. Rarely do we see an article talking about women making a difference in the business world.
Perhaps one exception to that is Sheryl Sandberg's Lean In, which calls for women to assert themselves more, among other things, in the workplace. In my search for someone who exemplified this 'lean in' perspective, I found Kat Cole, the President of Cinnabon – yes, the company that makes those delicious rolls you eat in airports and malls. Not only is she a great leader, but her back-story is also a great source of inspiration to other women, younger and older, who wish to achieve corporate success.
Cole had a dream when she was a pre-teen: She wanted to go to college, get an engineering degree, go to law school and become an engineer for DuPont. ("Don't ask why," she says, "I must have seen it [the DuPont logo] on a paint can or something because no one in my family had ever gone to college or had a career remotely related to that.")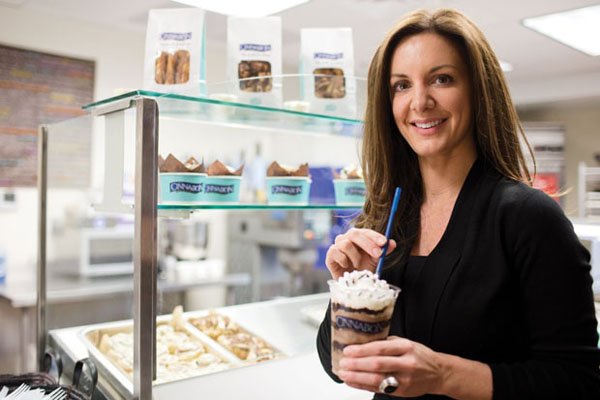 Those were big dreams for someone who was having a tough time making ends meet. Cole is the child of a single parent, and the oldest of three sisters. They went through difficult years when her mother and father separated, as he struggled with personal issues. Her mother fed the three girls on $10 a week for several years. Despite the circumstances, Cole says she was happy. Besides an aspiring lawyer, she was also a science geek who was willing to work hard to make her dreams come true.
In order for that to happen, at 17, Cole got a job as a hostess as Hooters. At 18, old enough to become a waitress, she enrolled in college and joined their waitressing staff full time to pay for classes. She developed such a good reputation at Hooters that within a year, when Hooters' upper-level managers went looking for someone to help open a restaurant in Australia, someone mentioned her name.
Never say no to an opportunity. The next day, she flew to Miami from Jacksonville, Fla., to her passport. A couple of days later Cole was on a plane to Australia to open a new restaurant and help train waitresses and hostesses. "They never knew I had flown to Miami. They never knew I didn't have a passport," Then they sent her to Mexico, then to Argentina, then back to the U.S. That schedule took a toll on Cole's college life, as she decided to drop out after starting to fail her classes. (Years later she returned and earned an MBA from Georgia State without having completed her bachelors.) At 20, Cole was asked to apply for a job managing employee training from headquarters in Atlanta. She got the promotion. At 26, she became a vice president.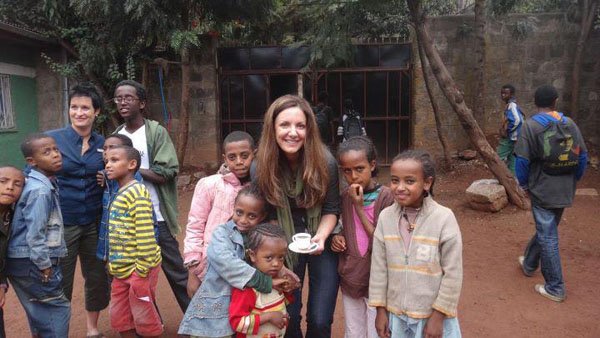 Then came a phone call she wasn't expecting: Focus Brands asked her to become the Chief Operating Officer of Cinnabon. Then, at 32 Cole was asked to become Cinnabon's President. With all this success, Cole says her biggest struggle is remembering to prioritize and to take care of herself. "I struggle with how to continue to take all I've been blessed to experience and all I am learning and apply it to benefit and serve larger communities. You can't help everyone all the time, but you can do your part to help improve the world. It's such a gift to be in a position to help others, but it can sometimes be difficult to prioritize, reprioritize and remember to take care of yourself."
Don't hold back your opinions - don't listen to the little voice in your head that questions whether or not you deserve to be there... There are millions of people who would beg to have your seat, and I bet if they got it, they wouldn't hold back.
Don't be too hard on yourself. I asked Cole to share some advice for other women who wish to become successful. After she gave me the five points below, she said, "this is advice for anyone, but some women find a few of these more challenging than some men – they need to allow their full selves to show up every day – for their family, friends, community and business – and not be too hard on themselves."
Here's what she shared:
1. Have a point of view. "If you are hired for a job or position, trust me, no one hired you thinking they'd like to have only 75% of your brain. Certainly do your homework and allow yourself time to think about things, but don't hold back your opinions - don't listen to the little voice in your head that questions whether or not you deserve to be there or whether or not you should speak up. If you don't, who will? And if you don't do now, will it be too late when you do? It is a disservice to those around you to not offer your whole heart and mind when afforded the opportunity. There are millions of people who would beg to have your seat one day, and I bet if they got it, they wouldn't hold back."
2. Serve and help others – all others. "But definitely be sure you are bringing other women along with you. There are destructive achievers and productive achievers in the world – you want to be the productive achiever. Drive results by training and developing others, bring others along with you, help others have their moment in the sun and do whatever is in your power to help someone in need. You will never regret that choice."
3. Assume positive intent and focus on what's possible. "Too many smart people get derailed by assuming negative intent and then going down a figurative rabbit-hole as a result. Funny thing is, when you assume positive in people, you often get more of it. Yes, you'll be wrong and disappointed sometimes, but who cares? Things get confused too often when dealing with multiple people, various types of communication and different cultures. Assuming positive intent will make you the person people want to work with."
4. Be curious. "Being curious by its very nature signals a level of intelligence and humility. It says, 'I want to learn more, and therefore don't assume I know it all.' It also says others have value to offer and puts you in a position to question things, change your own mind and help make things better. And you can learn from everyone, everywhere, all the time, if you are open to it."
5. No borders. No boundaries. "The only boundaries you have are those you allow others to put around you – you can literally do almost anything in the world you want if you are kind, curious, resilient and passionate. When I was asked at 19 to go to Australia to help open franchises there, I had never been on a train or plane, had barely been out of my state, and didn't have a passport. But, I booked my first ever flight, flew to Miami that day, stood in line, got my passport, called them back, and said, "yes, I can go". And so I went. They never knew I was that inexperienced at travel – but by not allowing all the reasons most people would have used to hold me back, I had a great adventure, and it changed my life forever. And that willingness to "just go" and "just do it" continued to serve me well in life. I was crazy enough to just go places I had never been and lead projects I had never led, but I was humble enough to listen to smart, kind people who were willing to help."
Lastly, relationships are key. Cole says that since businesses are made of people, ultimately it's a social experience. "Those tips above are about being able to serve and work with people productively and remain in a constant open state of learning and evolution. I would also say to look to other women you see that you admire, be a student of them, and figure out how to apply practices that range from communication, to dress, to career choices to your life in a way that is still authentic to you."